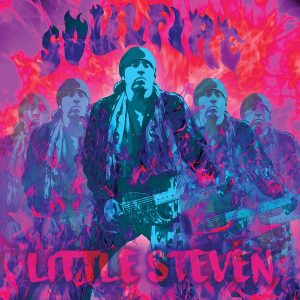 It's been a while, well if you count around two decades as a while since Little Steven has given us a solo album, I mean he's only been busy being an actor and the consigliere of that Springsteen guy so of course he hasn't had much time to do anything else, but here we are in 2017 and we get to hear 'Soulfire', a treat if you will. So let's see what SVZ has done!
The title track leads off the album and what a way to start, it's just straight up soulful rock and roll and if this is the groove we can expect then sign me up to the newsletter and get me that free T-shirt on my birthday or whatever the deal would be. Oh man, next track 'I'm Coming Back', wow, I mean it sounds like it's straight off of Bruce's best album and of course it would when it's the man who's been playing with him for so long. That is one hell of a track. "The Blues baby, international…" and for Little Steven he tells us that 'Blues Is My Business' and it sure is, some great piano work throughout make this one fill out and show a bit of what makes him such a musical professional. 'I Saw The Light' maintains that Americana rock and roll style and with horns and everything else going on you just can't help but enjoy this.
'Some Things Just Don't Change' is a slower, horn riddled tune that is as smooth as single barrelled scotch, man, this is just all class as is 'Love On The Wrong Side of Town' which just may be my favourite on the album thus far, just for overall feel, vibe and lyrically so damn good. This man has been immersed in the story telling industry for a long, long time and his craft has developed and I tell you what in 2017 it's still as strong as ever. We slow things down with 'The City Weeps Tonight' and then we get our 70's adult soundtrack on for 'Down and Out in New York City' which is a nice little interlude before kicking in and it even has a flute in it, if that isn't cool then I don't know what is, oh wait, a trumpet solo, just one upped you, flute. Suck it. Oh wow this is so great, it just jumps from one style to the next and now I feel like I'm in a western and 'Standing In The Line of Fire' well for a little while anyway before it rocks up but then 'Saint Valentine's Day' gets the groove back on in a big way.
Only a couple of songs to go sadly, the first being 'I Don't Want To Go Home' which should be renamed 'I Don't Want This Album To Finish' but alas… horns a plenty and another great piece of writing. Closing the album is NOT a Jimmy Barnes cover as some of you may think especially those in Australia, in fact this has always been a Little Steven track and here he has finally recorded it himself and what a version of 'Ride The Night Away' it is, a song that still stands up to this day, or maybe it was just before its time back when Barnesy recorded it, either way it's the perfect closer of an album that has been an absolute pleasure to listen to.
I know this is sacrilege and I apologize to The Boss, but some of these songs on here are the best songs that Bruce never wrote, yes of course the feel of him is there and should be after so long but Little Steven has stepped up and knocked this album out of the park. I absolutely dig the shit out of 'Soulfire' and I hope you do too!
Essential Information
From: New Jersey, USA
Release date: 19 May, 2017
Record label: Universal Music
Website: http://www.littlesteven.com
Track Listing:
Soulfire
I'm Coming Back
Blues Is My Business
I Saw The Light
Some Things Just Don't Change
Love On The Wrong Side of Town
The City Weeps Tonight
Down and Out In New York City
Standing In The Line Of Fire
Saint Valentine's Day
I Don't Want To Go Home
Ride The Night Away