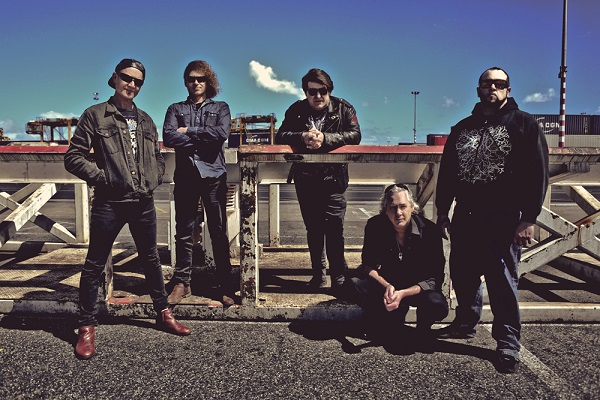 "…we've got so much history and the ego thing's kind of been left behind we just want to get out there and showcase the fact that great Australian pub rock didn't end in the mid to late '80's, we came along and kicked it in the butt in the early 90's and hopefully we were able to fly the flag for the next generation…"
From Release: The Jets …9 albums, 7 Top 40 radio hits, countless live shows and a Hot Metal magazine #1 album for 2016. After 27 plus years, The Screaming Jets are working harder than ever. The brainchild of a bunch of mates hailing from Newcastle Australia, the Jets have evolved into an elegantly debauched rock n roll machine that never disappoints. Step into the world of The Screaming Jets and you'll find a powerhouse live machine performing their hits to packed houses nation-wide.
While at home in Adelaide we caught up with our old mate Dave Gleeson of The Screaming Jets to talk about their tour with The Baby Animals some 25 years on since the first time they played together, new music, old music, The Angels, and much more…
So we spoke just over a year ago so let's catch up how has the last year been for you?
Oh it's been fantastic, mate. The way that The Angels is now up and running as an entity it's not like I'm the new guy anymore people have kind of accepted the fact that I'm fronting the boys and the crowds have been very receptive over the last few years especially, and of course The Jets just brought out The 'Chrome' album and it kicked ass and a lot of people loved it and we were able to do three tours on the back of that which is unheard of from us in the last couple of releases so yeah it's been unreal.
Dave, this pairing of The Jets and The Baby Animals is magnificent; tell us why it took so long actually a quarter of a century for this to happen again?
*laughs* Yeah I know it's crazy isn't it?! It's like we did our degrees together if you were to call it an education, but we both spent our formative time in Sydney in '89 to probably '91 – '92 and I think it was '92 that we toured together, and then our career paths diverted from one another. Baby Animals went on to tour Europe and The States with bands like Bryan Adams and Van Halen you know, so they had some big inroads overseas, and then time gets away and someone came up with the idea last year and said "what about you guys do a tour together again?" and because of the great love that we have for each other both bands jumped at the chance.
What do you remember about touring with them back in the day when you both were young whippersnappers?
Well what I remember was we got kicked off a support tour with The Divinyls, at the time The Divinyls album was number 5 or 6 and 'All For One' was at number 2, so when they said "we're gonna kick you off" we said "Go on, do it!" which they did. Then that was the biggest headlining tour we did, we did the Hordern Pavilion, Festival Hall Brisbane and Melbourne, I think we did the Thebbie in Adelaide, all these big gigs. So it was our first time with The Baby Animals and there was a bit of a romantic link between the two bands, don't want to go into that *laughs*. Yeah so we had a ball and our love for Dave Leslie and Suze who are the two remaining members, and myself and Paul Woseen are the two remaining members of The Jets, we just had a blast and I can't see it being any different this time. We did the Footy Show and that was a welcome back The Baby Animals and The Jets together so I'm really looking forward to it.
How are you going to be shaping up the sets for this tour?
Well we're gonna do it turnabout, they'll be headlining one night, we'll be headlining the next night, I've handpicked Newcastle we'll be headlining *laughs* and luckily in Adelaide we've got two sold out shows so we'll be able to do one each there and I think it'll be good fun for the crowd too to not know who's gonna headline each night, so that'll be a bit of fun. Of course Palace Of The King are touring the whole country with us and they're just excellent.
Are you going back through the entire catalogue?
Yeah we've got a bunch of songs we're looking at, and because we've been touring 'Chrome' for the last nearly twelve months, a lot of those songs have sat in the set really well and of course you've got five or six other songs that everyone needs to hear every night but then that leaves it open to another half a dozen or ten songs that you can pick and choose from the back catalogue.
Have you ever thought about if you're opening fucking with The Baby Animals and just throwing 'Rush You' into the set?
*laughs* Do 'Early Warning' *laughs* there was talk of that actually, we thought we'll do one of their songs and maybe they could do 'Better' or something, but nah it leaves it open to a lot of fun because we've got so much history and the ego thing's kind of been left behind we just want to get out there and showcase the fact that great Australian pub rock didn't end in the mid to late '80's, we came along and kicked it in the butt in the early 90's and hopefully we were able to fly the flag for the next generation of Powderfinger's and silverchair's, and Grinspoon and stuff like that there was a still a pub rock circuit out there and hopefully thanks to us being the bridge between the 80's and the 90's.
Seeing you guys over the years the energy has never really wavered, what is it about being up on stage that The Jets still enjoy?
I guess the live playing is the greatest pay off, when you're in the studio I find that a little difficult because you're not showing off, well I am showing off but only to my mates and you see them rolling their eyes every now and then. Steve James is probably the person I try to impress most when I'm in the studio when he's producing. On stage you're showing off in front of a house full of people and it doesn't matter if you've travelled twenty hours to get there or whatever, that two hours is just like gold, like liquid gold. So punch a few Jacks and off we go *laughs*.
New music wise we had 'Chrome' out last year, has this lit a bit of a fire under you guys and can we expect more in the near future?
Yeah definitely, I'm hoping to get over to Melbourne and start writing with Paulie, we're hoping to start chipping away at the new album so we can at least make a start on it because as you say it was so gratifying to bring out the album last year and praise heaped on it and do a bunch of sold out shows and tours so it was a bit of a rocket up the butt so we're definitely thinking of getting in there very soon and recording some new stuff.
Just not eight years between albums please…
No, I know *laughs* mate I'm 49 shortly we haven't got that much time *laughs*
Last time we spoke you wanted to win a Grammy, that didn't happen this year sorry about that, but other than that in the near future what is left to do on your list in terms of being in this band that you still haven't yet had the chance to do?
*laughs* Just I think we've kind of over the last five or six years we've built ourselves back into a  position where we can get some of that attention that's reserved for 22 year old Australian Idol alumni, or X Factor or The Voice, I don't call it The Voice I call it The Coach because I actually saw it and Seal said "I've won it two times" OK, you've won it? That puts a whole new spin on it, it's about you guys? So I think we can being I hate to say it and I can only say it knowing we're not as elder statesmen as The Angels but being in this position of being in this band for some thirty years and still having the creative ability to make something that'll make people go "ahh these guys are the real deal" so it's just a matter of keep on keeping on and see how far we can go.
Just on The Angels, any plans for new music with those guys?
Yeah, we've been recording a bunch of new stuff it's been put on hold a little bit as Rick Brewster's a bit crook at the moment but he's making a comeback I hear he's fighting fit and it's all gone well in hospital. I reckon we've got nine songs ready I've just got to get my ass into gear and do the vocals for them. It's unreal mate, it's probably one of the most creative, productive times of my life so to have both bands willing and keen to do new music, I'm a lucky motherfucker. *laughs*
So what does the rest of the year look like for The Jets?
The Jets do June / July and August, The Baby Animals tour goes June / July and then we do another three weeks up through North Queensland through August and after that obviously we want to make some studio time and get back in with the indomitable Steve James and record some new stuff.
Lastly, as always let's look ahead to the future, so finish this for me, by the end of 2017 The Screaming Jets want to…
*laughs* The Screaming Jets want to grab Australian rock by the scruff of the throat and shake it. *laughs*
Baby Animals and Screaming Jets live
With special guests Palace Of The King
June
Friday 2 – Castle Hill RSL, Castle Hill NSW
Saturday 3 – The Metro, Sydney NSW
Friday 9 – Metropolis, Fremantle WA
Saturday 10 – The Astor, Perth WA
Friday 16 – Eatons Hill Hotel, Eatons Hill Qld
Saturday 17 – Nightquarter, Gold Coast QLD
Friday 23 – The Gov, Adelaide SA
Saturday 24 – The Gov, Adelaide SA
Friday 30 – NEX, Newcastle NSW
July
Saturday 1 – Wrest Point Casino, Hobart Tas
Friday 7 – 170 Russell, Melbourne Vic
Saturday 8 – Chelsea Heights Hotel, Chelsea Heights, Vic
Tickets from thebabyanimals.com and thescreamingjets.com.au
Essential Information
From: Newcastle, Australia
Band Members: Dave Gleeson [vocals], Paul Woseen [bass], Scott Kingman [guitars], Jimi Hocking [guitars] and Mickl Sayers [drums]
Website: http://www.screamingjets.com.au
Latest Release: Chrome (Out Now – Dinner For Wolves (Rocket Distribution / InGrooves))