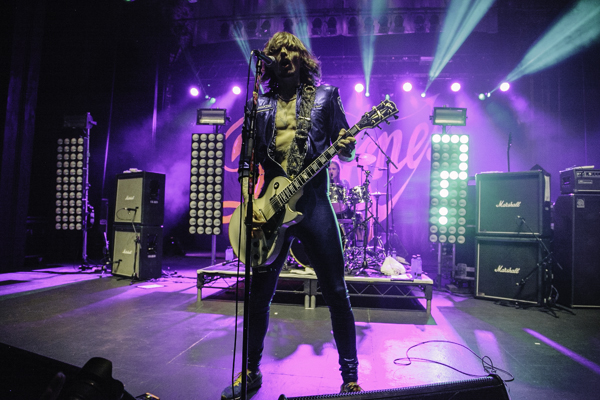 The Darkness are back in Australia after what feels like a very quick turnaround from their last trip but the fans have come out in droves to catch this killer band and tonight I'm expecting nothing less than the amazingness that is a Darkness show, but more on that later…
Rackett warmed the crowd up and themselves as they belted out a set of straight up fun pop rock songs in a similar vein to The Runaways or The Donnas but watching them have fun up there and especially frontwoman Bec getting into it like you have to see to believe, this band is a whole lot of energy and I'll be keen to see where they go and what they can do as they continue to make music!!
As some Timmy Cappello blares over the sound system we're getting ready and any minute now it'll be on.
Intro music, crowd roars and loud guitars as 'Black Shuck' opens the set as always and you just wouldn't have it any other way. It's heavy, it's rockin and it's The Motherfuckin' Darkness. It gets one louder as Justin straps on his guitar and hits us with 'Growing On Me' which is of course a huge crowd favourite and also my favourite of theirs and they smashed it out of the park! What a song still to this day some fourteen years later!!
'All The Pretty Girls' is a new one and fit right into the catalogue and I look forward to hearing that one on a record. What I love about this band is the humour as Justin thanks the photographers who get to leave after three songs and then proceeds to explain how the night will work in terms of a set. Classic and we thank you for the explanation. Back to the first album again with 'Givin Up' and some excellent crowd participation! You just can't go wrong with the first album. Time for the riff roaring tune by the name of 'Roaring Waters' and wow this is heavy! Yes please! Some excellent arrangements and tempos mix the song up but they don't miss a beat, I'm impressed. Even though it's from their last album this one has already become a staple in the bands live set.
Getting a young girl named Jess up on stage to tap dance to 'One Way Ticket' was the best thing I've seen in ages. If you didn't enjoy that then you're truly dead inside! That was absolutely amazing. The song as always was on point as of course any song that starts with a cowbell would be.  'Every Inch Of You' and its not suitable for work lyrics, Nick I'm talking to you, is so much heavier here and is just such a fun song if you want to call it that, well I just did so I guess I want to call it fun. Dan plants a foot on the foldback wedge as they warm up for a big power ballad and of course 'Love Is Only A Feeling' is the one. Arms waving and fists thrust stage ward make this great as does the big guitar solo worthy of a mountain top. Plus some extra entertainment with Rufus jumping over guitar necks and Justin, pure entertainment and everything was cleared with no issues.
Another new one and wow this shit is good, I mean great! 'Solid Gold' is rifftastic and I for one welcome it to The Darkness catalogue, this one can stay! One that I previously welcomed to the set was 'Barbarian' and the driving rhythm on this one always got me and when you can feel the bass then you're onto a good thing. 'Southern Trains' with some killer solo work from Justin kicks ass, as it leads into 'Mudslide' with Justin parading across the stage as Dan and he trade licks.
Even though it's Wednesday it's now 'Friday Night' and usually reserved for Bridge Club and or Ping Pong tonight we're dancing. But next it's time to yell "you cunt" really loud!! It's 'Get Your Hands Off My Woman' time and it did not disappoint, headstand foot clapping, and an all-round good sing along. It's actually so damn good that it hurts. Sticking with the debut we're 'Stuck In a Rut' for eternity, well for about four minutes anyway.
An impromptu somewhat guitar solo from Justin takes us into the roof raising 'I Believe in a Thing Called Love' and boy howdy that was insane. These songs from 'Permission To Land' that are now fourteen years ago are still so good to this day and people haven't tired of hearing them one bit. It's so damn good to watch these songs played to absolute precision. The band leaves the stage… For how long? Guess we'll see.
It was four minutes. Just in case you were playing at home.
Oh man this riff is insane! Where did that come from?! It's 'Japanese Prisoner of Love' and that's heavy, these new songs are just getting me and from the looks of it everyone else here ready for their new album in September! Leaving us tonight with 'Love On The Rocks with No Ice' and I enjoy nothing more than watching the crowd try and get coordinated with the arm waving, it's just comedy gold! This heavy rocker has been the set closer for many a tour and well worthy of its place as it turns into a big rock epic with Justin out in the crowd, singalongs and pretty much everything you need to end what was an outstanding show!
The Darkness never disappoint and that's from every single time I've seen them going back now to 2004, in fact they just keep getting better, onwards and upwards. Gimme a D…
Essential Information
Venue: The Enmore Theatre – Sydney
Date: May 10, 2017
Website: http://www.thedarknesslive.com
Support band: Rackett
Presented by: Select Touring & Blue Murder
Photo by: Annette Geneva – Every Day Is Saturday – full gallery HERE
Set List:
Black Shuck
Growing On Me
All The Pretty Girls
Givin' Up
Roaring Waters
One Way Ticket
Every Inch Of You
Love Is Only A Feeling
Solid Gold
Barbarian
Southern Trains
Mudslide
Friday Night
Get Your Hands Off My Woman
Stuck In a Rut
I Believe in a Thing Called Love
Japanese Prisoner Of Love
Love On The Rocks with No Ice