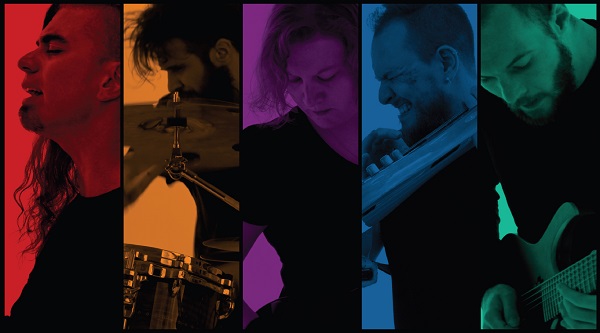 "What hasn't changed is that it's still very melodic, atmospheric and still very heavy and it's got something for progressive metal fans, it's got something for rock fans, and something possibly for electronic and pop fans as well. I think it just continues that symbiosis of melody and heaviness that I think Voyager is so renowned for."
From Release: VOYAGER'S sensationally anthemic 6th opus 'Ghost Mile' has an amalgamation of everything the band does best – huge soundscapes, pop and prog sensibilities with catchy and thought-inducing instrumentals. The album was mixed by Matthew Templeman (Saviour, Life Pilot) and mastered by Simon Struthers and maintains the production that was such a successful selling point for their album 'V'. With a fiery red keytar, a feisty female guitarist and concerts described as "amazing chemistry blending pop with heavy, technical and progressive riffs", Voyager are consistently a live force to be reckoned with.
We gave Danny a call while in Perth to discuss the band's new album 'Ghost Mile', crowd funding, touring, Keytars, changes, & more…
So we seem to chat every couple of years and of course it's been just about two years since we last chatted so let's catch up, how have the last two years been for Voyager?
Life's been great, we've gone from strength to strength I think and we've recently just come off certainly the biggest Australian tour we've done with Deftones and Karnivool which I guess ten years ago would've been completely unimaginable that Deftones would ask us to join such a huge run of shows around Australia, so I guess it just shows we're doing better and better and slowly climbing up that ladder of success you know?
You're just about to release your sixth album, tell us a bit about 'Ghost Mile' and what we can expect from this record?
Ghost Mile I think is probably clichéd to say that it takes off from where we left off with the last album 'V' but I think it's does a lot more, it sort of pushes us not into another direction but it gives us a different kind of sound and a different kind of melodic heavy music, and I guess that's where we get the moniker progressive metal from because we're constantly evolving our sound. What hasn't changed is that it's still very melodic, atmospheric and still very heavy and it's got something for progressive metal fans, it's got something for rock fans, and something possibly for electronic and pop fans as well. I think it just continues that symbiosis of melody and heaviness that I think Voyager is so renowned for.
So in the three years since V was there anything that shaped what would become 'Ghost Mile'?
Yeah probably the fact that we've had the same line-up for two albums now, that's never happened, I haven't managed to piss anyone off for the last year *laughs* so people have stuck around and obviously due to the large amounts of money that I pay them to stick around, no, that's been really good the fact that we've been able to create and craft this album along the same lines as we did with 'V' but knowing each other a lot better and we all see each other in our underwear on tour so there's nothing we can't say to each other, if something's shit we'll pull each other up on it or if something's great we'll work on it together. So that symbiosis and that working together and I guess that collective vibe we've got has been pretty much the driving factor in making this work so well, it's been a really smooth process writing wise, I've never felt so ease at how things are going.
Can you tell us what the title of the album represents to you personally?
It represents the constant moving through life, valuing things, putting emphasis on detail, putting emphasis on whether something's good or not, whether someone's pissing you off or not, whinging, first world problems that sort of stuff. Then realising in the scheme of things in the universe it means absolutely nothing. The insignificance of the things we do really show that we are walking the ghost mile, it is really of such little significance that we may as well not worry at all about the things we do. That's not to say that we won't stop doing that but it's good to stop and think once in a while how insignificant, even this phone call, no offence, the universe is looking down at us going 'who cares, these two are having a conversation and it really doesn't matter.' So it's not a really positive message, well it's neither negative or positive I guess it's just sort of making people step back once in a while and thinking this is pretty insignificant and maybe if they did then we wouldn't have to bomb the shit out of each other, that would be nice. I guess lyrically on the album there are a few tracks on living a reasonably privileged life, being in Australia I think it's one of the best and safest and most prosperous countries in the world and acknowledging that once in a while and how lucky that we are where we're living and not getting the absolute shit bombed out of us and that's really important, I know that's not very metal but it's nice, look around you it's amazing. Like when you don't have a job we've got a government that will give you money, it's unbelievable *laughs*. You tell that to someone in the Democratic Republic of Congo and they'll say "where is this magical place?" *laughs*
Speaking of magical places, you once again used Pledge Music, and smashed it, how does it make you feel when fans get behind your work so quickly and basically unheard work?
They know we're going to produce something quality I believe , I don't know I think it's because we have a die-hard fan base, we have a very loyal fan base, we have a very sophisticated fan base as well and they saw what we did last time and they saw that it worked and we were uming and ahing about it whether we do it again because all this crowd funding, Patreon is getting a bit of flack these days, but we thought you've gotta trust it, if it works it works, if it doesn't you can still go through and buy the album in the shops if you want to go back to 1998. This is such a nice way of interacting with the fans as well and it's us directly to the fans and I think it's pretty cool.
So you're out hitting the road in support of the new album, how will you be shaping these shows up?
I think it's gonna be a bit of everything, obviously we're going to play a few songs off the new album which will be very exciting because every band loves playing shit from a new album, but we'll give people a taste of the medium old and I guess the sort of newer stuff as well. We're bringing our own lighting show as well so it's going to be a little more than your average performance, and of course we've got The Algorithm from France as well, I saw him live at The Big Day Out a few years ago and I was just blown away it was such an interesting take on metal so I think it's going to work really well, and we've got some great supports as well.
Keytar still in full swing?
I don't know if it's going to be in full swing, because I like to jump around the stage like an idiot but the keytar will make appearances and generally the only appearance the keytar needs to make is when I lift it up in the air and people just go nuts just because it's a red keytar that was made in 1988, but that will definitely happen.
You've been doing this now for eighteen years, Voyager is old enough to drink in Australia! How does that make you feel?
Well it makes me realise I used to be the youngest member of the band and now I'm the oldest member of the band so thanks a lot for making us feel like shit *laughs*. I have a few more greys than I had back in the day when I was wearing my power metal T-shirts with bands that no one had ever heard of, in some ways it feels good and in some ways it feels like should I be doing something different, should I be doing something else?  But at the end of the day you go out on the road and you release an album that is getting amazing reviews all around and you think, 'nah fuck it, I'm gonna keep doing this', I feel until I'm playing local pubs 'Danny formerly of Voyager' and charging $15 entry and playing to four people that's the dream.
So you headed out with the Deftones, but is there anyone else you'd love to head out on tour with?
I know Ash our drummer really wants to play with Korn, he's stuck in that nu-metal type environment which is actually really cool drumming wise because it adds a lot of that tribal sort of element to Voyager which I guess gives it a different kind of element and feel as well. Now I don't think it's as much who but it's more where, I would love to play Japan, I think Japan would really like us and also South America, not because it's full of hot girls but because I just think it would be an amazing place and the fans just go crazy and go nuts because you know when you play the Western world people are very reserved, we played Scandinavia and people are very reserved, but when you go to places where people really go nuts and get into it I think they're the places I really want to explore where you go 'holy shit' when the stage it shaking because people are going so crazy.
Now I've asked you before about what the biggest change you've noticed in the band over the years is but let's flip it, what would you say is the one thing that's stayed the same in your time together?
The absolute emphasis on melody and catchiness, so that's one thing we won't compromise on because that's quintessentially Voyager, I want people to say "wow that's so catchy and I can't get that fuckin' song out of my head it's stuck in there for good." Whatever happens around that is flexible , you can have ridiculous time signatures and syncopation underneath but as long as that catchiness is there I'm happy and I think a few of the songs on the new album you will hear that, you might not immediately hear that as there's some really complex shit going on underneath but if you listen to the song 'Disconnected' it sounds like it's simple but it's actually not, you've got that intricacy underneath and I think that's where the flexibility lies, but with the melody and the catchiness and the hooks that's quintessentially where it's staying. Unless they kick me out of the band.
Danny formerly of Voyager…
*laughs* The artist formerly known as Danny.
Lastly as always let's look ahead to the future, finish this sentence for me, by the end of 2017 Voyager want to…
Have successfully played more European shows, we've got two festivals booked in for September and October we've got 'Euroblast' and we're co headlining 'ProgPower EU' with Tesseract. We want to have firmly cemented ourselves as an Australian progressive metal cult band, strike that we already are. Further cement *laughs*.
Catch Voyager out on tour at the following dates:
Thursday 11th May – Adelaide
FOWLER'S LIVE
w/ Tony Font Show
Friday 12th May – Melbourne
EVELYN HOTEL
w/ Windwaker
Saturday 13th May – Brisbane
THE ZOO
w/ The Stranger
Friday 19th May – Perth
AMPLIFIER BAR
w/ Sparrow
Saturday 20th May – Canberra
THE BASEMENT
w/ Immorium & Highview
Sunday 21st May – Sydney
OXFORD ART FACTORY
w/ Hemina
Essential Information
From: Perth, WA, Australia
Band members: Daniel Estrin, Simone Dow, Alex Canion, Scott Kay, Ashley Doodkorte
Website: http://www.voyager-australia.com
Forthcoming release: 'Ghost Mile' (May 12)