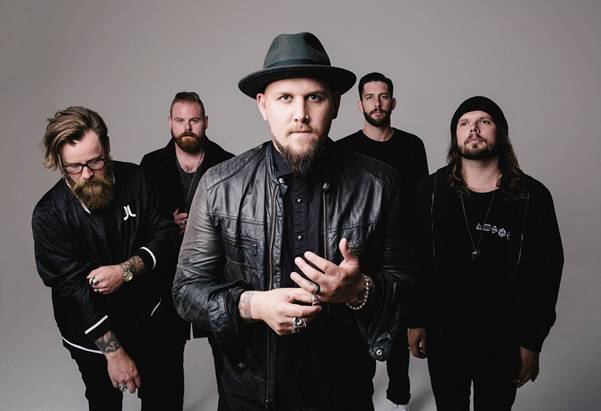 "I mean it's a lot more musical freedom and we're building something from the ground up and it's a whole different group of friends and a different kind of vibe, it's a whole new experience of building a band again from the jump and for me that's the fun part it's the chase…"
From release: Hell or Highwater, featuring Atreyu drummer Brandon Saller on lead vocals and they travel in a different lane than Saller's other band, taking a more melodic approach. In the midst of a hiatus from Atreyu, Saller introduced the robust, raucous rock of Hell or Highwater in 2011 with the independent full-length debut, Begin Again.The follow-up 2013 EP, The Other Side, earned a 4-out-of-5-star rating from Alternative Press as well as praise from Revolver, Loudwire, and more. Simultaneously, they ignited audiences on the Rockstar Energy UPROAR Festival. Now with Vista, Hell or Highwater are eager to start the next chapter of the band's already impressive career.
In Birmingham, Alabama for some reason as he put it, we gave Brandon a call to talk about all things Hell or Highwater and their new album 'Vista', second albums, changes, touring, Australia Atreyu, & more…
You're just about to release your new album 'Vista', what are the feelings like around album release time?
We're stoked man; this has been a long time coming for us we have been working on this album and writing it for two and a half years or so, maybe even more. We started writing this album before Atreyu came back off hiatus so it's been a long time and we were lucky to have that time and we're really fortunate because it ended up letting us really focus on the album and perfect what we wanted it to be and we finished recording and the record was mixed and done and dusted last march, so we've been just patiently waiting so the Hell or Highwater camp is about to burst at the seams. So it feels good to get out and play these new songs on tour, we can't wait.
Being your second album, did you find there was less pressure making this one than a debut?
I feel like there was almost no pressure because I feel there was such a big time gap between our first album and this, I feel like this is kind of the second coming, this is the first album we've had a label and the first opportunity we're getting to have radio support and press and media and just like I'm talking to you in Australia you know what I mean? It's the first time we're getting that full worldwide exposure. So for us it was just make the best fuckin' album we can and I feel like and like I said we had so much time to do so that that pressure just kind of went out the window and let's just be casual and live with this music and make it right you know.
Did you do anything differently this time around?
At the end of the day we just wanted to do what we do and stay true, we were just lucky enough like I said to have that support from the label on the back end to know that we were able to go and make the record in a really great studio this time where we didn't get to do that before because there was no budget. Just a lot of things that made things a lot more creative and fun for us.
In terms of writing, how does it work, do some songs come to you and you put them aside for this band and some may be more suited to Atreyu? Is it sometime hard deciding what goes where?
Well I feel like with Atreyu it's such different music, it's such different styles that I feel like with Atreyu with our 'Lead Sails' album that was me wanting to be in a rock band and we wrote more hard rock songs than metal songs and this is now my outlet for that and it's very different. More so all the guys in Hell or Highwater are great writers and they have a great part in writing the music so it's kind of a thing where it's a whole different experience.
'Vista' is the new album, what does the title of the album represent to you personally?
Vista is where we're from, kind of where our home base is and our studio and most of the band live and it was kind of like it's a fantastic place and it's a vibe and way of life and it's one of those things where we wanted to put it on the map. We had the album title before the album was even written which is kinda cool because that in itself created a vibe for us to create the rest of the album and make it sound like we know what 'Vista' is.
I always like to pick one song off the album to ask about and on 'Vista' it was 'Blister', can you tell us a bit about that one?
Blister is just kind of like the hardship song whether it be with your job or your lady or with anything, just finding the light in anything. There's a lot of just positive and hope on the record in just finding a light no matter what and I think 'Blister' is just one of those songs. That song is to me just a good summer vibe and just a fun vibe to it.
Being together for six years now and with an album and EP out prior, have you seen a change in the way the band works over this period?
Yeah I think we just figured each other out you know what I mean? I think we've really just become really great friends and understand each other's strengths internally as musicians and I think the line-up that we have now and for the last two years now is kind of the dream team in our eyes, it's really just been a lot of that and that may have been the biggest change.
Stepping out from behind the drums have you completely settled in to the front man role?
Oh I love it man, it's like letting the bear out of the cage you know what I mean? *laughs* It's fun it's just a whole different energy and just vibe being up the front and being able to interact with people it's been a blast, I'm very much settled in and loving it. I feel like I'm a bit of a loud and boisterous person in terms of personality so I just let that shine and kind of let people in to see who I am on stage and off.
Think we can expect to see the band in Australia any time soon?
Literally as soon as possible, this has been the second day now of full days of Australian interviews which is really, really fun for us, I mean Australia is a place that the entire band has fallen in love with. Most of the band came down with Atreyu when we did Soundwave and just fell in love with it and just saw the energy and the people and the shows and it's a truly special place. We're counting the days so as soon as the offer comes in we're ready to go. It make me feel real good to be doing stuff like this and doing interviews and to see that people are listening down there because that door is open, let's go, let's do it.
What does being in Hell or Highwater allow you to do that you aren't able to do in Atreyu?
I mean it's a lot more musical freedom and we're building something from the ground up and it's a whole different group of friends and a different kind of vibe, it's a whole new experience of building a band again from the jump and for me that's the fun part it's the chase, it's like when you like a girl and you have to impress her and court her and date her and to get her to like you back. It's the same with this band, it's a whole new thing that the band doesn't know about yet so I think that's one of the most exciting times about being in a band you know?
So what does the rest of 2017 have in store for you?
Just touring, touring, touring, we have this tour and we just announced another tour of The States in June / July with a band called Stitched Up Heart and we have festivals in the summer and we'll be touring and hopefully get to Australia, Europe, UK, around the States and just going, going, going.
Obviously it's all about Hell or Highwater at the moment but is there anything in the works for Atreyu?
Yeah yeah yeah, we've started noodling around a bit and started writing songs and we'll probably by the end of 2018 have another record out but we're gonna finish out this cycle and take our time with the Hell or Highwater record and then we'll kind of flip flop back and forth.
Lastly, let's look ahead to the future, finish this sentence for me, by the end of 2017, Hell or Highwater want to…
Come to Australia at least one, at least once.  If we can do twice I'm in, all you listeners, all you readers tell the people that need to be told that you want to see us so that we have to come.
Essential Information
From: Vista, California, USA
Band members: Brandon Saller- Vocals, Kyle Rosa- Drums, Joey Bradford- Guitar, Jon Hoover- Guitar, Nick Maldonado- Bass/Synth
Website:  http://www.hellorhighwaterofficial.com
Forthcoming release: Vista (Out Now – Spinefarm / Caroline Australia)