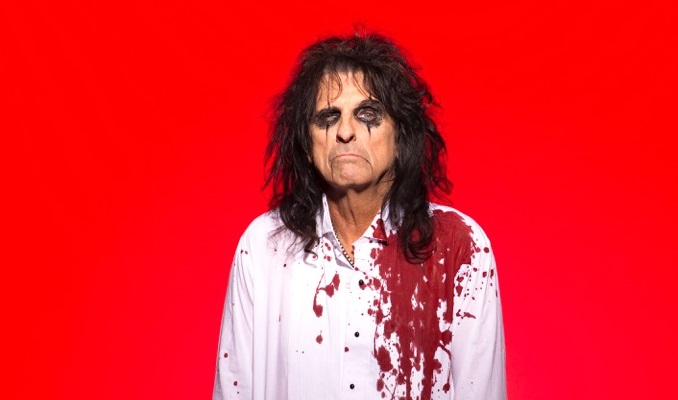 "I think that there's a certain amount of theatricality that they expect from us, and of course they're expecting a great band and they're expecting those songs to sound great but I kind of think we're like the Barnum and Bailey circus that comes to town every once in a while, they know that the Alice Cooper show is going to be something, there's going to be surprises in it and there's going to be stuff that's going to make people sit there and go "oh, ok that was really satisfying." Hopefully we never let the audience down and so far I don't think we ever have."
From Release: Alice Cooper pioneered a grandly theatrical brand of hard rock that was designed to shock.  Drawing equally from horror movies, vaudeville, and garage rock, the group created a stage show that featured electric chairs, guillotines, fake blood and boa constrictors. He continues to tour regularly, performing shows worldwide with the dark and horror-themed theatrics that he's best known for. With his influence on popular music long since acknowledged, his place in the Rock and Roll Hall of Fame secure, and with multiple gold and platinum albums, sold-out tours plus countless honours and career achievement awards, there is little that Alice Cooper hasn't accomplished in his remarkable career.
Alice Cooper gave us a call while in Asheville North Carolina to talk about his return to Australia for the 40th Anniversary of his first tour, set lists, his band, new music, The Hollywood Vampires, & more…
It's been two years since we last chatted so let's catch up, how have the last two years been?
Yeah I mean I have never been busier in my life. Between being in this band and writing for this band and then being in The Hollywood Vampires with Joe Perry and Johnny Depp and doing two tours at the same time, it's sort of like you'd think that I'd have slowed down a little bit, but I've got a new album coming out in July and when that album comes out then I'll start writing the new album for The Hollywood Vampires *laughs* so it's sort of like I've never been so busy in my life.
Of course we're here because you're heading back to Australia for the 40th anniversary of your first tour to Australia, have you decided on how you'll shape up these shows?
You know we have always maintained that theatrical kind of show and we always will, there's never going to be a time that Alice Cooper just goes out there and does songs. We spend 90% of our time on the music but we realise that after that's all done we want those songs to come alive on stage, so we figure out how to make them breathe. In the early days it was like we'd say if you're going to say 'Welcome To My Nightmare' don't just say it, give them the nightmare. If you're gonna do a song called 'Poison' make that song come alive, and I always like to see the lyrics end up being the script for the stage show.
With a catalogue as large as yours, does it become harder and harder to put a set list together these days?
You know especially with the internet because everybody has an opinion, for your really hardcore fans you know that when you're playing 10-20,000 people a night that generally you'll have to play the hits, like 'Eighteen' and 'No More Mr Nice Guy', and 'School's Out' and 'Poison' and 'Only Women Bleed' and all those songs and then you only really have about six or seven songs that you can mix in there that are going to be deeper cuts, and if I did like a poll from all the people that email us it would just go all over the place. I mean people want to hear this from this album and that from that album, and so what we're doing on this tour is for those six or seven songs about once every two weeks we're spinning in different songs. We'll say OK this week we're going to mix these two songs in, if you saw the show last week and you go to see it two weeks from now you'll say 'oh wow they just put those two songs in' and then two weeks after that there'll be two different ones. So it's kinda neat for us to do that, a little more work but it makes it fun for us to also go to different songs.
So I'll send you my list for the Sydney show, yeah?
Yeah *laughs* and the funny thing is sometimes people come up with oddest songs they want to hear and it takes us by surprise and I would say "why would they want to hear that?"*laughs*
What do you remember about that first trip to Australia back in 1977?
Oh man, the very first time we were down there you have to remember that the very first time we came there was no direct flight, so you went from LA to Hawaii, Hawaii to Guam, Guam to New Zealand, New Zealand to Sydney and then the first show was in Perth so that's another six hours, so it would take thirty hours to get there and it would take two days to recover *laughs*. Now of course from Los Angeles it's a thirteen hour flight and you get there in one day and you're back to normal but back then it was a production trying to get to Australia. The odd thing is that everybody that ever went to Australia said "you know I could live here" so there's like a very special kind of thing about Australia that people just love, Americans love Australia.
You always have such a great rapport with Australia what do you think it is about Australia that just gets and loves what you do?
I think that there's a certain amount of theatricality that they expect from us, and of course they're expecting a great band and they're expecting those songs to sound great but I kind of think we're like the Barnum and Bailey circus that comes to town every once in a while, they know that the Alice Cooper show is going to be something, there's going to be surprises in it and there's going to be stuff that's going to make people sit there and go "oh, ok that was really satisfying." Hopefully we never let the audience down and so far I don't think we ever have.
This upcoming tour is going to be your thirteenth tour here, have you noticed a change in audience over generations?
You know that's another very strange thing, if you go to any one of our concerts we've noticed that the first twenty or thirty rows are all fifteen to twenty five years old and they know every lyric and they have the eye make up on, and some of the girls are dressed like the nurse, and they pick up certain characters in the show. Then we notice that the next generation is the next group back and then the older generation are sort of in the back watching. So I think we go through three different generations, three or four, it's one of the only times that you're gonna have a grandfather, a father and a son all listening to hard rock and kind of like being happy with it.
You're still rockin' the same band as the last time you were here, how is it all running at the moment?
Yeah the great thing about this band is they're all handpicked. Ryan Roxie is the guy that I know is a great rock and roll guitar player and he knows how to work the stage, Chuck Garric he has his own band called Beasto Blanco and he is one of those bass players that just looks like he should be in the Alice Cooper band. Glen Sobel just got voted best drummer in Rock and Roll, Tommy Henriksen is the guy who's sort of my anchor, he's the guy that really holds things down, then our guitar player 'Hurricane' Nita Strauss is just a total shredder, I mean she looks like a model and she just gets up there and shreds. The thing that makes it even better is that every single one of these people is best friends so you never hear anything backstage except laughter, you're never hearing anybody screaming at anybody or any yelling, it's all just laughing.
Well you can really see that come across on stage, it did look like fun up there.
It really is, these guys get up on stage and they give me everything they've got every single night and I think what people are probably surprised about is the high energy in this show, we never let the audience get a chance to get their breath, and a lot of people will say 'well Alice has got to be almost seventy now I'll bet he's really slowing down' and all this, I don't think I've ever done a show with this much energy and I feel great, I've never felt better in my life.
You're also bringing Ace Frehley along with you, a great pairing, why was Ace the perfect choice?
He was one of those guys that we've known since early KISS days, and I don't know what their falling out was with KISS but Ace was always a friend, he kept his show together, he kept his act together, he plays great and there's just something right about it, it really works. We're also doing a tour in August, it's Alice Cooper, Deep Purple and Edgar Winter, but Alice Cooper and Deep Purple together is really a good classic rock show.
I love that you're still loving it and still going, when we spoke last time and Motley Crue were wrapping up you said you were never going to quit and it's showing!
Oh yeah, you know Motley Crue I think had come to an end of creativity and there was a lot of conflict in their band, they hardly talked to each other and to me I said that's exactly the opposite to what I want in a band, I want the guys in the band on a day off to go to the bar together, I want them to go out to dinner together, go out to a movie, whatever. So that's the kind of band I always wanted and I insist on that. Conflict is something that does not work in a band. You can tell that our band is having fun on stage, I could only tell there was conflict going on with Motley Crue.
You mentioned new music before and it's been a long while since new music from you, what can we expect?
Well I've got a new album coming out in July and it's called 'Paranormal' and it's Bob Ezrin and I, Bob is producing. Larry Mullen is playing drums on it from U2, that's a whole different thing, Billy Gibbons plays on one of the songs, from ZZ Top, and then it's really all stuff that Bob and I just decided we're going to do an album of stuff that we like. So it goes all over the place but it's still a guitar rock album, we decided no story-line in this one, the songs all have a story but there's no connecting sort of string that connects the songs all together. So that's why we called it 'Paranormal' it's sort of other than normal for us. You know I'm at a point now when I'm making albums now I'm making albums for my audience, for the Alice Cooper fans, I don't think in this generation the way the music business is you're really not making albums to break a new audience. I think it's great if you do get people that discover you and do become Alice fans, but it's a whole different thing than it was in the seventies. In the seventies you'd make an album and people would go out and buy it and they would become your fans, now I think it's so scattered and splintered that Alice is gonna be Alice, KISS is gonna be KISS we've all established ourselves with a certain sound and certain look and we're really not looking, I know it's great that people are coming along but we're not sitting there saying we've gotta break the twenty year olds into Alice Cooper. If they discover us, great, but I listen to the radio now and I kinda don't get it, it's very introspective and it's kinda all over the place. There's a couple of great bands but it's not like it was in the seventies where almost every band was unique.
So obviously over time a lot of things change but what is the one thing you'd say has stayed the same in your time making music?
I was born in Detroit so I am always going to be a Detroit sort of guitar rock band, I was based in The Yardbirds and The Kinks and The Who, Chuck Berry was sort of our patron saint and I learned to write lyrics just listening to Chuck Berry, I mean he could tell a story in three minutes and make it a funny interesting story in three minutes and I listened to that and said that's how I want to write my lyrics. Now of course I always had a dark sense of humour so I added that to it. If you listen to us we will always be a very hard driving rock and roll band with melodies, I think that Bob Ezrin insisted that everything has to have a good melody to it, not just a throw away vocal on it we always wanted to develop that melody and make sure it was a good song, not just a good riff.
What's left to do that you haven't yet done that you want to accomplish?
Well you know there's always that idea of taking Alice Cooper to Broadway, and if we did that I would never do it the way that Broadway would do it, I would take what we've learned over fifty years and sort of make Broadway have to listen to us, I would never water it down. In other words if you go to see 'Tommy' on Broadway it's really watered down compared to what The Who's 'Tommy' was, I would never allow 'Welcome To My Nightmare' or any of that to ever get mellowed out, I would keep it hard rock, I would keep it loud, I would keep it angry, scary, spooky but then I would be able to use the entire stage in order to really, really make those songs come alive.
So we shouldn't hold our breath for an acoustic album any time soon?
Never ever, don't lose any sleep over that *laughs* I've never ever, I've promised my fan base I will never do an unplugged album. I mean you could take those ballads 'Only Women Bleed', 'I Never Cry', 'You and Me', 'How You Gonna See Me Now' and if somebody wanted to do those songs acoustically they could do a great show around it, but it won't be me.
Lastly let's look ahead to the future, finish this sentence for me, by the end of 2017 Alice Cooper wants to…
Finish the album for The Hollywood Vampires, and we finish this tour on the 6th of December, so I'm ready to start the new tour with The Hollywood Vampires in 2018.
Think you could bring The Vampires here?
Oh yeah, the Vampires are gonna do a world tour. That band is really fun, here's something that people don't realise, Joe Perry from Aerosmith great guitar player, takes guitar lessons from Johnny Depp. That's how good Johnny is, Johnny is a really excellent guitar player.
Oh yeah I know, he's played on some of Butch Walker's stuff…
Oh Butch Walker is one of my favourite guys, you talk about a guy that really, really brings it, there's a guy that brings it. He is really great I went to see him a couple of times and I said, man, if I had a young band and they said "well what should we do?" I'd say "well go watch Butch Walker."
On that note, thanks so much for your time again, Alice.
Hey I'll see you when we get down there, OK?!
Wouldn't miss it!
*laughs* Alright!
AUSTRALIAN TOUR DATES: 'SPEND THE NIGHT WITH ALICE COOPER' WITH VERY SPECIAL GUEST ACE FREHLEY
Tuesday 17 October Perth Arena, Perth, WA
Thursday 19 October Thebarton Theatre, Thebarton, SA
Friday 20 October Margaret Court Arena, Melbourne, VIC
Saturday 21 October Hordern Pavilion, Sydney, NSW
Monday 23 October AIS Arena, Canberra, ACT
Tuesday 24 October Entertainment Centre, Newcastle, NSW
Wednesday 25 October Convention Centre, Brisbane, QLD
Tickets on sale now at www.ticketek.com.au with Adelaide tickets available at www.ticketmaster.com.au.
Presented by TEG Live
Essential Information
From: Phoenix, AZ, USA
Band Members: Alice Cooper – Vocals, Chuck Garric – Bass, Tommy Henriksen – Guitar, Nita Strauss – Guitar, Ryan Roxie – Guitar, Glen Sobel – Drums
Website: http://www.alicecooper.com