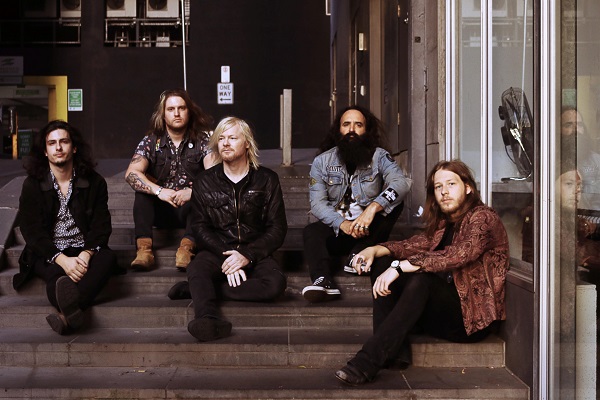 "I guess because we started out very small and we built it up through the pubs and clubs it's just enabled all of us, me included to just be creative and just enjoy the music, have fun and not think about anything other than that you know?"
As far as Aussie rock goes you can't beat a band out there just killing it up on stage with a live show that is musically on fire, songs that take you back to those jams that get you in the mood to rock and with great tunes and great presence you get Palace Of The King. Two albums in and with much more to come from them these guys are definitely one of the Best Things You've Never Heard! Check them out!!
While in the studio recording some new material, we gave Tim Henwood of Palace Of The King a call to talk about the band, new music, evolution, support slots, touring, and more…
So for those that may not have heard you guys before, it's sales pitch time, how would you best describe what Palace Of The King is all about?
Palace Of The King is a 70's style rock and roll band that lives in the modern age, and by no means are we purely a retro act, we run like a very modern band we try to get a record out every year and we tour really hard like they did in the 70's.
After being in a few notable bands over the years it's so great to see you back out the front with POTK, what does this band allow you to do that you may not have been able to do previously?
I guess because we started out very small and we built it up through the pubs and clubs it's just enabled all of us, me included to just be creative and just enjoy the music, have fun and not think about anything other than that you know? Whereas when you're in a big band on a big record label a lot of other things start to interfere in your mind without even knowing they are.
What I love about the band is the musicality of you all, I love the jams, the grooves, what's the creative process like when writing tunes for this band?
Well usually the guys go away and they write interesting pieces of music that they formulate and they love jamming on without any singing, so they'll go away and do that then we all get in the studio and I record, I engineer and record the band playing all these instrumental pieces so at that point they're already in my mind great pieces of music, really strong and the guys are already loving it. Then I take it away and I write all my singing parts and try and make them even better, then I send them to the guys and hope that they're OK with it *laughs* usually they are.
How if in any way has the way you guys have written music changed as you grow as a band?
Its's stayed pretty much the same from the start, what happened when we first started the band was the guys sent me four instrumental tracks that they'd been working on and they were looking for a singer, so I got the tracks and I really liked them so I sang my parts over them and sent them back and they really liked what I'd done. That was probably four years ago now, so I just said to them there's no reason why this is working so let's keep doing that, you keep writing the music, giving it to me and then I'll write the singing parts. The process has stayed pretty much the same, the individuals have changed like some of the guys write more than they used to and some write less than they used to as far as the musicians in the band I think that just goes in ebbs and flows, sometimes people feel creative and sometimes they don't, if someone's on a roll and suddenly one of the guys writes half of the music for the album everyone's fine they're just like let's go for it, let's do it and twelve months on we're going to have another album anyway. *laughs*
I was going to ask about that as music wise your two albums hit pretty much within a year of each other, you're obviously making a new one, what can we expect from album number three?
It's a bit of a progression from the last 'Valles Marineris' I think gradually the band's just evolving gradually and slowly as putting out an album every year like those classic bands you are affected by all the touring and the experiences of going to Europe and America and all these great things and it does affect the music but we certainly don't and there's not enough time to go away and totally reinvent yourself when you're putting a record out every year. I think it's a natural progression, maybe a little but funkier maybe this album than the last two.
When can we expect it?
Toward the end of the year, we haven't got a set date we just like to keep ahead of the curve. I think 'Valles Marineris' has been out about seven months now and we've already got half the next album finished, working on the second half now, so yeah we kind of like to think we can get it out exactly twelve months after the last one *laughs* but we have to make sure that the business people want to do the same thing so fingers crossed.
You guys put on a great live show and have been scoring some great support slots, when you have to go out there and try and win over a crowd that may not always be directly yours how do you approach each show?
Just with respect, we understand and I understand as the singer in the band that when we get out there on stage in front of someone else's crowd they may never have heard of us before and a lot of them haven't, it's their first show for a lot of people and first time they've seen Palace Of The King and so we just try to be respectful of them and we know that they're probably just thinking 'come on just bring on the main band' and I think usually the audiences feel that we have empathy and we also have respect for them and we're saying 'hey, we're going to do our best to really entertain you and have a great time and show you what we can do and then we'll hand you over to the band you came to see and hopefully by then you'll be ready to rock' and we usually succeed in that, usually people are right into us by the end of our set and be right fired up for whoever is coming on after us.
When you are getting support slots like The Angels and The Baby Animals, you guys are perfectly suited for that and obviously we're an Aussie rock loving crowd so it's a good match…
Yeah it's great, it's great for us and we're lucky we're being invited on all these tours and we're really pleased to be able to do these shows, and it's a great way for us to win new fans a lot of people are discovering us doing these tours and that's the same way those bands built their fan base over time it's just those bands supported other bands back in the day.
Even Bon Jovi supported Hall & Oates and KISS back in the day and look what happened to them…
*laughs* I didn't know they supported Hall & Oates *laughs* there you go!
Other side of that is you're also out playing your own headline shows, if people miss you this time around when will we see you back out on the road in Australia?
Well we've got a lot of touring coming up, obviously we've got our own shows over Easter, doing the Bendigo Hotel in Melbourne, we're doing Frankie's in Sydney, going to Adelaide, on tour with the Angels at the moment. After that we've got a tour with The Screaming Jets and The Baby Animals in the middle of the year, but before that we're going to LA to do some showcase gigs, and then I'd say toward the end of the year when the album comes out we'll do a run of our own shows again. Basically always playing *laughs*. We're hoping to get over to Europe again too.
What is the overseas market like for you guys?
Oh it's great, Europe is fantastic we have a great time over there and it's really fortunate for us that the Europeans like their rock music so much and they always give an Australian rock band a chance and come out and see you and if they like you they'll come back.
Speaking to the guys in Airbourne they say the same thing, they say that basically heir crowd is there.
Oh absolutely and we did some gigs with Airbourne towards the end of last year in France and England and they're crowd is a great crowd and they really seemed to get into Palace which was a good chance to play in front of their audience, and the crowds were so big the rooms were huge, Airbourne are huge over there.
What's on your list of things to do with this band that you haven't yet had the opportunity to do?
Oh mate, I mean we're doing it all if we could just make some money we'd be right *laughs* other than that I think what we're doing is what we want to do, tour and play our music and be creative and make records and if we could just keep doing what we're doing I'd be happy.
Lastly let's look ahead to the future, finish this sentence for me, by the end of 2017 Palace of the King wants to…
*laughs* God… I don't know… by the end of 2017 Palace Of The King wants to be bigger than AC/DC *laughs* wants and what actually happens are two separate things on there *laughs*
Catch Palace Of The King on tour:
April
Thurs 6 – Frankies Pizza, Sydney, NSW
Fri 7 -York on Lilydale, Melbourne, VIC (with Angels)
Sat 8 – Gateway Hotel, Geelong, VIC (with Angels)
Thurs 13 – Bendigo Hotel, Melbourne, VIC
Sat 15 – Baha, Rye, VIC
Sun 16 – Crown & Anchor, Adelaide, SA
Sat 22 – Whalers, Warnambool, VIC
With Baby Animals and Screaming Jets
June
Friday 2 – Castle Hill RSL, Castle Hill NSW
Saturday 3 – The Metro, Sydney NSW
Friday 9 – Metropolis, Perth WA
Saturday 10 – The Astor, Perth WA
Friday 16 – Eatons Hill Hotel, Eatons Hill Qld
Saturday 17 – Nightquarter, Gold Coast QLD
Friday 23 – The Gov, Adelaide SA
Saturday 24 – The Gov, Adelaide SA
Friday 30 – NEX, Newcastle NSW
July
Saturday 1 – Wrest Point Casino, Hobart Tas
Friday 7 – 170 Russell, Melbourne Vic
Saturday 8 – Chelsea Heights Hotel, Chelsea Heights, Vic
Essential Information
From: Melbourne, Australia
Band members:  Tim Henwood – Vocals // Matt Harrison – Guitars // Sean Johnston – Keys/Guitar // Travis Dragani – Drums // Anthony Licciardi Garcia – Bass
Website: http://www.palaceofthekingmusic.com and https://www.facebook.com/palaceofthekingmusic
Latest Release: Valles Marineris (Out Now)