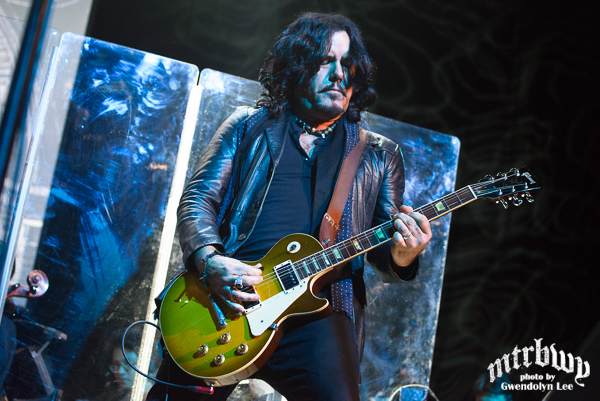 If you've ever read one of my reviews before you'd know that I like to review in the moment and give a play by play of everything that happens, but for this show I knew it was going to be something special, something different that I needed to actually be in the moment for and not writing while at the show. So what I'm actually doing is reflecting on this show, and the show I saw was The Tea Party with the Sydney Youth Orchestra, and I've actually always wanted to simply write a review one day that just said 'wow' and tonight it I feel like this is the show that I could've done that with because what I witnessed was something that I was blown away by, simply blown away by… so… WOW!
Of course I'll elaborate a little…
Watching the orchestra walk on stage first and as the band followed to rousing applause launching into 'Temptation' you just knew that this was going to be something amazing, and with a perfect song to start with and hearing this song with the orchestra just worked it was simple, it was powerful, it was exactly what I had hoped and I knew the rest of the night was going to be the same. Watching the three piece of The Tea Party up there, Stuart was on keyboards for the first couple of songs, Jeff as powerful as ever and Jeff Burrows hitting those drums was just nuts, as for me they have always been one of the heaviest bands musically I've seen live and watching that blend in with this Youth Orchestra worked with just magic precision.
Through a set list covering the bands career there were songs in there that were handpicked perfectly and some done previously some fifteen years ago with conductor Marc Ouellette who travelled over to perform this show with them, so hearing these songs for me for the first time this way was amazing but knowing that the band had worked a couple of new songs in there have such as the 'Ocean At The End' which was an epic peace and songs like 'Oceans' which was a very personal piece for Jeff and the band as Jeff described the loss of his best friend earlier that day, it was a very emotional night and was very emotional song and seeing the way that Jeff Martin actually seemed to crack a little bit during it was just proof to me he's human but also how much of a true musician and professional he is.
Every song worked, simple as that, yes there are the stand outs for me though a song like 'Requiem' which was phenomenal made more so by them bringing in an opera singer from Montréal named Christine Williams who came out for a few songs and holy shit what an absolute perfect complement to the orchestra to make these songs over and above the perfection they were already obtaining. The stand out for me was always going to be 'Heaven Coming Down' as it's my favourite Tea Party song and I'm glad they included in the set because of the way that it worked and the way that the song built and was filled out by the orchestra so of course was easily my favourite of the night.
'Save Me' was the perfect choice before the encore as it was broken up with an unbelievable rendition of 'Hallelujah' mid song and you could tell Jeff once again was emotional but he covered it so well and this rendition was phenomenal and as the strings came in it was just simply a moment as they blended back in the 'Save Me' to close the set, special mention to the bow coming out on the guitar too, and no he didn't have to borrow it off one of the string section, that I noticed anyway… Jeff returning with an acoustic to perform 'Winter Solstice' before the massive closer 'Sister Awake' was a perfect way to end the night as the band and the orchestra received a well-deserved standing ovation.
To sum it up on reflection, what they gave us tonight was one of the best nights musically and truly one of the best concerts I've seen in a long, long time and I swear it's going to be hard to see the band again as I feel I can never see them again without an orchestra so I'm sorry fellas…  but in saying that they'll be back in Australia in late this year for the 'Transmission' tour and I'll be there. So at the beginning I said all I wanted to say was wow and am going to finish this review of The Tea Party with the Sydney Youth Orchestra by saying exactly that.
WOW.
Essential Information
Venue: The Star Event Centre – Sydney
Date: April 21, 2017
Presented by: TEG Live
Website: http://www.theteaparty.com
Photo By: Gwendolyn Lee – Gwendolyn Lee Photography – check out our full gallery HERE
Set List:
Temptation
Psychopomp
Gone
White Water Siren
Oceans
Correspondences
The Ocean at the End
Walking Wounded
Transmission
Release
Requiem
Mantra
The Messenger
Heaven Coming Down
Save Me / Hallelujah
Winter Solstice
Sister Awake