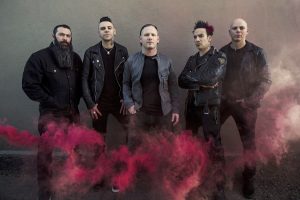 Stone Sour has announced details of their highly anticipated new album HYDROGRAD, which will be released Friday, June 30. HYDROGRAD is available to pre-order now. Recorded at Sphere Studios in North Hollywood, CA with producer Jay Ruston, HYDROGRAD features the track Fabuless and Song #3, both available now at all DSPs and streaming services. Fabuless is joined by an official music video directed by Paul Brown.
Stone Sour unleashed their eponymous debut album in 2002 and was immediately confirmed as one of the most significant hard rock outfits of the 21st century. The self-titled release earned RIAA gold certification while singles Get Inside andInhale each received GRAMMY® Award nominations for Best Metal Performance.
COME WHAT(EVER) MAY followed in 2006 and proved an even greater accomplishment, with a top 5 debut on the SoundScan/Billboard 200 and reaching #21 on the ARIA chart. The acclaimed album spawned another GRAMMY®-nominated single in 30/30-150.  The follow up, Audio Secrecy (2010), debuted at #6 on the ARIA chart. Stone Sour's most recent all-original releases, the monumental HOUSE OF GOLD & BONES – PART 1 and HOUSE OF GOLD & BONES – PART 2, both made top 10 debuts on the SoundScan/Billboard 200 just six months apart from one another. In Australia Part 1 debuted at #13 while Part 2 saw Stone Sour reach their highest debut on the ARIA charts to date at #4.
Released in 2015, STRAIGHT OUTTA BURBANK was an unprecedented EP in which Stone Sour took on five immortal songs originally performed by such iconic artists as Bad Brains, Iron Maiden, The Rolling Stones, Mötley Crüe, andSlayer.
Known far and wide as a truly incendiary live act, Stone Sour has built an international fan following through countless headline tours, multi-artist caravans, and performances at such famed festivals as Rock In Rio, Soundwave in Australia and the UK's Download Festival.
Stone Sour are: Corey Taylor (vocals), Josh Rand (guitar), Roy Mayorga (drums), Johny Chow (bass), and Christian Martucci (guitar).
HYDROGRAD TRACKLISTING
YSIF
Taipei Person/Allah Tea
Knievel Has Landed
Hydrograd
Song #3
Fabuless
The Witness Trees
Rose Red Violent Blue (This Song Is Dumb & So Am I)
Thanks God It's Over
St. Marie
Mercy
Whiplash Pants
Friday Knights
Somebody Stole My Eyes
When The Fever Broke
FOLLOW STONE SOUR
OFFICIAL WEBSITE | FACEBOOK | TWITTER | INSTAGRAM | YOUTUBE