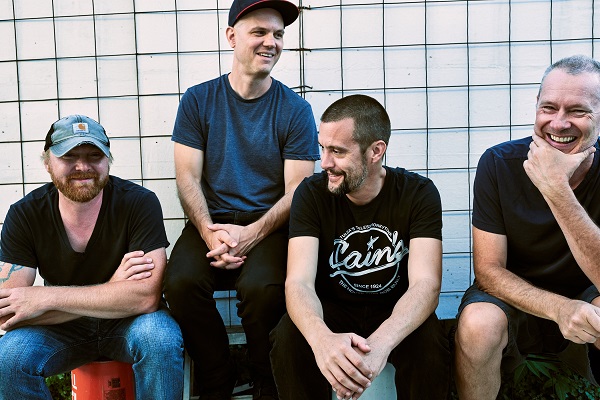 Ahead of their upcoming Australian tour, we caught up with Page Hamilton from Helmet to muse on the band's 1994 game-changing album Betty, a record which will be featured in full at shows across the country this April and May.
If you were a fan of heavy guitar music in the days after Nirvana went stratospheric, there's a chance that Helmet's Betty album would have most likely featured in heavy rotation on the soundtrack to your awkward teen life.  A fusion of jazz derived chordal weirdness and soul crushing heaviness, it sparked a flame in the hearts of riff music lovers across the globe, particularly those in Australia. While it may have underwhelmed the bean counters associated with the band on release, it drew universal critical acclaim and has since stood the test of time as a document of real aural innovation and intensity.
As it transpires, any album that follows a band's breakthrough release is destined to be dissected under the commercial microscope, compared and judged against its predecessor. In Helmet's case, Betty followed the band's massive 1992 breakthrough album Meantime, a record which sold in the millions, and justified an unheard of six-figure advance and offered the New York natives total creative freedom by mega hip label of that moment Interscope.
When discussing Meantime, Page is fairly humble when regarding any pre-conceived plans for its success, plainly stating, "we were just wanting to do something that we dug and thought was cool. I was conscious of doing something different from what everybody else in New York was doing, cos I felt at a certain point everyone wanted to be like Sonic Youth- who we love- but we wanted to do something heavier and kinda more aggressive."
When it came to following up an album that had matched and even exceeded expectations, one would assume a great amount of pressure and responsibility would fall on the shoulders of the band member whose riffs, arrangements and vocals would define the release; for Page though, the pressure surrounding Betty came from outside of the band, rather than from within it. "I didn't feel any pressure, but I felt the disappointment from everyone when we did Betty.  We didn't make Meantime to be a hit, or at least we weren't trying to make a hit record. We had no plan.  I think a lot of bands go in, which is fine, I mean some of my favourite albums and songs and things were done by people consciously trying to make a hit, you know Marvin Gaye or the Motown stuff, or whatever. We were just trying to make music that we like."
At the time, those associated with the business of the band, and perhaps even some of the fair-weathered fans (that had jumped on the band via MTV rotation) considered Betty to be an exercise in experimentation, whereas Hamilton sees it more as just a logical creative progression. "I don't really see it as experimental," he explains. "I think the first 7" Born Annoying is more (experimental); it's like free jazz, or free hardcore, haha! I guess I see what people mean; I was definitely, you know, ready to move on from Meantime, but with Meantime we were ready to move on from Strap It On, so I guess it was just another step forward. It wasn't trying to shoot myself in the foot commercially or as far as accessibility is concerned, I kind of felt that so many people were on the Helmet bandwagon at that point that it would be kind of fun to throw some curve balls; it was like, you know we've sold a million records, we can do what we want (laughs)."
While some saw Betty as an experimental departure, another key element in shaping the sound of the album was the departure of co-conspirator and rhythm guitar ace Peter Mengede.  When quizzed on the impact of Peter's departure, Page is candid with his response, explaining, "I wouldn't say I'm difficult, or a control freak or a perfectionist, like people have said, but I know how to make records- especially Helmet records- and I've played a lot of guitar…like every day. So there were certain things that were more sort of intuitive for me, than for Peter.  He had a beautiful guitar style, really cool, that's why I wanted to have him in the band, but I think we'd gotten to the point where I felt kind of like having another guitarist play is more work than just doing it myself. It's still like that with Dan now, I love him like a brother and he's a great guitar player, but Helmet's been my vision from day one. I want to have two guitar players, I like the way it sounds and feels, so it's always going to be a little easier not having to worry about somebody else."
Though it was received by critics with open arms and has since been embraced and elevated to classic status among fans, Betty was the album that began the slow erosion of the band's relationship with Interscope, which ultimately saw the band leave the label in 2004 after the Size Matters album.  Looking back Hamilton explains, "We didn't sell enough records for them. Interscope was not the label it was when we signed there. Initially they were so hungry, they were about signing Primus and us and No Doubt, but they got so big so quick that they changed from being a label that was supporting this kind of fringe music that Helmet was. So for whatever reason they didn't put the same efforts into Betty and Aftertaste, their focus was putting out singles and MTV videos. Helmet is kind of a hard sell in a way, they put a lot of effort into the Meantime stuff, but the band didn't get worse after that album; like Betty and even Aftertaste have stood the test of time, so it's not like were making shitty albums."
Tour Dates:
Monday 24th April – Perth, Rosemount Hotel
Thursday 27th April – Adelaide, The Gov
Friday 28th April – Melbourne, 170 Russell
Saturday 29th April – Sydney, Manning Bar
Sunday 30th April – Brisbane, Brightside
Tickets: www.tombowler.com.au/tours/helmet/
Essential Information
From: New York, USA
Band members: Page Hamilton – vocals/ guitar, Dan Beeman – guitar, Dave Case – bass, Kyle Stevenson – drums
Website:  http://www.helmetmusic.com/
Latest Release: Dead To The World (Out Now)


Comments
comments