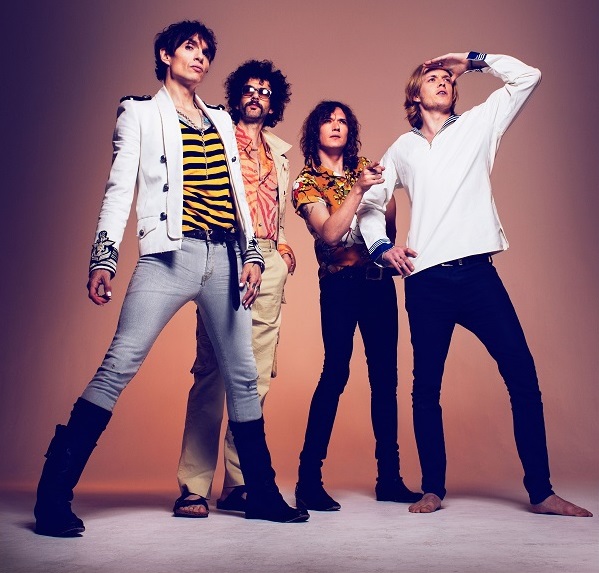 "…when we come to a place like Australia and you've travelled a long way and people just go nuts and it's brilliant, that's why you do this, that's the reason you perform anyway because you feel the energy in the room, and there's nothing like it, we're just very lucky I think."
From Release: Rejoice, Australians fair, in your home which you so rightly claim to be girt by sea – THE DARKNESS are quite simply thrilled to be returning to your shores! Those lovely people at Groovin The Moo festival have realised that there is simply NOT ENOUGH ROCK on your otherwise wonderful island, and have tasked us with saving YOU from inferior musical stylings. Besides leading the stellar festival line up at GTM, we also gift you headline shows in all of Australia's favourite cities, showcasing our trademark mix of relentless rifferama, effortless haute couture, ridiculously loud noises and bright things that flash on and off. Ask any fool – a DARKNESS show is a place where believers come together, where fluids are shared, and dreams are built. But most importantly, where rock and roll is crowned king EVERY NIGHT! Come one, come all…
In the middle of England in a recording studio making the bands fifth album we gave Justin a call to talk about the band's return to Australia, festivals, set lists, new music, the future, and more…
You're heading back to see us for Groovin' the Moo as well as side shows, as a band do you have to prepare differently for festival sets compared to headline shows?
Well I think yeah probably we do, you have treat the festival shows like you're going  to have some passing trade so people might not really be into what you're doing so you've gotta play the old hits, the crowd pleasers and hopefully some they'll recognise. Whereas I think when it's your own show you can get a few more deep cuts, more new stuff you know what I mean.
With a catalogue spanning four soon to be five albums… Do you have a hard time putting them together when there may be songs you want or keep in that you have to sub out?
Well we can play a bit longer, were unlikely to outstay our welcome and try and do a cross section of all of it really. We did a show just before Christmas where we asked people on the Internet to sort of vote for their favourite songs they'd like to hear us play so we ended up doing a few more tracks from the second album and stuff we don't play so often.
One request. Any chance you can please play 'Dinner Lady Arms' in Sydney?
Well that was the most requested one for the Christmas show we just did, so we have rehearsed it and we do remember how to play it just about, so yeah maybe…
Australia has been a huge market for The Darkness, do you have a favourite memory of one of your previous tours here?
The last tour we did was amazing, I really had a great time particularly Brisbane because we skyped mum and dad at home and I've got family in Brisbane as well so it was a special night really, big family night and we celo taped my brothers iPhone to the guitar stand so that my mum and dad could see the whole show, and the crowd were amazing it was just a brilliant night. We played great and there were ladies exposing their breasts and going crazy, it felt like we were on top that day.
I remember seeing you guys in Sydney at The Gaelic Club in 2004 and it's still one of my favourite shows I've ever been to. What I love is that that energy hasn't  wavered since then. What is it that you enjoy about performing live?
Oh yeah! Well to be honest because we've had memories like that, it's a bit like from what I've read when you've had a drug and you're just chasing that high again but somewhere near it every time really especially when we come to a place like Australia and you've travelled a long way and people just go nuts and it's brilliant, that's why you do this, that's the reason you perform anyway because you feel the energy in the room, and there's nothing like it, we're just very lucky I think.
You've always had such a great rapport with Australian audiences, what do you think it is about the music of The Darkness that we connect to down here?
Dunno I think it's because it's pub rock and I think Australia invented pub rock I suppose if we have a particularly strong fanbase it's because we're doing something that is Australian *laughs* you know? We just play Australian music and we're besotted because we're English blokes doing Australian music, I don't know.
With Rufus now being in the band for eighteen or so months, has he now completely settled in?
Oh yeah it's brilliant I don't even think about it anymore, he's a fully-fledged partner, equal member, he's part of the brotherhood and he's not going anywhere, now that we're recording with him as well he's a fucking monster in the studio, it's really, really exciting  so I can't wait to play new material when we come to Australia as well, his input has been invaluable.
Does it still freak you out that you have a spawn of Queen in the band?
Yeah, sometimes it freaks me out, I've been out a couple of times with his dad and stuff and I have to stop myself from being a total nerd, I'm obviously a massive fan of his dad and I'm a massive fan of his as well.
Let's talk about new music as you said you're in the studio, when can we expect something?
*asks Dan* I think it's September when it comes out worldwide, it will be simultaneously released everywhere I think. There might be a special edition for Australia, or not, I don't know how it works really. I was quite excited to hear we're going to be doing a cassette, one of the formats will be cassette which I was really pleased about, and CD and vinyl, hard copies, it's great. It's just nice to hold something in your hand when you listen to it especially when it's good.
So what can we expect from this new album?
Probably a bit harder a little bit more elaborate, progressive, still loads of dooms, various chord changes, little jumps at the end, all the usual pub rockisms, it sounds like a Darkness album but if I might say, a fucking great Darkness album. I want to call it 'Five' I don't know if the other guys will let that happen but it feels like a five, feels important, it feels like 'Rocky V'. I'm very proud of it.
Looking back at your entire career so far, has there been one moment that stands out for you as one that just can't be beaten?
I suppose yeah, winning a Novello award for song writing was a really big moment because that was something for me and my brother was one of our ambitions. Headlining Reading festival was great, touring with the Big Day Out was really brilliant as well as those were really good times. I'm excited about Groovin' the Moo though as that's sold out and sounds like it's just going to be an open goal really, it's brilliant, brilliant audiences every time and also the chance to play our own sets as well, it's great.
And it's easy to say what's changed within a bands time together but what would you say is the one thing that's stayed the same over the years?
That's a good question, the one thing that stayed the same is that I'm still wearing one piece cat suits to perform in, that's the one thing, and if it was two things it's that Dan is still wearing Thin Lizzy T-shirts. Those are the things that aren't broken, and Les Pauls! Les Pauls never change, and Thunderbirds.
So after these shows, what's next for The Darkness?
Just loads of touring, loads of albums and just keeping on keeping on keeping on…
Lastly let's look ahead to the future, finish this sentence for me. By the end of 2017 The Darkness want to…
By the end of 2017 The Darkness want to have melted as many faces as possible. Australia, New Zealand, hopefully a bit of Europe, oh yeah we're gonna do some UK stuff at the end of that year as well, I think we want to just want to have a little moment at Christmas with all of our families and just go 'yes, we fucking kicked ass this year!' That's what we want really, to be able to look back on 17 and say that we nailed it.
Well with the album out in September hopefully you'll be riding on a high…
Hope so, hopefully we'll be celebrating a hit, a mega smash as unlikely as that seems we'll just be happy having kicked ass I think.
HEADLINE TOUR DATES:
Thursday April 27 – Eatons Hill, Brisbane (18+)
Tuesday May 2 – Max Watts, Melbourne (18+)
Wednesday May 3 – 170 Russell, Melbourne (18+) – sold out
Friday  May 5 – 170 Russell, Melbourne (18+) – 2nd and final show
Wednesday May 10 – Enmore Theatre, Sydney (Lic/Aa)
Friday May 12 – Metro City, Perth (18+)
PRESENTED BY SELECT TOURING AND BLUE MURDER
http://selecttouring.com.au/tours/the-darkness/
THE GROOVIN THE MOO 2017 TOUR DATES:
Friday 28 April – Wayville
Saturday 29 April – Maitland
Sunday 30 April – Townsville
Saturday 6 May – Bendigo
Sunday 7 May – Canberra
Saturday 13 May – Bunbury
Essential Information
From: Lowestoft, Suffolk, UK
Band members: Justin Hawkins – Vocals, guitar, Dan Hawkins – Guitar, Frankie Poullain – Bass, Rufus Tiger Taylor – Drums
Website:  http://www.thedarkness.co.uk
Forthcoming release: Yet to be titled… – (coming September 2017)