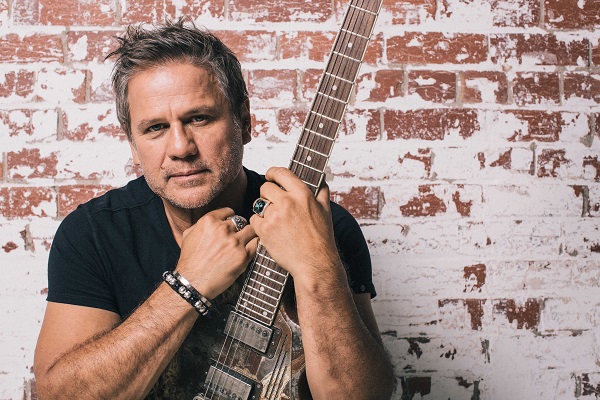 "Music is a positive, beautiful thing to share with other people and make people happy and I fuckin' love that, I love that aspect of singing and performing and making music and sharing it with people in a live environment you've got that one moment in time and that's it, so I just live for that moment really."
From Release: Jon Stevens is recognized as one of the most talented rock musicians to emerge from Australia in recent memory. He has had phenomenal success as a solo artist, knocking Michael Jackson off the top of the charts in Australia, and as the lead singer of major rock acts, Noiseworks, INXS after the death of his friend Michael Hutchence, and the Dead Daisies. In 2016 he joined forces with legendary musician, songwriter and producer Dave Stewart (of Eurythmics) to record a new album, Starlight. With his mojo fully intact, Stevens stands virtually alone in the music scene, with a raw vocal power that won him attention first as a teenager and now as a veteran singer and songwriter. Time has toughened his delivery while tapping into his emotional wellsprings more than ever before.
While in Melbourne Jon gave us a call to talk about his new solo album 'Starlight', its creation, Dave Stewart, Ringo Starr, touring, his voice, and more…
Why was now the right time for new music from you?
Well new music is good any time I reckon *laughs* but I mean we made the album last year it's just really exciting for me that it's finally coming out because it's a lot of work went into it and a lot of love and a lot of exciting things happening with it, so just get it out there and start playing live.
Can you tell us a bit about 'Starlight' and what inspired it?
Over the last year what inspired it, getting together with Dave Stewart when we first met I had all these songs and all these ideas that I was going to play Dave *laughs* and I didn't play one of them, within fifteen minutes of meeting each other for the first time we just started writing, talking about the guitar and everything that we wrote together culminated in 'Starlight', and it was really like a stream of consciousness, it was just how he likes to work and that's kind of how I work too and just sitting there getting into the sort of mantra of playing and singing and coming up with melodies and lyrics appear and stories appear and it's kind of a weird way to write, but it's kind of tapping in to something. Dave is very much like that as well so it was really mellow he's more of a cerebral songwriter and he's written so many songs but he's actually very, very spiritual in the moment and open, so when you're creative you need to be open, there's no such word as can't when you're creating.
What was able to bring to the project and to you that you may have never considered doing before?
He brought Ringo Starr *laughs* I'm still going 'wow' you know. Ringo is an old mate of his, he invited Ringo over for dinner and invited me over for dinner and Ringo shows up and we had a great night culminating a couple of weeks later Dave and I writing a song and I said 'hey, Ringo would great to play on this, you reckon he'd play?' He said 'well let's ask him' then Ringo heard the song and loved it and said he would absolutely love to play on it. So what did Dave bring to the table? He brought a lot including Ringo *laughs* I mean to me it's amazing that I've played with a Beatle, I mean it's amazing you know, Ringo doesn't really play drums for anybody really, so I was just so happy he loved the song and loved what we were doing. So very honoured and all that, he's a great guy, a wonderful man and just true living legend, very few times I get star struck and that's one of them for me.
What I dig about the album is it's just full of different vibes and grooves, was it an interesting exercise putting the album together to make it this finished piece?
Yeah, because Dave works in a different kind of way and as I said earlier it's more a tapping into the stream of consciousness that we were sort of channelling in and like you said why there's these different vibes on there. We didn't say OK I'm a rock singer and we're gonna make a rock album, you know, one direction and I've always been known to sing from soul to rock to hard rock to pop, I'll sing everything. So 'Starlight' has got a bit of everything in there and also got a lifetime of experience and stories you know.
In being very personal is it hard to put it out like this for the world to see?
No it's kind of like purging for me *laughs* you know what I mean? The last album I did in 2015 the 'Woman' album was a purge, this one is more uplifting I suppose, and some really is a purge, I don't set out to write a song about suicide or a song about this or that, it just kind of comes out. It's like drawing a picture and all of a sudden it come into focus. What it is is what it's about and then you go 'oh shit, that's been lurking in my sub-conscious for god knows how long'. So it's great from that point of view to allow me to not get too depressed, I think most artists have a side of the that can be really quite depressing and song writing allows me to look at myself I suppose and relate to 'don't go there' and 'don't do that'.
What does the title 'Starlight' represent to you personally?
Well there's a stream of consciousness, we wrote the song and I looked at the lyrics that came out and thought 'holy shit' and realised that I had a brother that committed suicide and that's what I wrote it about, simple as that. So, that's the truth of it for me anyway, it may mean something to somebody else but that's what it is for me, and the bridge in the song sort of cements it really "so you threw your life away, couldn't face another day" but I believed in you. That's the thing when you lose a friend or family or whatever, you think everything's ok but on the inside you don't know what people are going through, so it's a reminder to be mindful of people around you and to just be able to talk about what you're going through is a big thing, like my brother he didn't talk about it and it's just a shock. So there's a lot of that going on today, it's just everywhere and I think it's a think that needs to be addressed and I didn't set out to do that and it just came out as 'Starlight' but I recognise the positive twist it has I this day and age anyway.
In terms of touring can we expect to see you out on the road playing these new songs for us soon?
Oh yeah I'm actually doing an album launch on the 7th of April in Melbourne and that'll be the first time you hear all these songs, it's just a one off show then I'm doing a couple of shows in May and then I'm going to Europe I have to do a bunch of shows culminating in the 'Isle of Wight' festival which is a buzz to play which I mean very excited about. So shows in Europe from end of a May to June and the ill come back to Australia in July and August to tour, we're ready to roll.
Your voice is still as pristine as it was back in the 80's when we first heard you in Noiseworks, what's your secret?!
*laughs* um… I smoke and drink and carry on, rock and roll, I mean maybe. It's just a positive attitude to life and that's a hard work ethic and being used to loud music, I don't know? It's a muscle and I've been rehearsing the last couple of days and I'm a bit sick but I don't think about being sick because I've got to go perform tomorrow morning on TV and I don't even think about that I just go and sing it doesn't matter what state I'm in it's going to come out s certain way *laughs*.  I think years of respecting it but not abusing it but not worrying about it, worrying is half the problem for most people because you're working yourself into a lather and I learnt item very easy days touring six nights a week in pubs around Australia that it doesn't matter how sick you were that you had to get up and play, so I've played through everything and I realised that it's just mind over matter most if the time. Sure you've got a get your sleep but it's really mind over matter, if you worry about something you're gonna manifest it. Music is a positive, beautiful thing to share with other people and make people happy and I fuckin' love that, I love that aspect of singing and performing and making music and sharing it with people in a live environment you've got that one moment in time and that's it, so I just live for that moment really.
This is going to sound corny but I have to do it as this year is 30 years since the debut Noiseworks album so 'Take Me Back' to that time, can you tell me what you remember about releasing that debut album back in 1987?
Oh very excited, really excited and being the young blokes we just had the world at our feet and we ran with it. We were all already playing and we were all very seasoned musicians, we'd all been playing around in the pubs in various bands and outfits and Noiseworks when that group of people came together it just had a magic about it. So we just went from there and off we trotted *laughs* you know the pubs in the 80's was pretty wild, so growing up in that environment and learning your craft in that environment is the best learning ground in the world, there's none better than the pubs in Australia to learn how to rock *laughs* nowhere else in the world does it like Australia, nowhere else *laughs*. So when we eventually went over to play overseas in Europe and America they didn't know what hit them because they just weren't used to it, the same with INXS and AC/DC and all those bands that made it internationally they just didn't know what hit them because they were so accomplished on the stage live, the energy was ferocious you know.
It's amazing too as whenever you do play with Noiseworks and I've seen it it's still there…
Oh yeah, it's a sum of the parts, it's like a group of people that have a magic sort of quality that happens when they all get together, like any great band I suppose, but for me Noiseworks broke up twenty five years ago, so it's one of those things where obviously I'm doing my own thing and do Noiseworks occasionally but making music is where it's at for me, I'm not interested in egos and bullshit, music industry bullshit, I couldn't care less, I'm just interested in making music and playing shows and making people happy.
Lastly let's look ahead to the future finish this sentence for me. By the end of 2017 Jon Stevens wants to…
By the end of 2017 I'll be having a rest from touring around the world *laughs* and start again in 2018, but certainly I'll have another record done by the end of the year that's for sure.
It sounds like you're on fire at the moment I love it…
You know I'm in a great place nowadays, it's good and having made this record with Dave and going to America and having all these people validate what you're doing, when we spend too much time in one place and no disrespect to down here but we're a long way from the rest of the world and people get a little complacent and get a little bit down because there's only so much you can do here and the support of the industry here is not that great anymore you know what I mean? Apart from people like yourself people in the trenches don't know what's going on but the industry itself is not very supportive of artists, most artists are now basically doing it themselves *laughs* and it's sad when you see young bands signed to the majors, the poor things *laughs* the poor burgers, those 360 deals that rape and pillage them for the rest of their careers, and older guys like me don't play that game *laughs* we don't do that. So going overseas and working with Dave and Ringo and all these people that basically validated for me to continue doing what I'm doing because you can get stuck going round in circles here. Just to earn a living and I've certainly be doing that but just grateful and making this record has given me an injection of you know what I'm alright, I'm OK. I'll just keep forging ahead.
Essential Information
From: Australia / New Zealand
Website:  http://www.jonstevens.com
Latest release: Starlight – (Out Now – Liberator Music/Angel Works Productions/BMG))