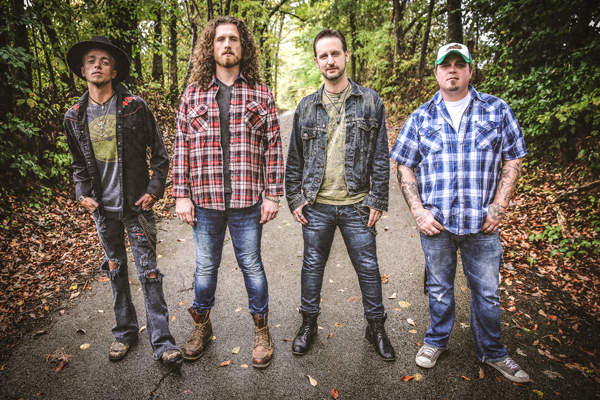 "…I like the fact that the Australian audience has no pretense it's kinda like if they feel like moving around and having a good time they do, they're not worried about the guy next to them and what he's thinking they just cut loose and have a good time which is what it's all about."
From Release: Hard Rock Heroes BLACK STONE CHERRY have had a dynamite year. They've dropped their latest record KENTUCKY worldwide, they've toured Australia with Steel Panther and they have done the biggest show in the world, Wembley Arena earlier in 2016. Black Stone Cherry will be arriving back in Australia hot on the heels of their tour down under in 2016 with Steel Panther, where they wowed full houses early on. That was the band's maiden voyage down under and they are returning ASAP to cement their place in Australian audiences' hearts.
At home in Kentucky we gave Jon from Black Stone Cherry a call to talk about the band's return to Australia, song writing, opportunities, growth, playing music, and more…
You're heading back to Australia in April for some shows, second time within a year, how did it come about that you're headed back so soon?
Well when we came with Steel Panther before it was initially supposed to be a headline tour, and ticket sales were going really well and I actually believe a couple of the rooms had sold out and then Steel Panther's manager contacted the booking agent and said we're coming down there and would love to have someone open for us is there any American bands that are coming in any time, well funny that you say that, Black Stone Cherry are coming out and they just sold out a second room on their tour and he told us the details, same money, bigger rooms and direct support and they hit us up and we were like "touring with Steel Panther in Australia? Yes!" *laughs*. So we came and did that and thankfully were well received and the people spoke and the promoters listened and said it's time to come back, so here we are.
What was it like playing in front of Australian audiences for the first time?
It was awesome man, I like the fact that the Australian audience has no pretense it's kinda like if they feel like moving around and having a good time they do, they're not worried about the guy next to them and what he's thinking they just cut loose and have a good time which is what it's all about.
So if people missed you on the Panther run, what can people expect when they come and see you guys play?
John Fred has lots of hair and looks like a furball, Ben kicks as high as he possibly can *laughs* no, we try and deliver a solid energetic show every night no matter what, whether it's six people or sixty thousand people we learned how to do that for the constant back and forth between here and Europe because here we'll do five hundred to fifteen hundred seats depending on region, some larger, but the Europeans especially we're finally to the point and very thankfully to the point that we're now headlining arenas, so we definitely know the six to sixty thousand vibe because we have done a lot of the major festivals and premiere slots, we've headlined the second stage at Download twice, we just headlined a festival called the 'Ramblin' Man' festival and that was the first time we'd actually been the main act, the headlining act on the main stage we just did that this past summer, so we're no strangers to thousands of people in the audience but we're definitely not strangers to a few hundred people in the audience. There's positives and negatives in both, the positives of playing a humongous festival or headlining an arena is there's so many people that you just can't help but feel the intensity from the audience. The negative is that you can't see the eyes of the people in the back row, that you can't even see their heads *laughs* that's the positive side to the smaller gigs is you get to have that connection and personal intimate experience that you're not going to get in a large setting. So that's why we're really enjoying the Australian audience, not only because we get to have more an if experience but the people are really genuine and they really dig music and very honest about it and we really appreciate it.
'Kentucky' has been out for about nine months now, how has the album cycle been so far?
It's been fantastic, it's the first time we ever produced our own album and everybody received it really well and it got great reviews and we were all as nervous as you could possibly imagine *laughs* it was kind of like well there's no one left to point the finger at so if this flops it's on us *laughs* but thankfully everyone dug it, like Ed the owner of the label the way he put it to us whenever we were talking absolute the vision of our record he said 'guys I have total faith in you producing your own album because this is your fifth record if you don't know what you're supposed to sound like by now on this album then you should never record another album again.' And that was the most honest and bluntly put statement from anybody I've ever heard in the record business because they're right if you don't know what you sound like by your fifth record, hang it up, go home, there's no point in doing this anymore. *laughs*
Five albums in now how do you feel you've grown and evolved into the band you've become today?
Oh man, song writing and touring are probably the two things that have not only grown the most but taught us the most. From a song writing stand point we did the second record 'Folklore and Superstition' we co-wrote that album with the producer Bob Marlette and he taught us so much I still to this day rely on a lot of the ideas and concepts that Bob taught us while we were in that album cycle process. Then from there when we did 'Between the Devil and the Deep Blue Sea' Ron Burman who was the A&R rep at Roadrunner Records he wanted us to kind of spread our wings and fly a little bit more, he wanted us to really figure out the whole song writing thing and understand the formulas behind it. So he set us up with countless and when I say countless it got to the point where it was grueling, countless songwriters with everybody, Zac Maloy from Nashville, Dave Bassett in Los Angeles, Bob Marlette again, we wrote with him again for the third, we had countless guys from Nashville Blair Daly I made great friends with him, I actually co-wrote a song that he and I did called 'Life's Twisted' that Lynyrd Skynyrd picked up later on, so it was a great experience to meet all these different songwriters and build these relationships and to learn and grow as we did, because now like I said with the song that Blair and I did now I've had cuts outside of my band and all the other guys are doing stuff outside the band now too. Sometimes the four of us have a song to pitch to a country artist or some other rock band or whatever, sometimes one will go by ourselves, sometimes it's two or three of us, it's kinda like we have this revolving door of constantly trying to write music where ever it fits where it goes type of thing, so we never try to force a square peg into a round hole, we just let things happen naturally.
Other side of that, it's easy to say what's changed over your time together but what would you say is the one thing that's stayed the same in your time together?
Honestly the thing that has stayed the same the most is that no matter how bad the situation or how hard the times may seem or may get we've always been able to rely on each other and we've always been able to rely I the fact that we're going to get over it, we're going to sit down and talk as family and as fairness and resolve the issues and be able to move forward in a positive way, and almost every time be stronger than we were before.
As the band continues to make music, what's on top of your list of things you want to do you haven't yet had the opportunity to do yet?
In general, there are lots of regions in this world, lots of corners that we have not yet been to, Australia our first time last year and our second time coming up, we went to South America the first time last year and we'd love to return, we only did Argentina and Brazil it would be nice to stretch out and go further next time. Then Europe we've been long-time friends with mainland Europe and the United Kingdom people but it would be nice to get a little bit more into the eastern part of Europe, the people are so hungry for good music but they just don't get it because nobody will invest their time into a region that's not filling their pockets you know? For us, yeah we've got to make money, we've all got kids and mortgages and all that, we've gotta survive but for us there's two things you miss out on if you don't go to the more poor regions of the world, you're missing that experience for true honest, hungry people, ones that are really missing and striving to have a hold of something that's normally not in their backyards, they want to be able to see the big shows, they want to see the rock bands, they want to see the pop groups and want to make an experience of it and make a connection with those bands and more often they don't get to. The other side of things, the more selfish side, we want to see these places, you only go around index so we want to go back to Hungary, we want to go to Poland for the first time, you know, Czech Republic, all these places. Like Russia, Russia is one of the richest countries in the world but we've never been there, it's quite in the opposite direction of what I was saying a second ago but that country just thrives big time when you talk finances, but it's a just a pain to get there, something about the border controls which I don't blame them it's fine, it's their country and they're there to protect it and I don't blame them at all, but I would love to go to Russia to see the countryside, meet the people and see the culture and all that.
I love a band that just want to get out and play for people, that's really cool…
Well man, we've been together for a long time and been doing this for a long time but none of us have forgotten and we constantly remind each other that we were between the ages of fifteen and eighteen when this band started, we would get out of high school and I mean even before this inception of the band started John Fred, Chris and I were playing music together for three or four years before this band started, it was just the three of us and we would have a couple of different guys move in and out kind of thing but they never stuck until we got Ben, but the three of us have played music together since 1998. We were puppies, we didn't know how to play three chords but we hung out and we liked to beat instruments as much as we could *laughs*', so we're constantly reminding ourselves of those times Monday to Friday at 3 o'clock in the afternoon that school bell would ring and we'd be in one of our friends cars because none of us were old enough to drive and we be driving down to the practise house which is where John Fred's dad from The Kentucky Headhunters has written and his band has rehearsed for the last thirty five to forty years and they kind of let us take over the house. So here we are right after school, fifteen, sixteen, seventeen years old and we're from school to what we considered work, it was fun work but it was work, we would work from 3:10 – 3:15 in the afternoon right up until 10 or 11 at night, none of us did homework, we never turned homework in we just had to force ourselves to be intelligent enough to pass the test regardless of the homework so we would get though High school *laughs* because those five days a week we were at the practise house, Saturday we would wake up usually at John Fred's house because he lived right down the street from the practise house so we would crash with him on Friday night, wake up at 8 or 9 on Saturday, go to the practise house and be there all day and not leave until the sun went down that night and then we'd go to Glasgow and hang out because that's the next town over and the bigger town in our area, we got there and hang out and we would end up at the practise house later that night running over stuff we had done that week. It was just non-stop grueling work ethic and we are still very passionate and love that we are all still in love with music and playing music for people.
Lastly, let's look ahead to the future, finish this sentence for me, by the end of 2017 Black Stone Cherry want to…
Headline Wembley stadium. It's a pipe dream but it would be great *laughs*
TOUR DATES
Thursday 20th April – The Triffid, Brisbane
Tickets at mjrpresents.com
Friday 21st April – The Factory Theatre, Sydney
Tickets at mjrpresents.com
Sunday 23rd April – Corner Hotel, Melbourne
Tickets at mjrpresents.com
Monday 24 April – The Capitol, Perth
Tickets at mjrpresents.com
Essential Information
From: Edmonton, Kentucky, USA
Band Members: Chris Robertson – vocals/guitar, Ben Wells – guitar/vocals, Jon Lawhon – bass/vocals, John Fred Young – drums
Website: http://www.blackstonecherry.com

Latest Release: 'Kentucky' (Out Now)