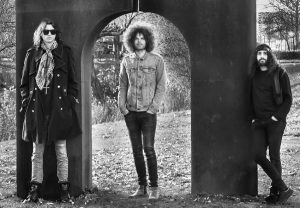 Having spent the majority of 2016 touring & selling out theatres, stadiums & festivals throughout the world including North & South America, Europe, the UK & Scandinavia, Wolfmother finally return to Australia for the home leg of their Gypsy Caravan Tour (& their first full national album tour since the release of 2009's 'Cosmic Egg').
With an extensive history & career, including multi-platinum sales, ARIA, Grammy & other award nods too numerous to mention, Wolfmother released album number 4, 'Victorious' in 2016 to rave reviews & enthusiastic international response resulting in the aforementioned extended world tour.
Led by vocalist/guitarist Andrew Stockdale, Wolfmother have amassed a global fan base, played to packed-house crowds around the world, delivered show-stealing sets at star-studded festivals like Coachella, Lollapalooza, Reading and Leeds, and have been invited to share stages with rock icons Aerosmith and AC/DC. For their induction into the UK Music Hall of Fame, Led Zeppelin personally invited Wolfmother as their guests (the band showed their appreciation by delivering an electrifying cover of "Communication Breakdown"). For most artists, such accomplishments usually mark the culmination of a career – if they're lucky.
Pitchfork praised the songs for striking "a balance between meaty vintage metal and crisp, stoner-rock melodies." NME said it ticked "the requisite boxes for all great rock & roll" and called it "utterly, utterly thrilling," and Q Magazine called it "immense fun." When it was released in 2005, Wolfmother's eponymous debut was exactly what rock & roll needed: a meaty, beaty, big and bouncy genre resuscitator that not only broke through to the mainstream, but broke big. Wolfmother was certified Gold in the States and Triple-Platinum in the band's Australian homeland. Lead single "Woman" hit top ten on the Hot Modern Rock Tracks Chart and won a Grammy for "Best Hard Rock Performance." Their songs became ubiquitous, appearing in films (Shrek, Jackass, The Hangover), video games (Need For Speed, MLB: The Show, Saints Row) and television commercials (Apple, Mitsubishi). No wonder Rolling Stone named it one of the best albums of the year.
Ten years after their arrival, Wolfmother have returned with what could arguably be called their best work to date. With Victorious, Stockdale once again arrives right on time: in an era dominated by single-song downloads, this is an album worthy of repeat listens from top to bottom. Following 2009's Cosmic Egg and 2014's New Crown, the much anticipated Victorious (Universal Music Enterprises) is an electrifying testament to the range and depth of Stockdale's artistry. Recorded at Henson Studios in Los Angeles with two-time Grammy winning producer Brendan O'Brien (Pearl Jam, Soundgarden, Bruce Springsteen), the songs are edgy, inventive and uncompromising and rank among the band's best ever.
http://www.wolfmother.com/

WOLFMOTHER
+ Guests
National "Gypsy Caravan Tour" 2017
TUMBLEWEED (Wollongong & Sydney Only)
DAVEY LANE (all shows except Margaret River, Perth, Adelaide & Frankston)
IMMIGRANT UNION (all shows except Margaret River and Perth)
DREAM RIMMY (appearing at Margaret River & Perth only)
Thu April 20th – The Cambridge, Newcastle. NSW
Tickets & Show Info HERE
Fri April 21st – Waves, Wollongong NSW
Tickets & Show Info HERE
Presented By Triple M
Sat April 22nd – Metro Theatre, Sydney NSW
Tickets & Show Info HERE
Presented By Triple M
Sun April 23rd – The Triffid, Brisbane QLD
Tickets & Show Info HERE
Wed April 26th – Settlers Tavern, Margaret River WA
Tickets & Show Info HERE
Thu Apr 27th – Metro City, Perth WA
Tickets & Show Info HERE
Presented By Triple M
Fri Apr 28th – The Gov, Adelaide SA
Tickets & Show Info HERE
Presented By Triple M
Sat Apr 29th – Pier Bandroom, Frankston VIC
Tickets & Show Info HERE
Presented By Triple M
Sun Apr 30th – The Croxton, Melbourne VIC
Tickets & Show Info HERE
Wed May 3rd – Club Forster, Forster NSW
Tickets & Show Info HERE
Thu May 4th – Panthers Club, Port Macquarie NSW
Tickets & Show Info HERE
Fri May 5th – Sawtell RSL Club, NSW
Tickets & Show Info HERE
Sat May 6th – Coolangatta Hotel, Gold Coast QLD
Tickets & Show Info HERE
Sun May 7th – The Helm, Mooloolaba QLD
Tickets & Show Info HERE
Thu May 18th – Kay St Entertainment Complex, Traralgon VIC
Tickets & Show Info HERE
Fri May 19th – The Wool Exchange, Geelong, VIC
Tickets & Show Info HERE
Sat May 20th – The Granada, Hobart  TAS
Tickets & Show Info HERE
Sun May 21st – Club 54, Launceston TAS
Tickets & Show Info HERE