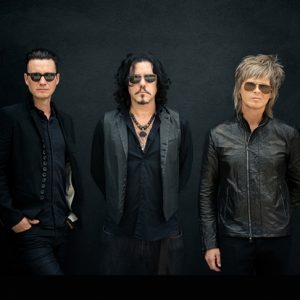 Would you like to see THE TEA PARTY live in Sydney on us? Well, thanks to our friends at TEG Live and RPM we have 2 x double passes to give away for what will be an amazing show as the band play with the Sydney Orchestra at the Star Events Centre on Friday April 21.
So to be one of our two winners of a double pass all you need to do is shoot us an email with your name, address and phone number and tell us in 32 words or less…
Which Tea Party song would you love to hear played with the orchestra and why?
While you're thinking of an answer you can check out our interview with Jeff Burrows of The Tea Party HERE
Entering is as simple as sending the answer and your details to mtrbwy@maytherockbewithyou.com with the subject 'THE TEA PARTY Ticket giveaway' and we'll let you know via email if you are selected as a lucky winner.
Only complete entries will be accepted!!
Entries open: Friday 31st March
Entries close: Wednesday 12th April
Tickets are still available to the show, and if you don't manage to win, this is a show that you shouldn't miss…
You can still get your tickets by clicking on this banner below!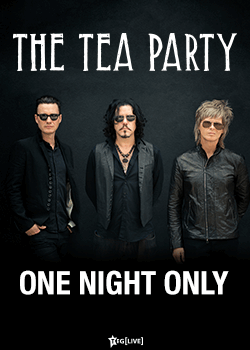 NB: Competition is for tickets only, no airfares to get there sorry!
About the show:
TEG Live, Australia's leading integrated live entertainment, sport and lifestyle company, is bringing revered Canadian trio The Tea Party back to Australia next month.  The band will perform their first ever Symphony shows in Australia when they take to the stage with a 48 piece Orchestra for one exclusive show, Friday April 21, 2017 at The Star Events Centre Sydney, followed by a concert at Melbourne's Hamer Hall on Friday April 28. The Melbourne date has now completely sold out, with fans rushing to secure tickets to this unique event, so the Sydney show is the only remaining chance to see The Tea Party in full symphonic flight!
The Tea Party is also thrilled to announce that acclaimed Canadian conductor, Marc Ouellette, will join them to preside as conductor for these two concerts. He has had a long-standing relationship with the band, playing an integral role in the development of their Symphony show, and it is a genuine highlight for Australian audiences to experience Maestro Ouelette and the band working together.
Australia began its love affair with The Tea Party in 1995.  The band's second album, The Edges of Twilight, became their first top 10 album in the country thanks to the incredible support of fans and Triple J.
In 2002, The Tea Party toured Canada with a full Symphony Orchestra following the release of their Interzone Mantras album (whilst also touring Australia 3 times that year alone).
The Orchestral Show has not been performed outside of Canada since 2002, and is being updated from its Canadian origins to incorporate a broad range of bombastic, epic hits and fan favourites, from across the band's impressive career – from their first album in 1993 to their most recent 'The Ocean At The End' in 2014.
Since its inception, the band has relied heavily on the use of Middle Eastern instruments to provide a unique twist to their hard rock style.  Instruments such as Oud, Sitar, Qanoun, Hurdy Gurdy, Theremin, Rabob, Tabla and many unusual and rarely seen percussive instruments feature heavily through their catalogue, and many of these will feature in this unique performance.
A full Symphony will lend a dramatic turn to these songs with spectacular arrangements, and the band is thrilled to work with orchestras of this calibre.
Incredibly, this will be The Tea Party's sixteenth tour of Australia since 1993.
Sydney has been home to some of the most dedicated Tea Party fans in Australia, with the band releasing a live DVD/Blu Ray commemorating their reunion tour at a sold out Hordern Pavilion show in 2012.