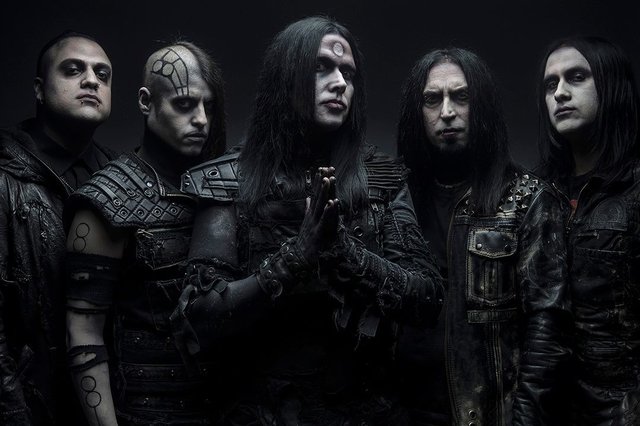 "It's fun for me too, it's like a live meet and greet I take questions, I tell stories, I play songs so it's live a live meet and greet I get to sit and tell stories with my fans and we're all just in the same room with a real intimate setting…"
From Release: With a vivid and vile imagination that has endeared him to countless fans of riff-driven macabre over the last two decades, WEDNESDAY 13 has been one of rock's most prolific protagonists, spreading his credo of grave-robbing rock 'n' roll and Hallowe'en debauchery around the globe and unleashing a seemingly endless stream of blood-spattered albums and EPs. But there is more to the man than just the fiendish persona, a side that Australia will see next March. Wednesday playing all his classics from Wednesday 13, Murderdolls, Frankenstein Drag Queens, Planet 13 and more – BUT this time is will be all intimate and all unplugged! On top of that WEDNESDAY 13 will telling campfire stories and answering questions making it the ultimate fan experience
At home in Los Angeles we gave Wednesday 13 a call to talk about his upcoming return to Australia for a his acoustic tour, signing to Nuclear Blast, new music, turning Foo Fighters fans, & more…
Always great to talk to you, we last spoke just over a year ago, so let's catch up, how has the last year been for you?
Busy, busy, it seems to be no end which is a good thing. We just finished our US Unplugged Undead acoustic tour and we just came back and had the band guys come up as we're all scattered we don't live in one area, two of us live in LA, one lives in Portland, two live in Texas so as soon as I got back home I had the guys come out here for a photo shoot and a video shoot we just finished that up the other day, and so that's been busy, busy, busy and I leave for tour again in eleven days for The UK. So yeah, just been staying busy and that's a good thing.
Last time we chatted I asked about bringing the acoustic tour down her and you said I didn't need to twist your arm to come back, and here we are, it's happening… what can fans expect on this run of special shows?
It's a totally different show to the full band show, it's not a big theatrical production, we're not doing costumes and make up it really is a stripped down sort of campfire sort of storyteller show. The show's An Evening With, there's no opening bands, we just cover my career in song, basically everything from my band before Murderdolls 'Frankenstein Drag Queens', to The Murderdolls, Wednesday 13 stuff, it covers twenty years of music and different things that I've done, and the fans seem to like it. It's fun for me too, it's like a live meet and greet I take questions, I tell stories, I play songs so it's live a live meet and greet I get to sit and tell stories with my fans and we're all just in the same room with a real intimate setting. I've had fans tell me they've seen every one of my shows, fifteen times the full band but the acoustic thing is their favourite because it's so intimate and just tells the story of everything, so it's fun for me and fun for the fans.
I've always loved a 'storyteller' scenario type gig, as an artist what's it like telling the stories behind the songs, do you see people get surprised when they find out what they songs are about?
Oh yeah, every night. That's what's fun about the show is that anyone that doesn't really know my sense of humour or whatever, a lot of people that don't really follow the band, they just hear the songs and see the band every once in a while they don't really know behind the scenes and how we are but I'm pretty down to Earth and speak to my fans honestly and so that's probably the most shocking thing when they come to the show and hear me talk and are like 'whoa, he's not acting like Dracula'*laughs* he's down to Earth and calm and cool and I think that's the most shocking thing. Then I'll tell stories and say we recorded this right before we did that, this happened, so I think it's shocking for the most part when people see that the acoustic thing actually works because when you hear acoustic show and Wednesday 13 you don't really see that as a common thing but it does work, so it's something cool that I started doing a few years ago, and luckily the fans have caught on to it and it separates the shows and I'm able to do a full band tour and then in between tours I can do these acoustic runs here and there to fill in the gaps and it's fun for everybody.
Has it been fun going back into the catalogue and reworking songs or even to pick out songs you may not have played in a long time or at all?
Oh absolutely, that's the cool thing because when it comes to the Wednesday 13 full band live show it's hard to pick out a set list because we're usually trying to cover the new album we're promoting at the time and you just can't cover everything. This is a two and half hour show and I can work in pretty much anything from any part of my career and tell a story and it just fits, but with the full band show we kind of run out of time to cover all that history.
Also a Bourbon Crow set, which is rad, what was the idea behind doing this on this run?
Well yeah, Bourbon Crow is one of my side projects I've had for years and years now and unfortunately we haven't been able to tour due to scheduling and things like that because it's not just me it's me and my friend RAY who splits vocal duties with me and writes songs in that band as well, so when it came time to do this acoustic tour and take it to England and Australia I was like well what if I worked in a Bourbon Crow set on top of the acoustic thing. So yeah it worked out. So now it's basically an hour and a half of the Wednesday 13 show and then a forty five minute Bourbon Crow set, so yeah, I'm up there for quite a while on stage and I can kind of cover the whole history of what I've done and what I do.
This will of course be about your 612th trip to Australia which we love, but do you have a favourite memory of a previous trip here?
*laughs* Every time I come to Australia there's a story and some memory, I don't know if I have one specific memory but playing Big Day Out I remember was a really big thing back in the day and we were playing when the Foo Fighters were headlining and if I had to pick a memory just one of those kind of how did I end up here kind of memories, I remember we played at the Big Day Out festival we played an off day with the Foo Fighters and I don't remember what part of Australia it was, it was a Tuesday night in the middle of a field somewhere and it was just us and the Foo Fighters and their fans, and we came out thinking 'this will be great, it's sold out, Foo Fighters they're gonna love us' and we came out and the crowd just looked at us like a fuckin' spaceship had just crashed, like they were just so not into what we were doing. Actually it was in Perth now that I think about it, and it was just like we came and they looked at us like 'get the fuck out of here' I remember looking at the crowd and looking over at Dave Grohl watching us going 'yeah what the hell are you guys doing?' I was like 'what?' *laughs* yeah so that was definitely a memory *laughs*. They treated us awesome though, one of the coolest bands we've ever toured with and treated us like gods it was amazing.
Also some killer news, you've just signed to Nuclear Blast, nice work, what does this mean for you?
Hopefully bigger and better things, I've been doing the independent, DIY, self-release route for a while now, I've been doing that for my last several releases and the music business is always ever changing and when it came time to put this record out I just kinda stepped back from the picture and thought what do I want to achieve with this new album, what's different with this album than what I've done in the past. What I want to achieve with this album is just bigger things and what I've been doing I can only reach a certain audience on my own and I can only reach a certain audience by doing it by myself so I need that tool of a label to help me out and maybe reach other people that don't know who we are. Our shows are becoming bigger and bigger and we're sort of growing out of these smaller venues we're playing because the show is becoming so big, so I'm trying to turn those people that don't know who we are on to it so we can move on to bigger things. That's kind of where my brain is now and having an opportunity to put the record out with Nuclear Blast I can't think of a better metal label than there is right now, a lot of my favourite bands are on it, friends are on it and they work really hard and we stuck it out until we got a deal with them and I couldn't be happier.
So the goal is to turn the Foo Fighters fans, yeah?
Absolutely *laughs*
With that news comes a new album in June called 'Condolences' anything you can give us the scoop on?
It's the hardest I've ever worked on a record in my career, we spent two months writing it and we spent an entire month recording it and we just basically devoted our entire lives to recording that record, we take the last summer off and did that, the record's been done since September and it's the most focussed and best sounding Wednesday 13 record there is and it's my favourite thing I've ever recorded and I think it's the ultimate Wednesday 13 record, it ties it all together.
You've also just wrapped your first clip since the Fang Bang era, why was now the right time to make a video?
Again, doing the DIY route over the years and basically trying to decide where the money goes, does the money go into videos, does the money go into the tours, just in the past I've basically put most of my money into the touring and merchandise side and when we basically had any extra money it went into touring, so that money for videos and stuff like that kind of fell by the wayside. We're such a visual band so that was something that I've wanted to do for a while now, so another part of doing the label was having the tools for a video and reaching another audience and stuff like that. That was something really important when we discussed the deal with the label was to make sure we had a video budget within it and to get the visual aspect of the band out so we just did a video the other day and it was the most fun I've ever had doing a video too, so things are looking good. This year we're gonna have three or four videos for this album.
You're a man that never seems to slow down, so what's in the pipeline for Wednesday 13?
Everything. The acoustic run finishes up in Australia on the 26th in Melbourne, then we basically have half of April and May to come back and rehearse and build our new stage show which is gonna be quite a production if I get my way, so spend a month and a half working on that and rehearsing then we start touring in The States at the end of May, then we head over to The UK to do Download, then we head back to The States to finish our US run, then from that point on it's just an open book of just doing everything, we have Europe scheduled for the end of the year, hopefully we're coming back to Australia with the full band tour, so yeah it's probably going to be my busiest year I've had in quote some time, so it's gonna be a good thing I'm ready to get out there and do it.
Lastly as always let's look ahead to the future, finish this sentence for me, by the end of 2017 Wednesday 13 wants to…
Do the impossible… be the first bad to make it to Mars, how about that?!
Wednesday 13 Australian Tour Dates
Thurs March 23 – The Brightside, Brisbane 18+
Fri March 24 – Oxford Art Factory, Sydney 18+
Sat March 25 – Corner Hotel, Melbourne 18+
Tickets available from http://tickets.destroyalllines.com/
Essential Information
From: Hollywood, CA, USA
Band Members: Wednesday 13
Website: http://www.officialwednesday13.com
Forthcoming Release: Condolences (June 2nd – Nuclear Blast)