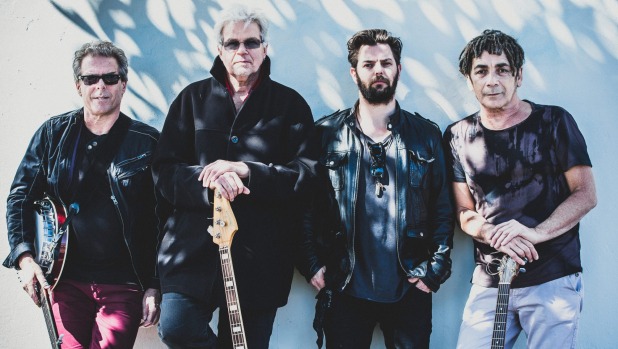 "…it's great to see how it's travelling whether they get forgotten, so yeah it's a great thing. I think the first time we heard it we were driving across the harbor bridge and it was like 'Wow!' it was amazing, we were all hanging out the windows."
From Release: When it comes to iconic songs, there are few as anthemic and recognisable as April Sun in Cuba. A chart-topper, it peaked at #2 in 1977 and stayed on the charts for a massive 22 weeks, acting as the first monster hit for legendary band Dragon and endearing them to Australian audiences. To celebrate the song's auspicious anniversary, the band have announced two special one night only performances for Melbourne and Sydney to party in style.
At home a couple hours south of Sydney we gave Todd Hunter of Dragon a call to wish 'April Sun In Cuba' a Happy 40th Birthday, talk about touring, Aussie hits, new music, & more…
How does it make you feel when a song like 'April Sun In Cuba' turns 40 and is still so loved after so many years?
Well I definitely didn't see it coming, it's incredible, it's great!
What do you remember about making the track?
We just had a big car accident and I looked around the studio and everyone was in bandages and neck braces and stuff, so that summed things up for the 70's for me, this bright shiny pop music and these twenty year old wrecks making it is very funny and you couldn't tell it was going to last this long either, it was just another song.
Does it make you look back now and think
As soon as a song is in the public domain and not yours anymore it's great to see how it's travelling whether they get forgotten, so yeah it's a great thing. I think the first time we heard it we were driving across the harbor bridge and it was like 'Wow!' it was amazing, we were all hanging out the windows.
Now I turned 40 last year and I had a big party, of course you're celebrating the songs birthday by playing a couple of special shows, what can people expect at these shows?
You can expect to come and sing, and we'll make a bit of fuss about 'April Sun' and get a birthday cake *laughs*
A cake? Really?
No *laughs*
As well as the special Dragon dates you're doing a Countdown chartbusters show, can you tell us about why you're heading out to play these songs?
Yeah well most of the time when we're backstage before the show we play a heap of songs by other people anyway so we thought why not just take it out to the stage instead of just playing it backstage and it works incredibly well, it's great fun, people love all of those songs and it's really good to pull those songs apart and find out what it really was that you liked.
So a favourite mix tape of songs that you guys love?
That's correct, songs from Countdown and then all the Dragon stuff after, so it's a couple of hours of music. It's easy to do because they're great songs but there's a big recognition when you hit the opening chords of certain songs and the crowd goes wild.
So it's easy to say what's changed over your time together but what would you say is the one thing that's stayed the same about Dragon?
I think it's the songs, it's entirely about the songs and not who's in the band and that's the thing, if you get the song right then everything just flows from that.
We had 'Roses' out in 2014, can we expect new music from Dragon any time soon?
Yeah we're half way through a new album we've got some really good songs happening, we got back into the studio in about a month or so to finish it off. So it'll be out around August.
Mark has been in the band now for over ten years, how has his involvement in Dragon kept the band alive and inspired?
Well he's just such a great guy and got such a different energy and he just works really well, I think we're up to our 850th show now, it's wild isn't it… and we're booked until the end of October, basically every weekend, so we're coming soon to somewhere near you so just come down and sing.
Outside of the chartbuster shows can we expect some more shows coming up?
Yep all the time we're heading out and doing all sorts of stuff.
Other than touring what is next for Dragon?
We'll do this whole tour, get the album out and see what happens from there.
On a personal note 'Rain' has always been one of my favourite songs, so firstly thank you for creating it and secondly when you write a song like that back in the early 80's did you know you had a big hit on your hands?
No absolutely not, there was no indication of it at all, I think when we recoded it we thought 'this is good' but we weren't prepared for it to work as well as it did. I think the first time I ever heard that song it was at night and I was walking along a beach in Cairns and there was a big fire and 50 or 60 singing 'Rain' at the tops of their voices. It was so great to walk past in the dark at midnight and it was like greeting an old friend like 'there you are' *laughs*
It's a song that could still be written and still be a hit today, whether it was foresight or whatever that may be, it's proof that you can write a good song…
No idea what it is but it seems a bit timeless that it all works.
Watching the crowd reactions when you play that and the hits is always just amazing to see…
It's just about the songs and it's a great thing all the love and noise that comes back over the monitors, it's just phenomenal.
Looking back at your career, has there been a stand out moment that can't be beaten for you?
No, I'm still waiting for that to happen *laughs* great things keep happening so just waiting for that to happen.
So what is left on the list of things you'd like to do but haven't yet had the chance to?
Nothing, play for another decade I reckon.
Lastly let's look ahead to the future, finish this sentence for me, by the end of 2017 Dragon will…
Have played over a thousand shows and still be playing every weekend and having a great time. We love it.
Tickets for Dragon's special April Sun in Cuba 40th Anniversary Concert shows in Sydney and Melbourne are on sale now.
Thursday 6th April 2017 The Basement, SYDNEY NSW www.thebasement.com.au
Friday 21st April 2017 Chelsea Heights Hotel, CHELSEA HEIGHTS VIC www.chelseaheightshotel.com.au

Dragon's OZ Countdown Chartbusters tour shows:
Saturday 8th April 2017 Anita's Theatre, THIRROUL NSW www.anitastheatrethirroul.com
Sunday 9th April 2017 The Co-op, CHURCH POINT NSW (02) 9979 6633
Friday 28th April 2017 Blue Cattle Dog, ST CLAIR NSW www.bluecattledoghotel.com.au
Saturday 29th April 2017 Mingara Recreation Club, MINGARA NSW www.mingara.com.au
Saturday 6th May 2017 Ryde-Eastwood Leagues Club, EASTWOOD NSW www.releagues.com.au
Friday 12th May 2017 The Brewery, ROUSE HILL NSW www.australianbrewery.com.au
Friday 26th May 2017 Wagga Home Tavern, WAGGA WAGGA NSW https://hometavern.com.au
Saturday 27th May 2017 Kinross Woolshed, ALBURY NSW www.kinrosswoolshed.com.au
Friday 2nd June 2017 Astor Hotel, GOULBURN NSW www.astorhotelmotel.com.au
Saturday 3rd June 2017 The Oaks Hotel, ALBION PARK NSW www.theoakshotel.com.au
Friday 9th June 2017 Lizottes, NEWCASTLE NSW www.lizottes.com.au
Saturday 10th June 2017 Canterbury Leagues Club, CANTERBURY NSW www.canterbury.com.au
Friday 16th June 2017 Dee Why RSL, DEE WHY NSW www.deewhyrsl.com.au
Saturday 17th June 2017 Wenty Leagues, WENTWORTHVILLE NSW www.wentyleagues.com.au
Friday 30th June 2017 Taren Point Hotel, TAREN POINT NSW www.tarenpointhotel.com.au
Friday 14th July 2017 Kingston Arts Centre, MOORABBIN NSW www.kingstonarts.com.au
Saturday 22nd July 2017 Hornsby RSL, HORNSBY NSW www.hornsbyrsl.com.au
Friday 28th July 2017 Beach House Hotel, HERVEY BAY QLD www.beachhousehotel.com.au
Saturday 29th July 2017 Twin Towns, TWEED HEADS NSW www.twintowns.com.au
Saturday 5th August 2017 Norths Leagues, NORTH SYDNEY NSW www.norths.com.au
Saturday 12th August 2017 Castle Hill RSL, CASTLE HILL NSW www.castlehillrsl.com.au
Friday 6th October 2017 Hamilton Hotel, BRISBANE QLD www.hamiltonhotel.com.au
Saturday 7th October 2017 Villa Noosa Hotel, NOOSAVILLE QLD www.villanoosa.com.au
Saturday 14th October 2017 The Cube, CAMPBELLTOWN NSW www.thecube.net.au
Sunday 22nd October 2017 Towradgi Beach Hotel – Sports Bar, TOWRADGI NSW www.towradgibeachhotel.com.au
Essential Information
From: Australia
Band Members: Mark Williams – Vocals, Bruce Reid – Guitar, Todd Hunter – Bass, Pete Drummond – Drums
Website: http://www.dragononline.com.au
Latest Release: Roses (Out Now)