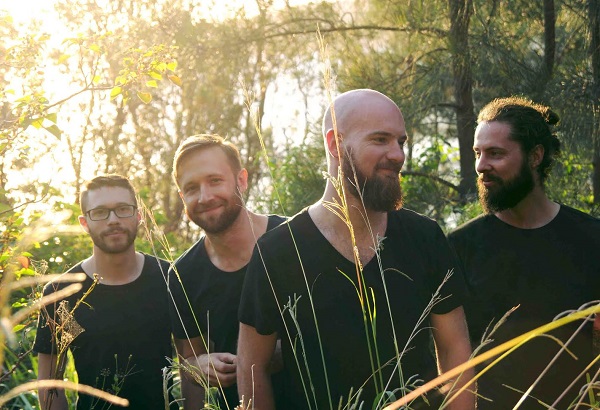 "Well we went into this record with a really clear goal in mind unlike the last ones where they sort of emerged and we just kind of dropped the stack around all the songs we'd sort of written up until that point then roped them in and dragged them kicking and screaming into the studio."
From Release: Post-rock trailblazers sleepmakeswaves have announced a massive start to 2017 with the news that their third album "Made of Breath only" will be released Friday March 24th through Bird's Robe Records, followed by a headline tour of Australia during March and April. Known for the passionate energy they bring to live instrumental rock, the band will take their epic and climactic live show around the country, premiering new material from the album for the first time, as well as favourites from their previous ARIA-nominated albums 'Love of Cartography' and '…and so we destroyed everything.'
At home in Turramurra and feeling a little dusty we chatted to Otto of sleepmakeswaves about the band's new album 'Made of Breath Only', creating music, touring, crowd funding, and much more…
You're about to release your third album, can you give us an idea of what we can expect?
Well we went into this record with a really clear goal in mind unlike the last ones where they sort of emerged and we just kind of dropped the stack around all the songs we'd sort of written up until that point then roped them in and dragged them kicking and screaming into the studio. This one we sort of set out to do something very specific and thematic and cohesive and we wanted something darker in tone, something the dealt more broadly with the theme of loss, and we also wanted to push ourselves and do something more ambitious musically in terms of technicality and song structure so some of the songs on this record are without a doubt the most technical that we've ever tackled in terms of time signatures and guitar parts and all that sort of stuff, we never wanted to become a technical metal band but we did want to push our instrumentation and we wanted to push the moods and the emotions of the songs going into a different direction since the last album.
I've asked this of many instrumental artists and bands as I'm always intrigued in the process of writing instrumental music to form a song, is there a process where there are no words?
Yeah we're super obsessive, I mean so obsessive and I'm sure other bands like us as just as obsessive but whenever I've worked on other music for other artists or other genres it's always been a much clearer process than seleepmakeswaves, songs that can take years and years and moments that we think might be great we treat them like organs, like we have a really good thing and if the song around it isn't that great we'll just cut it out, we'll transplant that thing and put it somewhere else if need be. We're pretty ruthless with that stuff we go through a lot of phases of trial and error and listening back and grading stuff and reaching the kind of standard that we want. In terms of the process of this record a lot of it germinated from each of the songwriters in the band coming up with ideas themselves, we usually try and see an idea through a few minutes rather than coming up with a riff and presenting it in a rehearsal room we used to sort of do that a little more but that would kind of lead us down directions we were kind of unsatisfied with in the cool light of day. Now days we try and think through stuff ourselves and then bring it to another member of the band who can have a bit more of a constructive conversation as to where to take it from there and what to put in the middle. Other than that we try to nut out all the guitars and the drums in a pre-production sort of setting, so with these songs before we even stepped into a rehearsal room to jam them out we had all the drums mapped out, we had all the guitars mapped out, we sort of recorded the whole record ourselves to a fairly solid and precise degree before rehearsing the songs and setting foot in the studio properly, and it sort of reflects the obsessiveness that we bring to this stuff.
Other side of that, how do you name the songs?
It's a bit of a hassle *laughs* because it's so important because it's the first thing that people see and it kind of anchors and sets the emotional theme for what they're about to listen to and provides and entry point into the music, but it does happen last it's the very final thing that we do, everything else is done. Naming of the songs and the album is like the most stressful part of the process to some extent. I remember with 'Love of Cartography' we really did leave it pretty late and there was an email going around about 48 hours before the mastering job was complete and all of this stuff had to be embedded into the files and we were like "Argh what do we call this stuff?" We got it done and I'm actually quite happy with how the titles turned out but it was a really stressful period, but this time I tried to avoid that and I've been steadily collating a list of badass names for about two years since the last record in a big master file. These are names that I've come across in books or poems or sentences that have just randomly hit my brain as they tend to do, and at the end of the whole thing what I try to do is link the songs to names that I felt were appropriate and this worked with some of them and didn't work with others, and we have working titles and some of them work and some are really silly and they get discarded but in this case a couple of the working titles did stick, so 'Tundra', 'Sell Out' came about on the first night I wrote some chords for it, 'Midnight Sun' came about on the night that Alex first wrote some chords for that. There was a couple of times we got lucky but most of it was just hard thought and arguments between the band because sometimes someone would like something more than others and that sort of thing. There were compromises but at the end of the day I think we're all pretty happy with what we got.
The title is quite interesting; can you tell us what 'Made of Breath Only' represents to you?
I think it's a few things, I think at the end of the day the fact that it's accomplished so much as a title is what made us stick with it because there was a few sort of conceptual ties that we wanted to hit with that title and the art is sort of reflective of that this sort of Antarctic and arctic landscape and its ties to what I said before coming into this with this cohesive vision. In terms of the art and the vibe of sleepmakeswaves records we've dealt with landscapes a lot over our history, the first record had this Australian harsh landscape, the second was this aerial map star scape thing which kind of evoked the optimism and energy of that record and love of cartography. With this one I was trying to come up with this visual metaphor because I do think in terms of art quite a lot, I think visually in that way coming into this and this idea of the Antarctic came up as this place where beauty and loss converge, this landscape this is both incredibly bleak and baron and deadly but also incredibly awe inspiring, then also that third dimension of being very fragile and on the verge of destruction. So it was kind of this idea of capturing all these three dimensions into this one place. There's this environmental message, you can't really talk about Antarctica without the fact that it's under immense threat and we're at a really crucial point in our science history and then applying this metaphor to one's emotional experiences, we all went through loss in its various forms in 2015 and this idea of the loneliness but the importance and I suppose the beauty and the vicerelness of it going through that kind of pain. So in terms of the title itself, it comes from a Colin McCarthy book called 'The Crossing' and it comes from a conversation with a young man and an old wolf trapper and the young man is looking for advice on how best to trap this wolf that's been hunting all his cattle in the mountains of Mexico. The man says 'it's foolish and human arrogance to think that we can trap and own things in this way' and I think that this idea of imposing our will whether it be creatures or human beings or even our relationships we have this sense that we can hold and own things, that they're ours, but the truth is that we cannot hold it in our hands because it is made of breath only. This idea that even though we think we have this in control we actually don't, so when it comes to nature or it comes to our relationships it's kind of a notion that things are going to pass and it's what we do with the times we have with them that's important. I think that kind of sentence applies equally to one another but also when you put that sentence on an Antarctic landscape I feel it has another message as well which is a bit more subtle but which hopefully rings out.
Wow! You could've just said it sounded cool *laughs*
Also it sounded cool *laughs*
Can you tell us about the experience of using the Pozible campaign?
We first did this in 2014 to get some cash together for 'Love of Cartography' and there's just no way around it for a band of our size and by that I mean a small band *laughs* this business model is absolutely essential to achieve the sound that we want. The way that we look at it is it's just like a pre-ordering campaign, we're saying to our fans we've made these records and if you trust us enough to make another one that you like please pay for it now and then we can do it with Nick DiDia who's this superstar rock and roll veteran and is gonna get the best out of us, and we can make it look beautiful and make the packaging be great for you, and we'll be able to tour where you live and play this record for you because that's where it should be heard is live. So its kind of like that's the offer and we could've just said that and put it out as like a pre-order package and here's the record, but on top of that these platforms like Pozible enable you to stack on some more rewards for a higher cost and actually do some special stuff like really rare things like printing the album artwork and having it signed by the artist, or first pressings of vinyl, or Tim's fairly intense blood soaked drum heads from live shows, you know, some people are really into this stuff and it lets them own a piece of the band's history and it gives us a way to raise a bit more cash and to keep doing this stuff. So it's always a bit nerve-wracking as you sit there and watch the tally, sometimes it goes up and on bad days it goes down but yeah we were stoked with the response, it was really humbling and really gratifying to see that people still care and want to see us make this record.
It seems you guys never stop touring, with dates through until May, how important it is for you to be out in front of people?
Oh man it's the heart and soul of this band. The reason we love working with Nick is that he is a guy that captures a live sound, we're not a studio band by any means and he would agree that we're a live band and his job there is to try and capture that energy and we take the music and we play it in front of people and each show is its own thing, its own energy and unique fingerprint and that's what's really special for us. We write this music to be performed and our performances are in the DNA of the music, it's there to be thrashed around on stage. Our influences come not from "post rock bands" it's from that post hardcore scene, At The Drive In and Alexisonfire and even from bands like Deftones and Underoath who really rock out on stage it's a really energetic show and that's what we do, and so the interesting thing *laughs* is going to be to take these really technical guitar parts and try to do them while we're still thrashing around, I think it's going to take a few goes but we'll get there eventually and settle into the rhythm.
You mentioned Underoath who you actually supported, how was that tour?
Oh man that was like a real bucket list thing for me, it was awesome and I mentioned them before as an inspiration for a number of reasons, they were one of the first screamy bands I got into as a teenager I sort of discovered this really passionate, emotional delivery of music from bands like Underoath and The Used which is sort of an odd place to start. They influenced me at a place where music and such passionate delivery could exist and that was inspiring for me in terms of opening my eyes to what's out there and so I tried to take that energy and put it into sleepmakeswaves when I joined this band and the guys were already doing that. Getting to see the guys play every night around Australia was just a massive honour, they are truly one of the best live acts I've ever seen and I thought the line-up was a really cool combination of two different forms of intensity because they played their two early records back to back 'They're Only Chasing Safety' and 'Define The Great Line' I felt like the set had this interesting effect like the overall night was us, then 'They're Only Chasing Safety' then 'Define The Great Line' and had this really instrumental ambience thing, then this punk rock jagged thing, then 'Define The Great Line' had this combination of the two that came before it. If you jammed sleepmakeswaves and 'They're Only Chasing Safety' you'd probably get something like 'Define The Great Line' so it felt like the whole arc of the night was something really gratifying for the whole audience. We got really good vibes off the crowd, it was a really different scene for us so we didn't really know what to expect and I think it went over a few people heads but that's fine, but I think the people that liked it really did like it and it was rad.
You're just about to head off to China. How does an instrumental band from Australia get a headlining tour in China?
Well we first went in 2015, we got this offer from a rad promoter out there called Jeff who works for a company called New Noise and he brings out arty and experimental type bands throughout China, he somehow discovered a niche there that not only made these tours financially viable for the artist but a really fun experience which is why we're heading back so quickly and it's going to be the first place we go with this new album. We just got in touch with Jeff and sort of sent out an offer to the band and we tacked it onto the end of a European run and we said let's do it and see how it goes and it ended up being one of the best live experiences that we had, the energy in those rooms and the passion that people brought to these shows just totally blew us away, and totally outdid our expectations. We have a lot of fun over there, we eat so well and it's just a really bizarre combination of a punk rock aesthetic and quite a comfortable tour for us as well. Last time we got to go to the Panda sanctuary which was amazing and just meeting all the people, it's just really quite an experience.
What's the one thing you'd love to do with sleepmakeswaves that you haven't yet had the opportunity to do?
Gee I don't know… I've always felt like we'd be good and I've had that image that could we be that festival band on a big festival like Coachella or something just as sunset as the suns going down and if the vibe was there just wow a heap of people at a festival like that, I think it could work so I'd love to go play one of those big American festivals that has a line-up of artists that are there because they're respected and done alright. Somewhere like Bonnaroo or Coachella would be alright I guess. It's pretty unlikely *laughs*
Lastly let's look ahead to the future, finish this sentence for me. By the end of 2017 sleepmakeswaves wants to…
Have released an album that made a big impact on people, I think we'll know by then how this record was received, people will have had some time with it and I'd love to look back on the year and have some folks chat to me about how the record affected them, or moved them in some way and had those conversation with people about what it meant to them. That would be really cool if I had this sense by the end of this year if the record meant something to people. That would be awesome.
TOUR DATES:
w/ special guests Caligula's Horse at all shows
March 24 @ Metro Theatre, Sydney NSW  Tickets 
w/ Solkyri & Stare At The Clouds
March 25 @ Max Watt's, Melbourne VIC  Tickets / OzTix 
w/ Pagan
March 30 @ ANU Bar, Canberra ACT  Tickets / Moshtix 
w/ Glass Ocean
March 31 @ Cambridge Hotel, Newcastle NSW  Tickets / Ticketbooth 
w/ Glass Ocean
April 6 @ The Gov, Adelaide SA Tickets / OzTix 
w/ The Unset
April 7 @ Badlands, Perth WA  Tickets / OzTix 
w/ Closet Space
April 8 @ Max Watt's, Brisbane QLD Tickets / OzTix 
w/ Aerials
Tickets for all shows from www.sleepmakeswaves.com & oztix.com.au
Essential Information
From: Sydney, Australia
Band members:  Alex Wilson – bass & keys, Otto Wicks-Green – guitar, Daniel Oreskovic – guitar, Tim Adderley – Drums
Website: http://www.sleepmakeswaves.com
Forthcoming Release: 'Made of Breath Only' (March 24 – Bird's Robe Records)