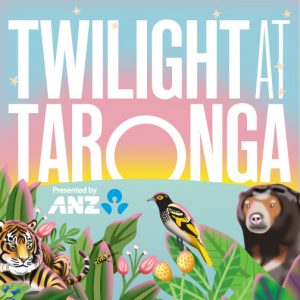 This is new for me, I haven't had the opportunity to check out a show at Taronga Zoo during their Twilight at Taronga series, but boy howdy, this setting of the stage with the entire Sydney city behind it in the distance, I'm worried I'll spend more time looking at the city than the stage… but The Living End are set to take the stage and this is going to be special.
Chris takes to the stage solo with an acoustic draped in three spotlights and opens with 'Moment In The Sun' and as the string section for tonight's festivities accompany the song build as Scott and Andy take their place aside Cheney and as different as this is I'm actually loving it. I've never seen The Living End in this sort of environment before and I don't just mean with a backdrop of the Sydney skyline. I mean with acoustic guitars, so this is fresh, new, slightly confusing but also amazing.
They're now doing a Credence Clearwater Revival cover of 'Lookin' out My Back Door' and damn they are doing it justice. Now into 'Raise The Alarm' with some sensational harmonies happening right now and wow this one is great played this way and you know what this really works. Josh Pyke comes out for a great interpretation of 'Eleanor Rigby' and it made me remember how amazing The Beatles are, these guys nailed it. Time for a much slower reworked version of one of the band's biggest hits in 'West End Riot' which almost sounds reggae in a way with some great playing from Chris on the upstrokes.
Now Chris is just showing off some bluegrass guitar skills and the band didn't want to be left out as they all show off just how amazing they are as musicians and cements to me why these guys are still as good and as respected as they are. Throwing in a song they don't play very often in the way of 'For Another Day' and they really should because it's a good 'un.
A short break and here comes the electric and this is the band I know! Busting out a track from their newest album 'Monkey' but as good as that was it's time for 'Second Solution' with the trademark crowd favourite of Scott mounting his double bass which never gets old, neither does 'Roll On' and every time they bust out one of their hits it makes me remember just how outstanding this band is and makes me sad they're really not as big as they should be.
My mate Matt just got very excited as they started 'Staring Down The Barrel' and he had every right to as this was amazing. Some atmospheric guitar work by the so very, very under rated guitarist Chris Cheney which of course takes us in to 'All Torn Down' which is broken down into an almost Springsteen-esque musical interlude. Damn this is impressive. Interesting… a U2 cover of 'Sunday Bloody Sunday' was good but then they rocked out to another which turned into a musical jam showcasing their talent. The strings return but they're still rocked up and time for another cover with some Zeppelin and with the strings this was outstanding. Now with 'Keep on Running' from newest album and I'm impressed. The crowd don't really know it but the band played it like it was one of their biggest hits.
Josh Pyke returns to the stage for one of his tracks which is fun to watch The Living End back him up for one of this tracks 'Make You Happy' which is a fun little upbeat track and great to hear it played this way.  OK here we go! 'White Noise' which is going over as well as you'd expect. It even got a bit of a crowd sing along which was unexpected. You get the feeling with a song of that calibre that we're at the pointy end of the set with this one but hey if we go out on a high then so be it. Yeah… closing the set with 'Prisoner of Society' as only they could've done I'm standing on top of the hill watching the end to this amazing show by one of Australia's best bands in a setting that was second to none.
I've been impressed with The Living End before but tonight, they stepped it up more than one notch.
Essential Information
Venue: Taronga Zoo – Sydney
Date: March 4, 2017
Website: http://www.thelivingend.com.au