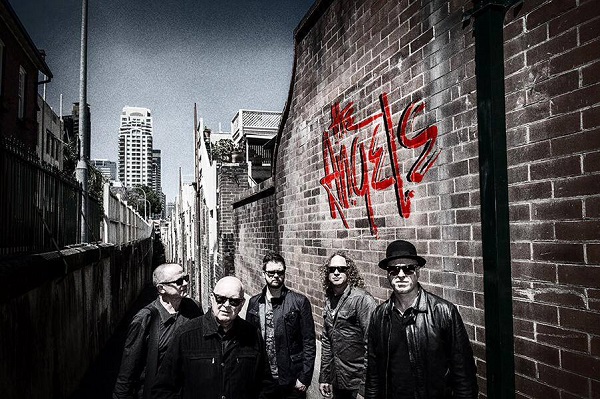 "…it's a rock band and it's a great rock band, we rock out and it's quite an experience you know? I mean it blows me away *laughs* listening to the band, I play the rhythm guitar and I'm part of it but just listening to what everyone's doing it's just an absolute high, it's a fantastic high without the drugs *laughs*."
From Release: Legendary Aussie rock band The Angels are gearing up for a tour guaranteed to smash the speakers and get venues rockin'. Announcing their 2017 4×4 Across Australia tour, the band will be digging through their back catalogue to pick some of their biggest hits for the special run of shows, which kick off in March. The 4×4 concept will see the band hand-picking four of their most iconic records, and playing, back-to-back, four hits from each record. Add to that an encore that will feature a swag of more classic tracks, and 4×4 will be a tour to go down in Aussie rock history.
In Victor Harbour, SA we gave John a call to talk about The Angels upcoming 4 x 4 shows, the legacy of the band, new music, & much more…
We're here because you're heading out on tour, what was the idea of putting this 4 x 4 tour together?
When we go out on the road there's always an angle. The thing is that we've been around for so long that we like to bring things forward a little from the last tour, so we've decided we're going to do four songs from four different albums, hence the 4 x 4 which is a good catch cry we get to do some songs we don't normally play, and the hits will always be there.
Was it fun going back and looking at the albums and revisiting some of these songs?
Actually yes, I agree it is. I mean thing is we make these albums we don't listen to them very much and Rick and I have just rediscovered the skin and bone up which is actually the last album that Doc Neeson sang on and was released in 1998 It was such a nightmare making that record for one reason or another, it took us a few year to get it and by the time we released it Rick and I were completely sick of it *laughs*. So we didn't listen to it for years and we've only recently rediscovered it and it's actually a fantastic album so we plan to do four tracks from that and who knows what else.
Which albums are you focusing on? Have you decided which tracks you'll be using or is it just four from any you pick on the night?
Look as we go through it I think what we're going to do is that some nights there might be four tracks from the 'Night Attack' album, the next night there might be four tracks from 'Dark Room', we'll probably just vary it which will be good for the band too because it means we just keep it up. We love whatever we do, an Angels show is a great experience for us as well as the audience, so it doesn't really matter to us in some ways but it is good to revisit songs that we wouldn't always play.
Is there one that you're particularly pushing for to get in the set?
Well I'm about to speak to Rick about it but I'd like to do 'City Out Of Control', we haven't done it for years and it's a great song so we'll probably do that.
After all this time what is it that you still enjoy about being in The Angels?
I love everything about being in it, it's been a roller coaster ride but it's been a great ride and continues to be, there's some sadness of course mixed up in the equation losing Chris Bailey in 2013 and Doc Neeson in 2014 was very sad, but life goes on and I have my son Sam playing bass who's just amazing. Nick Norton who's in his mid-thirties and I think one of the greatest drummers in this country and also a fabulous singer songwriter in his own right. So having those young bucks play with Rick and me is just amazing, and Dave Gleeson who's actually been in the band close to six years has just been fantastic all along, we have a great time.
Yeah I've spoken to Dave a couple of times, and if you were wanting to pick a front man, well he's a pretty good one.
Yeah, I couldn't believe our like at the time because Doc Neeson left the band and we were all left wondering what we were gonna do, and it was Rick's idea, I mean I called him I didn't really expect him to be interested and when I said we're looking for somebody to front us his first comment was "You've got to be kidding?" and I thought that meant you've got to be kidding I'm not interested but what it was was you've got to be kidding, I'm a huge fan and anyway he still does The Screaming Jets and we respect that, but he's just fantastic, we love him.
I mean it's been three years since 'Talk the Talk' are you guys working on new material at all?
Yeah funny you should say that, we're going into the studio, we've recorded eight tracks already and we're very close to an album's worth of material and I have to say we're very excited about it. It's a great experience, I mean the process of writing and recording albums is fantastic really, especially when you've got five people that want to be there and to see the young guys like Nick and Sam come forward with their own ideas for songs and us accept them. Even my son Harry who was just visiting here where I live and we were having breakfast and he said 'hey Dad what do you think of this idea?' and he played me this song and I said we're going straight into the studio to record that, and we did. I think it's going to be one of the standouts, so you see the young generation coming through with great creative ideas and great playing, it's quite an experience for us. Of course it keeps us young too *laughs* and on our toes.
I suppose it keeps you motivated too as after a while doing the same thing over and over again you may get a bit stagnate but this would give you a kick in the ass and a bit of motivation…
yeah it does, I have to say we're never actually complacent about this band, there's some magic that happens between us and the audiences that I kind of describe like a mutual celebration and it's all about the repertoire, it's all about how the band plays and the fact that you can get a thousand people in a pub going completely nuts, that's pretty nice too *laughs*.
In being a band for over forty years what do you think it is about the music of The Angels that so many still love to this day?
Well we get airplay still which always helps because it keeps us then current, I think we wrote songs that really haven't dated and we sort of avoided the trap of writing the young man lyric if you like and didn't really write about an era and we wrote songs that I think still stand the test of time, so I think that's one important thing. The other thing is that it's a rock band and it's a great rock band, we rock out and it's quite an experience you know? I mean it blows me away *laughs* listening to the band, I play the rhythm guitar and I'm part of it but just listening to what everyone's doing it's just an absolute high, it's a fantastic high without the drugs *laughs*.
Over the years it's easy to say what's changed but what would you say is the one thing that's stayed the same about The Angels after all this time?
Rick Brewster… I mean even I left the band for a while but that was something that needed to happen with me back in the mid-eighties which was a crazy era, Rock and I needed a break from each other, came back together and we're incredibly close but things got a bit haywire back in the eighties with the tours we were doing and so I parted company for a while. I sort of mean that, Rick and I guess me too we're the same guitarists it's a guitar riff driven band and we're still there playing, and I guess other people can do that too but there was always something just a little bit special about the original guys and you can say that about anybody in the band. This is a band that's evolved in one way or another and I think that's an important thing, but more importantly than anything just the respect that all the musicians have for our repertoire, I mean they're young guys and they play it like they means it, so we do too, we never go through the motions, never.
Over the bands career has there been one moment that has stood out for you as an all time favourite?
It's hard to isolate one moment, I would say the tours that stand out are the AC/DC 'Back in Black' tour in 1980 which of course was mixed with great sadness because of the loss of Bon Scott who was a friend of ours. Prior to that was the David Bowie tour in 1978 which is one of the most incredible tours we've ever done, I mean getting to see David Bowie and his band every night was just incredible, and we had dinner with them every night too, the camaraderie on that tour was amazing. We had the 'Face To Face' album out at the time and it was double platinum before the tour started and by the time it finished two weeks later it was triple platinum so it was great for the band. He chose us, he knew our music, he wouldn't have us as a support band because David Bowie called all the shots and he made sure we were listed as special guests, so that was an incredible tour. I mean I could single out the show we did in Paris last year, not a big club, only 600 people and it was a full house, like sardines and it was a French audience, we hadn't played there in thirty five years and a lot of people there weren't even born the last time we played Paris and they were singing Rick's guitar solos, so it was like they were part of the band and it blew us all away on stage like "what was that?" *laughs*
Are you planning on going overseas a bit more?
We can't do it this year but we've got some approaches, there may be a rock festival in Canada, but if you'd asked me two years ago whether the band would play overseas again I would say no, as me now I would say yes, it's amazing how things change.
Did you ever think after forty three years you'd still be out there rockin'?
Of course not *laughs* no I mean the book of rock and roll is still being written, no one knows where's it's going to end because I guess we probably thought this is something we'd do while we're young and we'll move on and do some career thing… I don't know that we actually had those active thoughts because you don't, you live day by day, but if I was asked the question back in 1978 when the band hit the bigtime 'how long do you think this band will continue?' I would've said five years, probably did say five years and I think that would've made me thirty five years of age I mean you've got to be kidding, if you asked me now I'd still probably say five years *laughs* and I don't really mean that because self-permitting it'll be the rest of my life really, why would you stop? It's a great thing to do.
What's next for The Angels?
We've got a book being released this year by Penguin which is very exciting, it's about time we had a book out there, we'll tour on the back of that and I'll probably be talking to you again about all of that *laughs*. It's a great thing, we'll do some 'Day on The Green' shows this December, we always love doing those, they're wonderful things to do. So we've got a very full year this year and next year we'll start putting together ideas, we tend to do that, we try and look a fair way ahead.
Can you tell us a bit more about the book, who's writing that is it all of you?
Well it's Bob Yates who used to manage Mi-Sex, and he's a good writer and good friend of ours, so he's written the book but in collaboration with Rick and me, he's interviewed other people as well, plus there'll be quotes from Doc and from Chris Bailey and others, and roadies that used to work for us.
Lastly let's look ahead to the future, finish this sentence for me by the end of 2017 The Angels want to?
Want to celebrate the fortieth anniversary of the 'Face To Face' album and we'll do something very special around that, because of course the 'Face To Face' album was the album that virtually broke us worldwide, so to celebrate forty years since the release of that album is quite amazing to me, so we'll be celebrating. So I suppose I could say that 2018 will be the beginning of the next five year period for The Angels.*laughs*
2017 4X4 ACROSS AUSTRALIA TOUR DATES
Thursday 16th March 2017
The Bridge Hotel, ROZELLE NSW
www.facebook.com/thebridgehotel
www.moshtix.com.au  | 1300 438 849
www.oztix.com.au  | 1300 762 545
www.ticketek.com.au  | 13 28 49
Friday 17th March 2017
Australian Brewery & Hotel, ROUSE HILL NSW
www.australianbrewery.com.au
www.moshtix.com.au  | 1300 438 849
Saturday 18th March 2017
Terrey Hills Tavern, TERREY HILLS NSW
www.terreyhillstavern.com.au
www.moshtix.com.au  | 1300 438 849
Friday 24th March 2017
Young Services Club, YOUNG NSW
www.youngservicesclub.com.au | (02) 6382 1944
Saturday 25th March 2017
Home Tavern, WAGGA WAGGA NSW
https://hometavern.com.au
www.moshtix.com.au | 1300 438 849
Thursday 30th March 2017
Hamilton Hotel, BRISBANE QLD
www.hamiltonhotel.com.au
www.moshtix.com.au | 1300 438 849
Friday 31st March 2017
Villa Noosa Hotel, SUNSHINE COAST QLD
www.villanoosa.com.au
www.moshtix.com.au | 1300 438 849
Saturday 1st April 2017
Racehorse Hotel, IPSWICH QLD
www.racehorsehotel.com.au
www.moshtix.com.au | 1300 438 849
Friday 7th April 2017
York on Lilydale, MOUNT EVELYN VIC
www.yorkonlilydale.com.au
www.moshtix.com.au | 1300 438 849
Saturday 8th April 2017
Gateway Hotel, GEELONG VIC
www.thegatewayhotel.com.au
www.moshtix.com.au | 1300 438 849
Friday 21st April 2017
Katoomba RSL, KATOOMBA NSW
www.katoombarsl.com.au
www.moshtix.com.au | 1300 438 849
Saturday 22nd April 2017
Astor Hotel, GOULBURN NSW
www.astorhotelmotel.com.au
www.eventopia.co
Friday 28th April 2017
Hallam Hotel, HALLAM VIC
www.hallamhotel.com.au
www.moshtix.com.au | 1300 438 849
Saturday 29th April 2017
Commercial Hotel, SOUTH MORANG VIC
www.commercialsouthmorang.com.au
www.moshtix.com.au | 1300 438 849
Essential Information
From: Australia
Band members: Rick Brewster – lead guitar, vocals, John Brewster – rhythm guitar, vocals, Dave Gleeson – lead vocals, Nick Norton – drums, vocals, Sam Brewster – bass
Website:  http://www.theangels.com.au