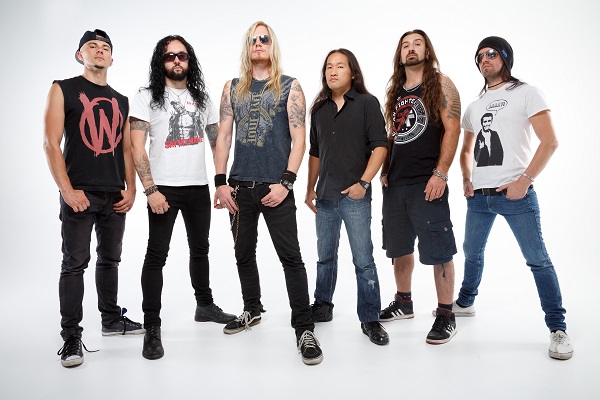 "I wouldn't say we ever do anything like dramatically different, it's almost like little changes we do continuously so it's like continuous little steps of development like a human evolution kind of thing *laughs*if that makes any sense…"
From Release: International metal superstars and power metal speed legends DRAGONFORCE have revealed that they will be touring Australia as part of their Reaching Into Infinity World Tour. DRAGONFORCE's reputation is such that anything new from them is regarded as a landmark moment in the ongoing story of metal. And fans can expect nothing less when their brand-new album 'Reaching Into Infinity' drops on May 19 and Australians will be amongst the first in the world to hear it. With their lightning fast riffing, DRAGONFORCE are one of the most furiously exciting and animated live acts in the world today.
In Los Angeles, Herman gave us a call to talk about Dragonforce's return to Australia, their new album coming soon, evolution, & more…
You're heading back to Australia of course, so for those that may not have seen you before how would you best describe a typical Dragonforce show?
I guess Dragonforce have always been known to have an energetic show but also fun show, so I guess also they say that we play songs pretty fast *laughs* so I guess we've got some kind of musicianship there if you want to see that can be impressive if you like that kind of music.
With seven albums out how do you go about shaping a set these days?
It's pretty much based on the album we release now, so of course we have the new album so we're going to play songs from the new album and of course the old favourites that we've been playing before. So we try to mix it up.
Being to Australia more than a few times, do you have a favourite memory of a previous trip here?
I don't know actually *laughs*to be honest I've been there quite a few times. Last time was Soundwave festival and that was fun, we did that the last two times actually so it's actually been a while since we'd done a headlining tour in Australia. Headlining tour in Australia was probably eight or nine years ago so it's kind of good to be doing it because we always had fun at those headlining shows, it was pretty crazy. I know some fans might say they're 18+ now and I remember we used to have to do the underage shows as well, I thought they would be crazier than the over 18 shows but it wasn't they were both equally crowds or equally the same level so I guess most people have grown up by now so they're 18+ shows *laughs*
We also have a new album coming, what can you tell us about 'Reaching To Infinity', got a scoop for us?
Of course the Dragonforce tradition of playing melodic songs and the songs are catchy, and we're continuing our development of being more diverse, in the past every single song on the previous album except the ballad was fast, now we continue to mix it up. We also have our first long, epic over ten minute song that people have been asking for, we've finally done it, so that's on the new album it's called 'The Edge Of The World'. This one is actually eleven minutes, twelve minutes almost, our previous nine minute songs in the past they were faster and this one is a bit slower more epic kind of.
I'm digging the title, can you tell us what 'Reaching Into Infinity' represents?
It's kind of a bit about the music we do and music in general, especially rock music and heavy metal music, it's a way of reaching and the album cover is talking about so many crazy things in the world all the time, music is kind of like one of the few only things that you can escape to anywhere, you can put your headphones on and just get away. You're either in traffic driving listening to music or whatever and music is a good escape zone to get away from and I think Dragonforce music always has that feel, the epic sound and all that. So 'Reaching Into Infinity' that's what it kind of means on the cover.
Being your seventh album, besides the epic track what if anything did you do differently this time around compared to previous releases?
I wouldn't say we ever do anything like dramatically different, it's almost like little changes we do continuously so it's like continuous little steps of development like a human evolution kind of thing *laughs*if that makes any sense. If you listen to this album and our first album you'll see a massive difference but if you listen to it slowly one by one from the first album then you hear the continuous slow evolution.
You worked with Jens Borgen again who you brought in on your last album, what was it about Jens that made you bring him back for this record?
I think Jens did really well on 'Maximum Overload' the sound was great and it added the extra dimension and he's not scared to tell us what he thinks *laughs* and sometimes I think all musicians need to be told sometimes that 'this part maybe you shouldn't put it on the album' or 'maybe you should play this a bit better'. So he's able to get the best out of every band member and as a band together that's why we've worked with him on this album again.
With yourself and Sam there from the start and in terms of development as players how do you feel you've evolved as a player within the last eighteen years?
I think Sam and I at the beginning we sounded much more different in terms of tones and approach to guitars than we do now because we influence each other by playing in the band so long together, that's one part, and I'm always trying to learn more and I think in life in anything the way I see it is you always have to learn more, I'm always a student of the guitar I say and I'm learning more and trying to put new things into the music, and not trying to repeat either. You have your signature sound and when you make a little adjustment or improvement it doesn't sound the same.
So in your time together it's easy to say what's changed but what would you say is the one thing that has stayed the same in your time with Dragonforce?
*laughs* I think one thing that's always stayed the same is we always make catchy songs, memorable songs that's kind of what we always want to do and we don't want to make songs you have to listen to a hundred times to actually remember one section, we always make it flow and you can sing along, just catchy songs, that's what we like to hear and we stick to the idea that we make music that we want to hear, not what other people want to hear. We like catchy music.
What do you still enjoy about being part of Dragonforce?
It's always a challenge, there's never a time where I think I've learned everything and don't have to bother. One of the reasons we have a producer now is in the past we produced the first few albums and we realised that the only way to get the best production is that you have a specialist production and basically the more you produce and mix music and work as a producer the better it is, and of course we only produced an album every two years back then being in the band. That's why we learned to be a specialist in his own field to be able to get everything as good as possible in what we do. So it's always a challenge to learn things to do on stage, in the past and in early days we didn't have LED videos and screens and synchronise the music and on the Maximum Overload tour we started creating our own videos and editing them into the show, so it's always something we do to try to add in and make as good as possible.
Lastly let's look ahead to the future, finish this sentence for me, by the end of 2017 Dragonforce want to…
take a break because we would've done a massive world tour already *laughs* I start to feel a little bit that I didn't feel before after heavy touring, like when we started the band we virtually never got tired and I know we have fans that say 'oh you've got a day off there, why don't you add this city?' and it's like we can but you kind of suffer some other shows if you don't have a little break to refresh yourself.
TOUR DATES
Tuesday 20 June – Capitol, Perth 18+
Wednesday 21 June – 170 Russell, Melbourne 18+
Thursday 22 June – The Basement, Canberra 18+
Saturday 24 June – Manning Bar, Sydney 18+
Sunday 25 June – The Triffid, Brisbane 18+
Presented by Destroy All Lines & Chugg Entertainment
TICKETS ON SALE NOW
www.tickets.destroyalllines.com
Essential Information
From: London, England, UK
Band Members: Herman Li – guitar, Sam Totman – guitar, Vadim Pruzhanov – keyboard, Frédéric Leclercq – bass, Marc Hudson – lead vocals, Gee Anzalone – drums
Website: http://www.dragonforce.com
Forthcoming Release: Reaching Into Infinity (May 19 – EarMusic / Sony Music Australia)
PRE ORDER Reaching Into Infinity from JB HiFi for a chance to win a Meet & Greet with the band during their Australian tour. Online Pre orders of the Deluxe Special Edition come with the CD booklet signed by the band!