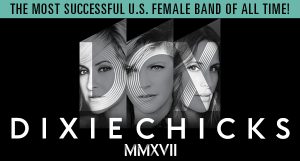 They're back! After far too long away, modern country trio The Dixie Chicks are back in Australia and the sold out crowd tonight here in Sydney are in for a treat!
Made it in to catch Avalanche city who as a three piece of two guitars and keys are delivering a set of catchy folk rock type tunes that have a whole lot of heart, there's even whistling and if that isn't rock then I don't know what is. Super smooth vocals help these songs take shape and I'm digging what I'm hearing and would love to hear what this would sound like with a full band. The crowd got bigger and bigger as the set went on so hopefully many here tonight got introduced to Avalanche City and dug what they were doing.
Dixie Chicks trivia entertains the crowd between sets and as 'Let's Go Crazy' by Prince plays after the lights go down we're ready. The stage lights up as 'The Chicks' elegantly strut to the front of the stage and begin with 'The Long Way Around' and they sound as good as ever. They rock it up next with 'Lubbock or Leave It' and showcase not only their talent but their band shows what they can do too. Then they step the harmonies up a notch or two with 'Truth #2' with trading banjo and fiddle solos thrown in for good measure.
"We are the Dixie Chicks and we are going to attempt to entertain" Natalie says as she addresses the crowd for the first time leading in to 'Easy Silence' which is actually haunting as it builds with the drums coming in underneath and is such a good tune. They go from the slow to the rockin' country ' Some Days You Gotta Dance' which got a whole lot of love as did the old school 'Long Time Gone' which still sounds as good as it did way back when.
A tribute to Prince with a beautiful version of 'Nothing Compares 2 U' which as it built turned into almost a massive power ballad which was unexpectedly amazing. Then 'Top of The World' slowed things down again and sounded perfect! It's great having the Dixie Chicks back simply to hear their amazing live vocals. As expected when 'Goodbye Earl' started the place went a bit nuts for such a fun song and just taking in the atmosphere while they were playing it was great. As the band leave the stage a video is playing with a country rockin' version of 'Ace of Spades' belting out musically over it as the crew set up the stage for what looks like an acoustic set.
Yep. Here we go. First up 'Travelin' Soldier' and just the three of them up front playing like this sounds spectacular. The rest of the band joins the girls up front for 'Don't Let Me Die In Florida' by Patty Griffin which rocked but then some Beyonce… Not sure how I feel about that… I'm not ashamed to say I don't know this song but it sounded good, it's called 'Daddy Lessons'. Then the place went nuts again when 'White Trash Wedding' bluegrassed it's way In to the set followed by band introductions and a bluegrass instrumental interlude which had some White Stripes thrown in for good measure was cool.
Acoustics be gone! It's time to rock things up again and we're 'Ready To Run' which had to be in the set, so I'm happy it actually is and so is everyone else as green and gold Dixie Chickfetti* explodes throughout the arena which is usually reserved for the end but oh no straight in to 'Mississippi' featuring an extended rockin' outro. They of course they had to do this one, here's 'Landslide' and it sounded as good as it did when they first recorded it. 'Cowboy Take Me Away' harmony wise was outstanding and the band makes this one sound so huge tonight. 'Wide Open Spaces' had to be there and it must mean we're almost done which is kinda of sad as the place is lapping up every part of this show so far. 'Sin Wagon' was fast, played to precision and rockin' as they leave the stage.
Coming back of course for 'Not Ready To Make Nice' which is so powerful live, and the message kind of hasn't changed from when they released it over a decade ago. Leaving us with 'Better Way' and a much better message than the previous track there isn't a person here who hasn't enjoyed tonight, I can guarantee that. For what The Dixie Chicks do, the three of them have amazing musicianship, harmonies and know how to entertain. I for one am glad they're back and here's to them being back again very soon!
Essential Information
Venue: Quodos Bank Arena – Sydney
Date: March 29, 2017
Presented by: Chugg Entertainment
Website: http://www.dixiechicks.com
Set List:
The Long Way Around
Lubbock or Leave It
Truth #2
Easy Silence
Some Days You Gotta Dance
Long Time Gone
Nothing Compares 2 u
Top of The World
Goodbye Earl
Travelin' Soldier
Don't Let Me Die In Florida
Daddy Lessons
White Trash Wedding
Instrumental
Ready To Run
Mississippi
Landslide
Cowboy Take Me Away
Wide Open Spaces
Sin Wagon
Not Ready To Make Nice
Better Way
* Dixie Chickfetti is copyright TM MTRBWY 2017