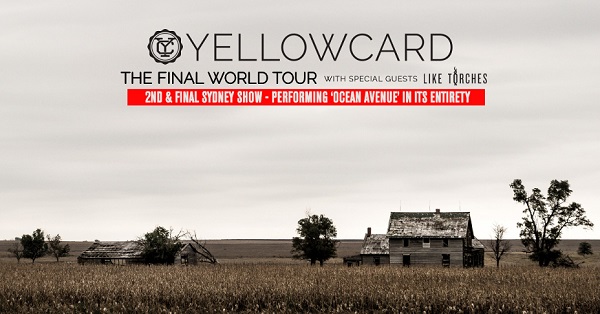 It always makes me a little sad when bands are on farewell tours because there's always a sense of sadness but the other side of that will be a band that want to go out on a high. Tonight, Yellowcard are in Sydney for the last time and to make it even more special tonight they'll be playing their landmark album 'Ocean Avenue' in full.  I'm here early and the place is filling up nicely I have the feeling it's gonna get pretty cosy in here tonight, the sold out sign tells me just that.
Like Torches open tonight's festivities and have come all the way from Sweden to play for us which is very nice of them. They hit it straight out of the gate with 'Coma' and by third song in they had more than the one guy going nuts down the front as everyone was getting into them, 'Swing By Swing' is the track and I'm making note as I need to check that one out for sure. These guys are actually pretty damn good. Now belting out what you could call a ballad for these guys they're delivering the goods tonight. Rounding out the set with some awesome crowd participation in single 'Skeletons' they really delivered a great set and are most definitely a band I'll be checking out again.
The crowd are currently all joined in in a Sum 41 sing along and I feel they may peak too early. Although the excitement in the air may prove me wrong.
After the best intro audio I think I've heard at a gig Yellowcard all clad in black blast onto the stage to deafening cheers and as 'Way Away' kicks things off not only on the 'Ocean Avenue' album but the show tonight and with it comes the mayhem, oh man if this intensity keeps up then we are in for one hell of a show. 'Breathing' keeps the energy up as well as the participation from a very full crowd. After an explanation of the songs and of course with them playing the album in order and a plea from Ryan to not leave after this one is played up next is the title track and the usual closer of the bands show 'Ocean Avenue' and wow, that song live is actually something to truly witness and the energy from the crowd is insane, this was many people's introduction to Yellowcard and hearing them play it one last time in Sydney they gave it everything. It continues into 'Empty Apartment' which slows things down after the opening three songs which I think many needed after that onslaught of awesomeness. I kinda get the feeling this album means a lot to everyone in this room and that includes the five guys up on stage. This is special. Not just because it's farewell as Yellowcard always put 100% into their shows. Tonight is just kicking ass.
Sean motions for a circle pit to open and it does as the violin hits the opener to 'Life of a Salesman' and that rest we just had has been rudely interrupted by this rocker but I'll happily take it. I've been waiting for this next one and the rest of the place too as they 'scream their lungs out' for 'Only One' this was a big hit for the guys and as the violin plays it out there are cheers and I'm sure a few tears. Damn that song is thirteen years old and still so good. 'Miles Apart' keeps the catchiness of the tracks up and no intensity has wavered and the sound in here tonight is great, haven't mentioned that yet, the mix is killer and the band sound as right as they always do. 'Twentythree' has Sean take lead vocals and far from the mediocre performance he promised us, but man these guys wrote some fast songs. This one is pumping.
Some rousing words ahead of 'View from Heaven' made the song take on a different meaning for me tonight. Ryan takes another swig of honey and then gets the crowd jumping for 'Inside Out' and this is one I've always dug from the album and I've never heard it live so tonight and right now is pretty damn awesome. Ow my freakin ears… Sean starts 'Believe' to crazy screams and the song just gets taken to another level. And you what? "Everything is gonna be alright" just remember that. This song rules mostly because of the harmony guitar solo too and this one is just outstanding. Damn, you almost forget how many great songs are on this album.
Acoustic guitars come out for 'One year, Six months' and a request for help from the crowd with impending lyric forgetfulness although he doesn't need to worry about anything as the people take this one easily. We're up to the album closer, that's gone quick and after a big thank you to us and to Australia in general which was truly heartfelt and just great hearing it one last time and a thank you in general for 90's music and how it got them to where they are. 'Back Home' begins and this album closer has always stood out for me and after nailing it the album is done and the band leaves the stage.
Returning to the stage with a cup of tea, so rock and roll, it's time for a little bit more, so 'Light Up The Sky' it is to take us into the encore which is quickly followed by 'With You Around' that has the place jumping again and when The Metro is sold out watching the floor jump in unison from the back is pretty outstanding. This song is kick ass! I really want them to just keep playing and I can guarantee I'm not alone in that thinking.
An amazing thank you speech that in parts had the place silenced and in others cheering and with  backflip off the amps from Sean that leads into the closer, 'Lights and Sounds' and the energy has stayed up all night, the band has played this show like it was their last, not only last in Sydney but last ever. This to me is the sign of a band that still love what they do and just want to go out with respect for their craft and for their fans. This has been amazing.
So tonight to Yellowcard Sydney says thank you and farewellowcard…
Essential Information
Venue: The Metro Theatre – Sydney
Date: February 19, 2017
Presented by: Frontier Touring
Website: http://www.yellowcardrock.com
Set List:
Way Away
Breathing
Ocean Avenue
Empty Apartment
Life of a Salesman
Only One
Miles Apart
Twentythree
View from Heaven
Inside Out
Believe
One year, Six Months
Back Home
Light Up The Sky
With You Around
Lights And Sounds