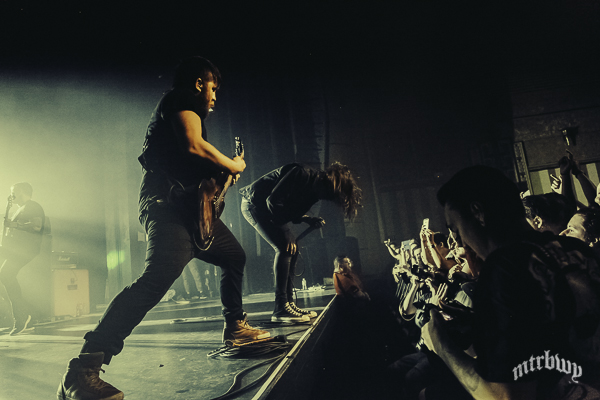 After two and half years being broken up, Grammy nominated, Florida post-hardcore outfit Underoath returned in 2016 with an enormous US tour. Last week the band hit Australian shores with a chain of "Rebirth" shows. Despite weekend heatwave in Sydney, Enmore Theatre seemed to be pretty packed on a Saturday night. With crowds of post-hardcore fans who couldn't hide their excitement! "Rebirth" tour is special for any die-hard Underoath fan not only because Aaron Gillespie is back, but also because they are literally playing "They're Only Chasing Safety" and "Define The Great Line" back to back.
I got to the venue half an hour prior to the show to make sure I didn't miss Sydney post-rockers Sleepmakeswaves who are supporting Underoath on this tour. Unfortunately there has been a mix up at the box office and I missed the supports almost entirely, only catching a very rocking tune "Something Like Avalanches" which was a first single off Love of Cartography.
The crowd mostly consisted of grown up emo kids, for whom Underoath are an iconic band that helped so many people overcome their emotional struggles in early 2000s and seeing the turn up – the band is still very relevant!
Exceptionally on time the stage started sparkling with extremely bright backlights and "They're Only Chasing Safety" intro playing. As soon as band takes their places on stage Spencer Chamberlain's vocals on "Young and Aspiring" pump the crowd and people start to go crazy! Extra security between the stage and the barrier started pulling crowd surfers out by the second song! Throughout every song Christopher Dudley rocked so hard, it almost seemed he was in some sort of a trance; he looked like he was absolutely stoked to be there tonight! Both Timothy McTague and Grant Brandell paced back and forth as if they were doing laps to improve their 'fit bit' scores.
I watched people crowd surf and sing along, record three song lengths videos on their phones. I even saw people shed a few tears up on the balcony. In the middle of "Its Dangerous Business Walking Out Your Front Door"
Chamberlain commanded the crowd to pull out their lighters and sing along : "Drowning in my sleep, I'm drowning in my sleep" and the whole venue did just that. After a short intermission, with lights off and complete silence – which seemed a bit odd and some wondered if the band had technical difficulties.
It was time to play "Define The Great Line" part of the show, starting with "In Regards to Myself" and going through the rest of the songs in album order. Between songs Chamberlain was extremely chatty. He made sure the fans knew how much being back to playing shows meant to him and the band, how much he loved being back in Australia. He mentioned that they will be back next year and the year after that and the year after that, just because they felt so welcome here.
Closing the show with "To Whom It May Concern" and saying goodbye, it was all over by 10:30pm. Surprisingly early show for a heavy band like Underoath, possibly defining that they grew up just like their fans have.
Despite stage lighting being a bit of a downer, (if anyone in the crowd had an issue with flashing lights they would have a seizure) the band looked and sounded very tight, pretty much like they sound on their records. Impressive show!
Essential Information
Venue: The Enmore Theatre – Sydney
Date: February 11, 2017
Review by: Annette Geneva
Presented by: Destroy All Lines, Chugg Entertainment & Killyourstereo
Website: http://www.underoath777.com
Photo by: Annette Geneva – check out our full gallery HERE
Set List:
They're Only Chasing Safety
Young and Aspiring
A Boy Brushed Red Living in Black and White
The Impact of Reason
Reinventing Your Exit
The Blue Note
It's Dangerous Business Walking Out Your Front Door
Down, Set, Go
I Don't Feel Very Receptive Today
I'm Content With Losing
Some Will Seek Forgiveness, Others Escape
Define the Great Line
In Regards to Myself
A Moment Suspended in Time
There Could Be Nothing After This
You're Ever So Inviting
Salmarnir
Returning Empty Handed
Casting Such a Thin Shadow
Moving for the Sake of Motion
Writing on the Walls
Everyone Looks So Good From Here
To Whom It May Concern