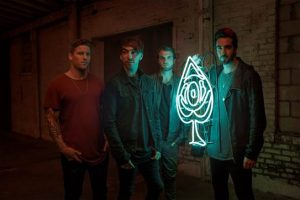 All Time Low have announced details of their new album, Last Young Renegade, which will be released everywhere on Friday 2 June. Their anticipated new album is available to pre-order at all DSPs with exclusive bundles and a limited edition red vinyl LP available at www.alltimelow.com.  All pre-orders will receive an instant grat download of their new single Dirty Laundry.  To coincide with the release of Last Young Renegade, All Time Low are touring Australia in May.
Last Young Renegade follows All Time Low's 2015 US chart-topping studio album Future Hearts and sees the band moving forward and exploring new sonic territory. Written during stays in the mountains of Big Bear Valley and the desert of Palm Springs, California, Last Young Renegade is a journey of critical self-reflection and catharsis unlike any previous body of work from All Time Low.  Expansive and nostalgic, the album finds the band sublimely crafting a sound that pushes the envelope with songs like Last Young Renegade, Life Of The Party, Good Times, and Ground Control (feat. Tegan and Sara).
Formed in 2003 in the suburbs of Baltimore, Maryland, All Time Low is one of the most beloved bands in rock, acclaimed worldwide for their positivity, invention, and always-effervescent songcraft. The band's three most recent album releases all made top 10 debuts on the SoundScan/Billboard 200 in America, with 2015's Future Hearts arriving at #2 – All Time Low's highest chart placement thus far. In addition, the album debuted at #1 on Billboard's "Current Albums," "Top Rock Albums" and "Vinyl Albums" charts as well as at #1 on the official UK Album Chart.
All Time Low has also received a remarkable range of awards overseas and American certifications, including RIAA platinum for 2008's breakthrough Dear Maria, Count Me In, and RIAA gold for such hits as Weightless and A Love Like War (feat. Vic Fuentes). Other honours include four Alternative Press Music Awards, five Kerrang! Awards, and the coveted title of "Best Pop Punk Band" at the Top In Rock Awards.
No stranger to Australian shores, All Time Low return to Australia this May after previous sold out tours here. Vocalist Alex Gaskarth has also written songs for Australian band 5 Seconds Of Summer!
All Time Low are: Alex Gaskarth, Jack Barakat, Rian Dawson, and Zack Merrick.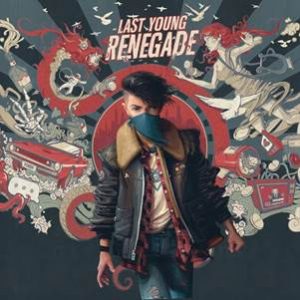 LAST YOUNG RENEGADE TRACKLISTING
1. Last Young Renegade
2. Drugs & Candy
3. Dirty Laundry
4. Good Times
5. Nice2KnoU
6. Life Of The Party
7. Nightmares
8. Dark Side Of Your Room
9. Ground Control (Feat. Tegan And Sara)
10. Afterglow
ALL TIME LOW AUSTRALIAN HEADLINING TOUR DATES
With Special Guests Neck Deep and The Maine
Friday 12th May – Riverstage, Brisbane ALL AGES
Tickets available now
Saturdaay 13th May – Hordern Pavilion, Sydney ALL AGES
Tickets available now
Sunday 14th May – Festival Hall, Melbourne ALL AGES
Tickets available now
Tuesday 16th May – Thebarton Theatre, Adelaide ALL AGES
Tickets available now
Thursday 18th May – Metropolis, Fremantle 18+
Tickets available now
Friday 19th May – Metropolis, Fremantle UNDER 18
Tickets available now
FOLLOW ALL TIME LOW
OFFICIAL WEBSITE | FACEBOOK | TWITTER | INSTAGRAM | YOUTUBE