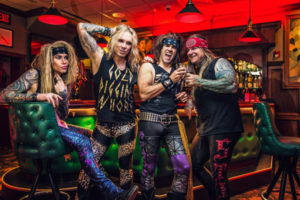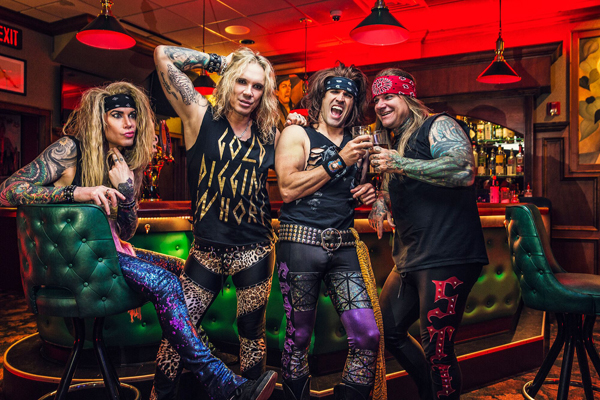 World renowned glam rock band and party connoisseurs Steel Panther today announced the premiere of their latest music video, Poontang Boomerang, on Vevo following yesterday's exclusive premiere with Pornhub.com. Follow the link here to Vevo …. and remember party people, clicking this link while at work will probably get you fired (or a promotion!).
Poontang Boomerang is the third music video off the band's highly anticipated album, Lower The Bar, and explores the true meaning of "not sticking your dude piston in crazy." "Fanthers" should expect the band to stay true to form and will get to witness nothing but the best Rock N' Roll, partying, and pussy…cats they've ever seen.
"Steel Panther is the ultimate proprietor of glam metal music and with their carefully crafted songs, high energy performances, and a worldwide reach, Steel Panther couldn't be a better fit in our Pornhub family," said Corey Price, Vice President, Pornhub.
"We wanted to write a song that was true to our hearts," said front man Michael Starr. If you've ever had a one-night stand who wouldn't just, you know, leave you alone the next day, then this song will be music to your ears," he added.
Steel Panther recently made headlines when they were hired by Sofia Vergara for her husband, Joe Manganiello's, 40th birthday party, and according to sources, "it was the biggest Hollywood rager in years."

Lower The Bar is Steel Panther's fourth studio album and is the follow-up to their 2014 chart topper, All You Can Eat, which debuted at #1 on Billboard's Top Current Comedy chart and #24 on their Top 200 Album chart. "LTB" is set to release on March 24, 2017 from Kobalt Music Recordings. To check out the first two music videos from LTB, head to the links below:

She's Tight – Featuring Robin Zander of Cheap Trick, Paris Michael Jackson (the late singer's daughter), Bobbie Brown, and Tony Palermo (Papa Roach)
Anything Goes–  Sing along in a spectacular psychedelic fashion with on screen lyrics about Charlie Sheen, unicorns and hand grenades.

Steel Panther recently completed a European headlining run with dates in Austria, Italy, Germany, France, Luxembourg, Belgium, Netherlands and the UK (Wembley Arena) and are now on a US national tour.
THE BAND'S FOURTH ORIGINAL ALBUM, LOWER THE BAR, SET TO RELEASE MARCH 24th WITH PRE-ORDER PACKAGES NOW AVAILABLE AT STEELPANTHERROCKS.COM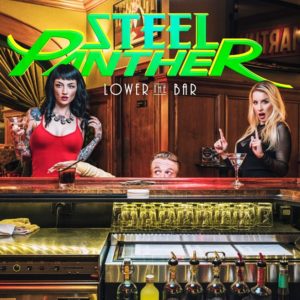 LOWER THE BAR – ALBUM TRACK LISTING
Limited Package Edition, featuring 2 Extra Tracks:
1. Goin' In The Backdoor
2. Anything Goes
3. Poontang Boomerang
4. That's When You Came In
5. Wrong Side Of The Tracks (Out In Beverly Hills)
6. Now The Fun Starts
7. Pussy Ain't Free
8. Waster Too Much Time
9. I Got What You Want
10. Walk Of Shame
11. She's Tight
12. Red Headed Step Child
13. Momentary Epiphany