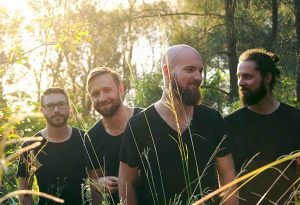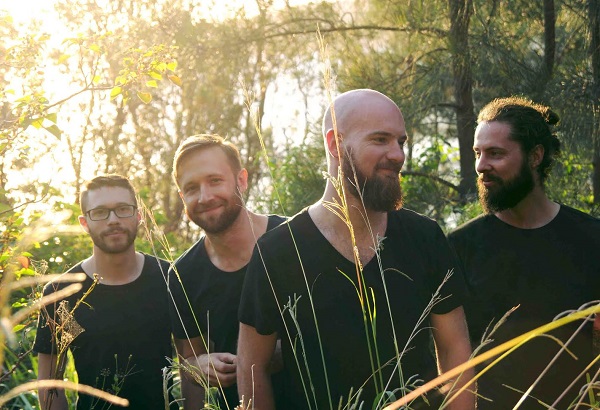 Post-rock trailblazers sleepmakeswaves have announced a massive start to 2017 with a plethora of tour dates and the news that their third album "Made of Breath only" will be released Friday March 24th through Bird's Robe Records.
Recorded with Nick DiDia (Rage Against the Machine, Karnivool), "Made of Breath Only" is available to be pre-ordered now on CD, digital and Vinyl formats at sleepmakeswaves.com, with purchasers receiving first single "Tundra" immediately on iTunes and Digital retailers. Listen to the first single from "Made of Breath Only" here.
In February, sleepmakeswaves will kick off their touring as main support for reunited post-hardcore legends UNDEROATH at a series of sold out theatre shows around Australia. March sees them undertaking their headlining run of shows in China with a 10-date tour playing their biggest clubs and theatres to date.
Returning home to launch "Made of Breath Only", sleepmakeswaves' Australian headline tour will take place in March and April – May they will then continue on to New Zealand and another run around Australia as direct support for progressive rock icon DEVIN TOWNSEND at theatres across both continents.
In late 2016, the band put out a call to fans to help raise funds for their third album and a world tour through pre-orders via Australian crowdfunding site Pozible. They raised an overwhelming $45,000 to cover the remaining costs of producing the record, which follows 2014's ARIA-nominated & J Award-nominated 'Love of Cartography.'
The band posted the following message to social media. "It feels like the last 12 months have been leading up to today, and we're incredibly excited/nervous/eager about recording this material with Nick DiDia, and performing it for you all over the world from early 2017. Thanks as always for your support. Your friendly neighbourhood postrockers, sleepmakeswaves"
sleepmakeswaves' 3rd full-length album "Made of Breath Only" will be released on Friday, March 24th through Birds Robe Records. Pre-orders for the album are available now at sleepmakeswaves.com and in iTunes and JB Hi-Fi, as well as all good music retailers. For more information, go to sleepmakeswaves.com
THE BIRD'S ROBE COLLECTIVE, THE HARBOUR AGENCY & THE MUSIC
SLEEPMAKESWAVES MADE OF BREATH ONLY – AUSTRALIAN TOUR 2017
sleepmakeswaves Australian tour w/ Underoath (USA)
Fri Feb 10 – Eatons Hill, Brisbane QLD Lic. All Ages
Sat Feb 11 – Enmore Theatre, Sydney NSW Lic. All Ages
Sun Feb 12 – 170 Russell, Melbourne VIC – SOLD OUT
Mon Feb 13 – 170 Russell, Melbourne VIC
Wed Feb 15 – The Gov, Adelaide SA Lic. All Ages
Thu Feb 16 – Metropolis, Fremantle WA
sleepmakeswaves China headline tour
Thu March 9 – Mao Livehouse, Hangzhou CHINA
Fri March 10 – Mao Livehouse, Shanghai CHINA
Sat March 11 – Yugong Yishan, Beijing CHINA
Sun March 12 – Ola Space, Nanjing CHINA
Tue March 14 – Nuts, Chongqing CHINA
Wed March 15 – Little Bar Space, Chengdu CHINA
Thu March 16 – Vox, Wuhan CHINA
Fri March 17 – Fei Livehouse, Guangzhou CHINA
Sat March 18 – B10, Shenzhen CHINA
Sun March 19 – Hidden Agenda, Hong Kong CHINA
sleepmakeswaves Australian headline tour
Presented By TheMusic.com.au
Fri March 24 – Metro Theatre, Sydney NSW
Sat March 25 – Max Watt's, Melbourne VIC
Thu March 30 – ANU Bar, Canberra ACT
Fri March 31 – Cambridge Hotel, Newcastle
Thu April 6 – The Gov, Adelaide SA
Fri April 7 – Badlands, Perth WA
Sat April 8 – Max Watt's, Brisbane
sleepmakeswaves Australia & New Zealand tour w/ Devin Townsend Project (CAN/USA)
Thu May 18 – Powerstation, Auckland NZ
Sat May 20 – The Triffid, Brisbane QLD
Mon May 22 – Enmore Theatre, Sydney NSW
Wed May 24 – 170 Russell, Melbourne VIC
Fri May 26 – Capitol, Perth WA
Tickets for all shows from www.sleepmakeswaves.com