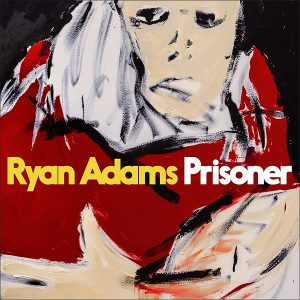 Ryan Adams, you either know him, know of him, adore him, have no idea who he is, or are thinking you hate that '69 song yeah well if you're the later, shame on you because that song rules and also wrong Adams. OK now that that's out of the way, Ryan Adams truly is a musical chameleon, this man can write a song, can produce albums and has been doing just that for many a year now, his hat collection must be quite large. I was introduced to Ryan when I saw the 'New York, New York' clip and have been following his work since. Much like another of my favourite artists, Butch Walker with whom Ryan has worked, these guys are similar and both masters of their crafts and seem to fly somewhat under the radar when they technically should be huge. So, how does Ryan Adams get to this status? Well, let's start with his newest and sixteenth album 'Prisoner' of which we're here to discuss…
The first taste we had from this album late last year was the opener 'Do You Still Love Me?' and if that's an actual question then I have to go with yes. If not, then let's discuss as you'd need some pretty good reasons as to why not. This song in terms of structure is perfect in my opinion, even down to the guitar solo, literally solo as the backing drops out to leave a single guitar, superb arrangement and production. If this lead track is anything to go by then I am beyond ready for the remainder of the album. Title track 'Prisoner' takes us on a superb lyrical voyage, like I said before this man has a way with words and a song this good truly deserves the naming rights to the album. Musically as it echoes and oh here's a harmonica, nice, taking us through what could only best be listened to in a dark room with a single candle lit to truly take it in. I'm actually sad that song had to finish. The harmonica stays out for 'Doomsday' and this one quickly became a favourite for me when I listened to it after first hearing it as a taste prior to album release, I think it just hit home a little bit and listening to the layers of the song and what he's done here is great. Three songs in I really hope people give this record a go, on these three alone it's deserved.
'Haunted House' continues in a more acoustic / Americana type vibe that Adams is so well versed, and just the vibe of this song gets you tapping along actually involuntarily too, I guess he just has that effect on people with this music. 'Shiver and Shake' wow, now that was Springsteen-esque and just delightful,  single 'To Be Without You' is another lyrical piece of brilliance from this American poet, and trust me there really aren't that many around I believe. The tempo lifts a little with 'Anything I Say To You Now' which balances the previous tracks nicely and sets up 'Breakdown' which stood out for me when Adams was in Sydney in December playing a special show and showcasing a number of these album tracks, 'Breakdown' was one that stood out for me in the live environment, and it doesn't disappoint in the recorded form at all. The middle 8 in this track is a nice surprise too and production wise it's as clean as you'd want.
'Outbound Train' picks up the tempo a little again and guitar tones here are second to none as the drums keep a driving beat beneath, then as 'Broken Anyway' takes its position this one clocking in just under three minutes is a repetitive chorus but made up for by its calmness if that makes sense, also its excellent guitar outro. With only two to go, 'Tightrope' is actually one of my favourites on the album, a very acoustic driven number and this late into the album is a pleasure, and is that a saxophone? I do believe it is… points to you, Ryan! Oh man, 'We Disappear' opens with guitar tone reminiscent of 'Purple Rain' and this song is almost upbeat, unheard of!! It's a perfect way to close his as i said at the beginning, sixteenth album, yes, that's right Ryan Adams has made fifteen albums prior to this. Go pick them up, you won't be disappointed, and as this song fades out with that sadly 'Prisoner' is done.
Now, I know I fawned over this album a bit, but when an artist has a way with words like Ryan Adams does it's kinda hard not to. Maybe I just related to a lot of the material on 'Prisoner' and isn't that what we all want from music, to relate to it? I know I do, and with this album I've found something to go home to, light a candle or two, turn off the lights, turn it on and take in over and over again.
Essential Information
From: USA
Release date: 17 February, 2017
Produced By: Ryan Adams
Record label: EMI Australia
Website: http://www.paxamrecords.com
Track Listing:
Do You Still Love Me?
Prisoner
Doomsday
Haunted House
Shiver and Shake
To Be Without You
Anything I Say to You Now
Breakdown
Outbound Train
Broken Anyway
Tightrope
We Disappear