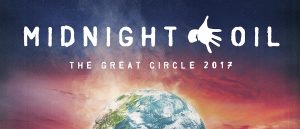 Midnight Oil's "The Great Circle 2017" world tour has struck a massive global chord with music fans. Over 200,000 tickets have been snapped up in just the first few days. All 14 North American shows have sold out plus 'house full' signs are already up for many other venues including London's Hammersmith Apollo and the iconic Olympia Theatre in Paris.
Back home in Australia today's general public on sale saw all existing tickets sell out for eight shows in Kuranda, Brisbane, Hunter Valley, Sydney, Melbourne, Macedon Ranges, Canberra and Wollongong.  Tickets are selling fast for all the other dates listed below – visit www.midnightoil.com/tour-dates and www.frontiertouring.com/midnightoil for details.
In response to this overwhelming demand, Midnight Oil and Frontier Touring announced immediately that Midnight Oil will play an extra Sydney and Melbourne show in November. Dates, venues, line-ups and on sale times for these two big extra shows are currently being finalised, with details to be announced within 48 hours via tour presenters Triple M and MAX plus the promoter and band websites. People who have missed out on Sydney and Melbourne tickets should therefore rest assured that they will soon have another chance to get tickets to experience Midnight Oil live in those cities!
It was also revealed today that some good tickets have deliberately been withheld for each of the currently sold out Australian dates. These allocations will be released later this year as part of wide ranging efforts to frustrate scalpers.  Anxious fans who have missed out so far should sign up to the Frontier Members mailing list (sign up here) and/or the Midnight Oil mailing list (sign up here) to receive notifications about more ticket releases over coming months.
Meanwhile fans are explicitly warned NOT to buy potentially fake tickets from so called 'reseller' websites. Such unofficial ticketing companies may currently be legal and thus beyond the band's control but they typically charge grossly inflated prices and the band does not profit from, nor support, their re-sale activities. It should also be noted that the first actual tickets for the Australian dates on "The Great Circle 2017" world tour will not be printed and mailed out until early August so any online scalpers claiming to be in possession of tickets before that time are knowingly misleading fans.
Fans are formally advised to only buy tickets via the official outlets listed on www.midnightoil.com/tour-dates and www.frontiertouring.com/midnightoil and to keep an eye out for more official ticket releases over the months ahead.
Remember to keep up to date with all the tour news, sign up to the band's mailing list here www.midnightoil.com/mailing-list
MIDNIGHT OIL – THE GREAT CIRCLE TOUR
#Oils2017
Presented by Frontier Touring, MAX and Triple M
In association with Sony Music Entertainment
Mon 2 Oct | ANZAC Oval, Alice Springs, NT (18+*)
With Dan Sultan & Apakatjah
ticketek.com.au | Ph: 132 849
On sale: Mon 27 Feb (12:30pm local time)
Wed 4 Oct | Darwin Amphitheatre, Darwin, NT (18+*)
With Dan Sultan & Irrunytju Band
ticketek.com.au | Ph: 132 849
On sale: Mon 27 Feb (12:30pm local time)
Presented locally by Mix 104.9
Sat 7 Oct  | Kuranda Amphitheatre, Cairns, QLD (18+*)
SOLD OUT
With Urthboy
ticketek.com.au | Ph: 132 849
On sale: Mon 27 Feb (12noon local time)
Presented locally by Triple M
Tue 10 Oct | Townsville Entertainment Centre, Townsville, QLD (All Ages)
With Urthboy
tecc.net.au | Ph: (07) 4771 400
On sale: Mon 27 Feb (12noon local time)
Presented locally by 4TO
Thu 12 Oct | Great Western Hotel, Rockhampton, QLD (18+*)
With Urthboy
ticketek.com.au | Ph: 132 849
On sale: Mon 27 Feb (12noon local time)
Presented locally by Triple M
Sat 14 Oct | Big Pineapple Fields, Sunshine Coast, QLD (18+*)
With The Living End & Jebediah
ticketek.com.au | Ph: 132 849
On sale: Mon 27 Feb (12noon local time)
Presented locally by 92.7 Mix FM
Sun 15 Oct | Riverstage, Brisbane, QLD (All Ages)
SOLD OUT
With The Jezabels
ticketmaster.com.au | Ph: 136 100
On sale: Mon 27 Feb (1pm local time)
Presented locally by Triple M
Tue 17 Oct | Riverstage, Brisbane, QLD (All Ages)
ticketmaster.com.au | Ph: 136 100
On sale: Mon 27 Feb (1pm local time)
Presented locally by Triple M
Thu 19 Oct | Hockey Fields, Coffs Harbour (18+*)
With Jebediah & Jack River
ticketek.com.au | Ph: 132 849
On sale: Mon 27 Feb (12noon AEDT)
Presented locally by Triple M
Sat 21 Oct | Hope Estate, Hunter Valley, NSW (18+*)
SOLD OUT
With Birds of Tokyo & Ash Grunwald
ticketek.com.au | Ph: 132 849
On sale: Mon 27 Feb (12noon AEDT)
Presnted locally by KOFM
Tue 24 Oct | AIS Arena, Canberra, ACT (All Ages)
SOLD OUT
With Something For Kate
ticketek.com.au | Ph: 132 849
On sale: Mon 27 Feb (12noon AEDT)
Presented locally by MIX 106.3
Thu 26 Oct | The Village Green Adelaide Oval, Adelaide, SA (All Ages)
With Spiderbait & Bad//Dreems
ticketek.com.au | Ph: 132 849
On sale: Mon 27 Feb (1.30pm local time)
Presented locally by Triple M
Sat 28 Oct | Perth Arena, Perth, WA (All Ages)
With Spiderbait
ticketek.com.au | Ph: 132 849
On sale: Mon 27 Feb (12noon local time)
Presented locally by Mix 94.5
Wed 1 Nov | Derwent Entertainmnent Centre, Hobart, TAS (All Ages)
With The Jezabels
ticketmaster.com.au | Ph: 136 100
On sale: Mon 27 Feb (3pm AEDT)
Presented locally by Triple M
Fri 3 Nov | Gateway Lakes, Wodonga, VIC (18+*)
With The Living End
ticketmaster.com.au | Ph: 136 100
On sale: Mon 27 Feb (3pm AEDT)
Presented locally by Triple M
Sat 4 Nov | Hanging Rock, Mt Macedon, VIC (18+*)
SOLD OUT
With John Butler Trio, Something for Kate, Frank Yamma & David Bridie
ticketmaster.com.au | Ph: 136 100
On sale: Mon 27 Feb (2pm AEDT)
Presented locally by Triple M
Mon 6 Nov | Sidney Myer Music Bowl, Melbourne, VIC (All Ages)
SOLD OUT
With The Jezabels & Adalita
ticketmaster.com.au | Ph: 136 100
On sale: Mon 27 Feb (4pm AEDT)
Presented locally by Triple M
Wed 8 Nov | Win Entertainment Centre, Wollongong, NSW (All Ages)
SOLD OUT
With Abbe May
ticketmaster.com.au | Ph: 136 100
On sale: Mon 27 Feb (2pm AEDT)
Presented locally by WAVE FM
Sat 11 Nov | The Domain, Sydney, NSW (18+*)
SOLD OUT
With John Butler Trio & A.B.Original
ticketek.com.au | Ph: 132 849
On sale: Mon 27 Feb (11am AEDT)
Presented locally by Triple M
* U18s must be accompanied by parent/legal guardian
---
INTERNATIONAL TOUR DATES: 
Full details at www.midnightoil.com/tour-dates/
SOUTH AMERICA
Tue 25 Apr         Pepsi on Stage | Porto Alegre
Thu 27 Apr         Live | Curtiba
Sat 29 Apr         Espaço das Americas | São Paolo
Sun 30 Apr        Vivo Rio | Rio De Janeiro
Tue 2 May         NET Live | Brasilia
NORTH AMERICA
Sat 6 May         Center Stage | Atlanta, GA – SOLD OUT  
Tue 9 May         The Filmore | Silver Spring, MD – SOLD OUT
Thu 11 May        House of Blues | Boston, MA – SOLD OUT
Sat 13 May        Webster Hall | New York City, NY – SOLD OUT
Tue 16 May        Keswick Theatre | Glenside, PA – SOLD OUT
Thu 18 May       The Vic | Chicago, IL – SOLD OUT
Sat 20 May        Danforth Theatre | Toronto, Canada – SOLD OUT
Tue 23 May        Paramount Theatre | Denver, CO – SOLD OUT
Thu 25 May       The Wiltern | Los Angeles, CA – SOLD OUT
Sat 27 May        Fox Theatre | Oakland, CA – SOLD OUT
Mon 29 May       Revolution Hall | Portland, OR – SOLD OUT
Wed 31 May       Moore Theatre | Seattle, WA – SOLD OUT
Fri 2 June          The Commodore | Vancouver, Canada – SOLD OUT
EUROPE + UK
Wed 21 June      E-Werk | Cologne, Germany
Fri 23 June         Paradiso | Amsterdam, Holland
Sun 25 June       Huxleys Neue Welt | Berlin, Germany
Tue 27 June       Amager Bio | Copenhagen, Denmark
Thu 29 June       Rockafeller Music Hall | Oslo, Norway
Sat 1 July          Furuviksparken | Gävle, Sweden
Tue 4 July          Hammersmith Apollo | London, UK – SOLD OUT
Thu 6 July         Olympia | Paris, France
Fri 7 July           Festival de Beauregard | Hérouville-Saint-Claire, France
Sun 9 July         Les Deferlantes Festival | Argeles-sur-Mer, France
Wed 12 July       Volkshaus | Zurich, Switzerland
Fri 14 July         Musilac | Aix Les Bains, France
Sun 16 July       Les Vieilles Charrues | Carhaix, France
Tue 18 July        Batschkapp | Frankfurt, Germany
Fri 21 July         Colours of Ostrava | Ostrava, Czech Republic
NEW ZEALAND
Sat 9 Sep          Vector Arena | Auckland, NZ
Mon 11 Sep       Horncastle Arena | Christchurch, NZ