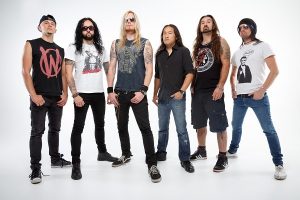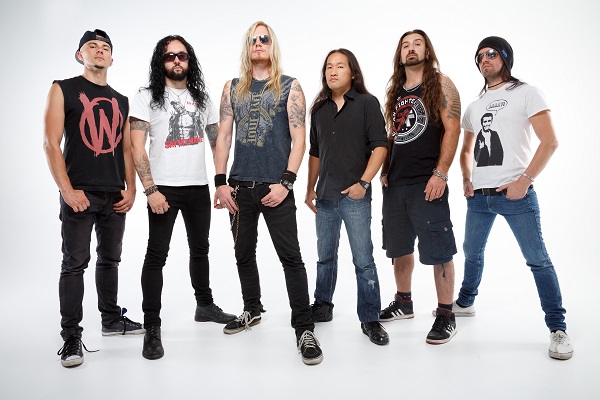 International metal superstars DRAGONFORCE have revealed details of their forthcoming, brand new studio album!
Reaching Into Infinity will be released via EarMUSIC/Sony Music Australia on May 19. Formats are, Digital, CD, LP and a special edition CD and DVD.
Recording the bulk of the album at Fascination Street Studios, Sweden, with producer Jens Bogren, the band also laid down tracks while touring their "Killer Elite" best of album, utilising Lamerluser Studios, London UK. Dark Lane Studios, Witney, UK, as well as the bands own Evil1 Studios in Charleville-Mézières, France and Shredforce One Studios, CA USA.
"We were flying out, playing a festival, then back into the studio, then back out again." Explains bassplayer Frédéric Leclercq, who also handled the majority of songwriting on this album.
"It was very intense and very tiring. I obviously played bass but also a lot of rhythm guitar, electric and acoustic, and lost my temper a few times – I think we all did at some point, because we wanted to deliver nothing but the best."
For their seventh studio album, DRAGONFORCE have opened up their sound like never before, capturing the fierce, forlorn and fun with both menace and melody.
"I think we have proven that playing fast was something we were good at, so this time I wanted to bring even more diversity into our music." Fred continues.
"It's great to challenge ourselves instead of staying in a comfort zone, and I really wanted to experiment with Marc's vocals. I think people are going to be surprised at his brutality!"
"The title of the album explains pretty much what we are trying to do with our music" Fred concludes. "Today's world is really crazy – there is fear of the future, uncertainty.
But the power of music is infinite, and it can give strength and hope to people."
The first album to feature Gee Anzalone, the Italian drummer has laid down an insanely impressive performance to provide the perfect backbone to the DRAGONFORCE sound, which of course still boasts the bands trademark crazy-fast solos, courtesy of guitarists Herman Li and Sam Totman.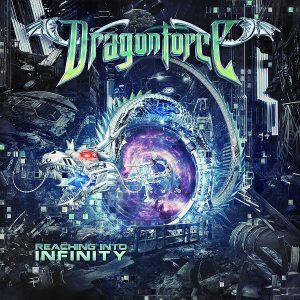 TRACKLISTING
Standard Edition
1. Reaching into Infinity
2. Ashes of the Dawn
3. Judgement Day
4. Astral Empire
5. Curse of Darkness
6. Silence
7. Midnight Madness
8. WAR!
9. Land of Shattered Dreams
10. The Edge of the World
11. Our Final Stand
Special Edition with multi-angle Bonus DVD:
Disc 1 – CD
1. Reaching into Infinity
2. Ashes of the Dawn
3. Judgement Day
4. Astral Empire
5. Curse of Darkness
6. Silence
7. Midnight Madness
8. WAR!
9. Land of Shattered Dreams
10. The Edge of the World
11. Our Final Stand
Bonus Tracks
12. Hatred and Revenge
13. Evil Dead
Disc 2 – Bonus DVD
DragonForce Live at Woodstock Festival Poland 2016
1. Holding On
2. Heroes of Our Time
3. Operation Ground and Pound
4. Holding On (Multi-angles)
5. Heroes of Our Time (Multi-angeles)
6. Operation Ground and Pound (Multi-Angles)
PRE ORDER
Reaching Into Infinity from JB HiFi for a chance to win a Meet & Greet with the band during their Australian tour.
Online Pre orders of the Deluxe Special Edition come with the CD booklet signed by the band!
www.jbhifi.com.au/music/Whats-Hot/dragonforce—reaching-into-infinity
Reaching Into Infinity Australian June 2017
Tour Dates
Tuesday, June 20: Capitol, Perth
Wednesday, June 21: 170 Russell, Melbourne
Thursday, June 22: The Basement, Canberra
Saturday, June 24: Manning Bar, Sydney
Sunday, June 25: The Triffid, Brisbane
Presented by destroyalllines.com