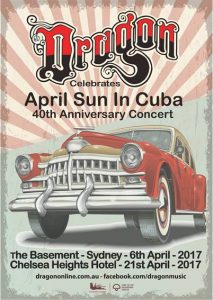 When it comes to iconic songs, there are few as anthemic and recognisable as April Sun in Cuba. A chart-topper, it peaked at #2 in 1977 and stayed on the charts for a massive 22 weeks, acting as the first monster hit for legendary band Dragon and endearing them to Australian audiences. To celebrate the song's auspicious anniversary, the band have announced two special one night only performances for Melbourne and Sydney to party in style.
"A song that is part of the soundtrack of everyone's life needs a birthday party on turning 40," says bassist Todd Hunter. "As everyone knows, life begins at 40, so who knows what is in store for April Sun in Cuba. We had no idea when we recorded the song that it was a hit, or that we would be celebrating its longevity 40 years later! These shows are a celebration of a song that will live on long after we are gone."
Since the track first smashed onto the airwaves, the public's affection for the party anthem hasn't wavered. Whether it is listening to it with a feeling of nostalgia or a new generation discovering the song for the first time, there is something about April Sun in Cuba that resonates with music lovers. It is a favourite for audiences at every Dragon show, and the chorus of voices joining in always ensures that performing the track even four decades after its release is a special moment for the band.
"It's timeless," says Todd. "April Sun in Cuba wasn't anchored in the 70s, it is somehow laconic, Australian but looking out. The song has a life of its own and has moved out in the public domain, everyone knows it and can sing along. Its anthemic, its loose, it's in the groove."
April Sun in Cuba was penned by the late Dragon keys and songwriting genius Paul Hewson, who penned the track using Harvey James' from Sherbet's guitar on the back porch of their share house in Paddington. Marc Hunter later added some lyrics and melody to create the iconic sound we know today. "We recorded April Sun in Melbourne in early 1977," says Todd. "The band had had a bad car accident that was a very close call for Robert Taylor and Paul Hewson. When we were recording the back track, I distinctly remember looking around the studio and thinking we were a bunch of bedraggled, bandaged and neck-braced casualties recording this bright and shiny pop song. I think that more of less sums up the 70s for us."
Tickets for Dragon's special April Sun in Cuba 40th Anniversary Concert shows in Sydney and Melbourne are on sale now.
Thursday 6th April 2017
The Basement, SYDNEY NSW
www.thebasement.com.au
Friday 21st April 2017
Chelsea Heights Hotel, CHELSEA HEIGHTS VIC
www.chelseaheightshotel.com.au
For more information, please visit www.dragononline.com.au