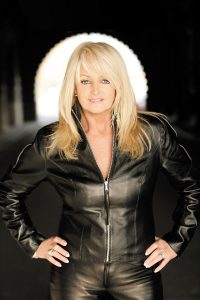 Lennard Promotions present the Welsh queen of rock and blues, Bonnie Tyler on her Greatest Hits Australian Tour.
The voice is unmistakable, a smokey, husky thing of wonder, full of emotion and pathos, a voice that you've heard many, many times before. Bonnie Tyler's string of massive hits including "It's A Heartache", "Holding Out For A Hero", "Bitterblue" and of course the worldwide number 1 "Total Eclipse Of The Heart" have etched that inimitable voice on the psyche of a generation. In fact, across 16 studio albums, 2 live albums, 4 EP's, 83 singles and a large number of compilation albums, Bonnie Tyler has created a body of work that has won hearts and minds the world over. Her hits can still be heard on radio, in TV advertising campaigns and on film soundtracks to this day.
Taking Australia by storm in 2017, Bonnie Tyler will be joined by special guests Eurogliders in Melbourne, Sydney and Perth, the band's golden string of hits throughout the 80's, including "We Will Together" and the smash "Heaven Must Be There" won them a place in the hearts of Australian music lovers forever. In Melbourne, Sydney, Newcastle, Revesby and Canberra, Bonnie will also welcome special guest Rick Price to join in the celebration adding his perennial favourites "Not A Day Goes By" and "Heaven Knows" amongst others to a night full of classic hits!
Bonnie Tyler was born Gaynor Hopkins in Skewen, near Swansea, South Wales, on 8 June 1951 into a large family of three sisters, two brothers and her mother and father. Influenced by the music of Janis Joplin and Tina Turner, she sang as a teen with a group called "Bobby Wayne and the Dixies." Bonnie then formed her own band, calling it "Imagination." Adopting different stage names until settling on Bonnie Tyler, she and her band performed for nearly a decade at pubs and nightclubs throughout South Wales.
In 1975, Tyler recorded "My My Honeycomb", her first single for RCA Records, which failed to make the charts. Her second single, "Lost in France" reached the top 10 on the British pop music charts.   Her success with "Lost in France" led Tyler to record her first album in 1977, "The World Starts Tonight." It met with only modest success, but enabled Bonnie to tour throughout Europe. Prior to the album's release, Tyler underwent surgery to remove nodules on her vocal cords. Against her doctor's orders, she spoke before she had healed, resulting in her singing voice taking on a raspy quality. Bonnie worried that her singing career was over, but as fate would have it, her next single in 1978, "It's a Heartache," made her a star.
Bonnie's record (which was previously a hit for Juice Newton) shot to No. 1 in 6 European countries, peaked at #4 on the UK charts, and went to #3 on the US pop charts, and to #10 on the US country charts. Signing with CBS Records in 1982, Bonnie's next album, "Faster Than the Speed of Night", proved to be a hit. Her single "Total Eclipse of the Heart", written by Jim Steinman, topped the charts, remaining at No. 1 for 4 weeks. "Faster Than the Speed of Night" shot straight into the UK album charts at No.1, making Bonnie the first ever female artist to have achieved this, earning a Guinness Record. This feat was followed by a 1983 nomination for the Grammy Award for Best Female Pop Vocal Performance while the album earned her another Grammy nomination for Best Female Rock Vocal Performance.
In 1984, she released the single "Holding Out for a Hero" from the soundtrack and film Footloose; the tune reached #34 on the U.S. Hot 100, making it Tyler's third and final top?40 U.S. hit. The albums Secret Dreams and Forbidden Fire and Hide Your Heart followed, but lacked the success of her previous efforts. In the early 1990s, Tyler recorded the album "Bitterblue", which went quadruple?platinum in Norway, platinum in Austria, and gold in Germany, Switzerland, and Sweden. Bonnie followed up with "Angel Heart," another success. "Silhouette in Red" was released in 1993. Bonnie won Best International Female Vocalist in the ECHO Awards.
While her live performances continued to draw large followings, her recording success began to slow down until the young French singer Kareen Antonn approached Bonnie to record a duet. "Si Demain." Their French language version of "Total Eclipse of the Heart," was released in January 2004 and went to No. 1 in France, Belgium, and Poland, selling two millions copies all over world.
Lennard Promotions Present
BONNIE TYLER – GREATEST HITS TOUR AUSTRALIA 2017
*Pre-sale tix on sale 6th Feb
*Tix on sale Friday 10th Feb
TOUR DATES
21st May Blues On Broadbeach, Gold Coast
www.bluesonbroadbeach.com
24th May Crown Theatre, Perth
*With special guests Eurogliders
www.ticketmaster.com.au
26th May NEX at Wests City, Newcastle
*With special guest Rick Price
www.thenex.com.au/events
27th May Whitlam Theatre, Revesby
*With special guest Rick Price
http://rwc.org.au/whats-on/
29th May Arts Centre, Hamer Hall, Melbourne
*With special guests Eurogliders & Rick Price
www.artscentremelbourne.com.au
31st May Canberra Theatre, Canberra
*With special guest Rick Price
www.canberraticketing.com.au
1st June Enmore Theatre, Sydney
*With special guests Eurogliders & Rick Price
www.ticketek.com.au
http://www.bonnietyler.com/
https://www.facebook.com/Eurogliders/
http://www.rickprice.com/
Comments
comments