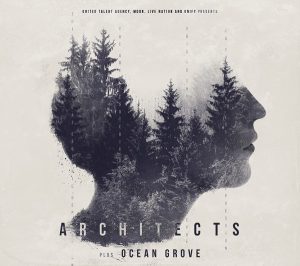 Brighton UK's premiere metalcore act ARCHITECTS have announced their long-awaited Australian headline tour. The tour is scheduled to take place this May while Architects are in the country for Groovin The Moo festival. The tour will kick off on May 2 in Brisbane and the band will take their Australian UNFD label mates Ocean Grove along for the ride.
Originally in the country last September with Bring Me The Horizon before Oli Sykes' illness cut the tour short, Australian fans will finally have a chance to experience Architects' critically acclaimed record All Our Gods Have Abandoned Us. A powerfully dark, confronting and sonically intense critique on the world, Architects seventh album wrestles with contemplations of death, God and faith in search of some semblance of hope for a world increasingly consumed by fear, anger and confusion.
Upon its release, All Our Gods Have Abandoned Us charged straight to the top of the ARIA Chart, landing at #2 – the highest ever chart position of their career in not only Australia, but the rest of the world. The album also topped several end of year lists including Rock Sound, Kerrang!, Hysteria Magazine and Killyourstereo, and saw the band play the biggest headline shows of their career that celebrated the life of their guitarist/founding member Tom Searle, who sadly passed away in 2016.
Emerging from the depths of Melbourne, Ocean Grove have well and truly kicked the start of 2017 in the face. Starting the year with the coveted sunset slot on UNIFY 2017, Ocean Grove jumped in the van and hit up regional Australia with The Amity Affliction and released their debut album The Rhapsody Tapes amongst the chaos. The Rhapsody Tapes enjoyed a week on triple j as the Feature Album and was lauded for its uniqueness, while Kerrang! has earmarked them as "one of the stars of 2017".
ARCHITECTS
with special guests OCEAN GROVE
MAX WATTS, BRISBANE (18+)
TUESDAY MAY 2
THE PRINCE, MELBOURNE (18+)
WEDNESDAY MAY 3
ARROW ON SWANSTON, MELBOURNE (all ages)
FRIDAY MAY 5
METRO THEATRE, SYDNEY (all ages)
THURSDAY MAY 9
METRO, FREMANTLE (18+)
FRIDAY MAY 12
Also performing at Groovin The Moo Festival
April 28 – May 13
Presented by Live Nation
TICKETS ON SALE NOW
For complete tour and ticket information, visit:
www.livenation.com.au
www.architectsofficial.com
www.unfdcentral.com