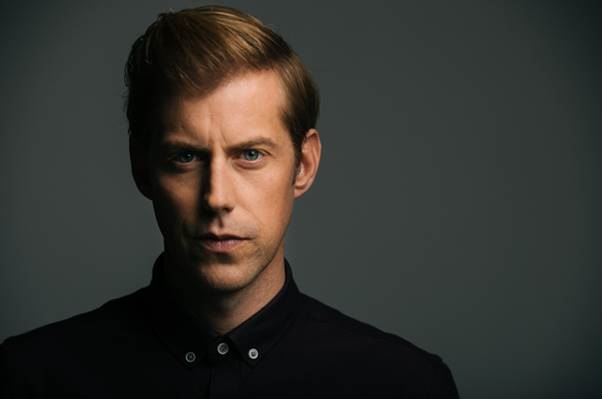 "I think because I was writing a lot of the record while I was working the first Wilderness record and the fact that so much of that process was a new adventure, it was a big risk I think stepping away from Jack's Mannequin and taking time off and then jumping into this project. So I wanted to capture some of the uncertainty that went along with that…"
From Release: He was the voice of Jack's Mannequin and also an incredible solo perfomer. Andrew McMahon in the Wilderness announces the release of his new album Zombies on Broadway on February 10, 2017 via Vanguard Records / Caroline Australia, a follow up to McMahon's eponymous debut album that launched the Gold-selling, cross-genre; Top 5 Alternative and AAA hit "Cecilia in the Satellite." Having been diagnosed with cancer in New York in 2005, McMahon found himself wanting to return to the city to battle some demons leading to the creation of Zombies On Broadway.
Andrew McMahon gave us a call to catch up ahead of his new album release to discuss its creation, concept, writing, Australia, changes, & more…
We last spoke about eighteen months ago, so let's catch up, how have things been since June 2015?
Gosh it's been a ride for sure, but a good one, I think since then about 18 months ago when I spoke to you a lot happened back here in The States with the success of 'Cecelia and The Satellite' and the sort of concurrent touring and the working on this record, so it's been busy and wile *laughs* to say the least. Had a beautiful holiday where I got to come home and chill out for a little bit and start kind of gathering strength to go and do this again.
Of course you have the killer new album 'Zombies on Broadway' coming, for you what's the feeling like around album release time?
You know look, it's a combination of a lot of feelings; it's a mixed bag of emotions for sure you know? There's a sense that you're sort of putting yourself out there in a very vulnerable state to be dissected and at worst you get picked apart *laughs* and people don't like what they find and at best you get picked apart and you become a song in somebody's headphones or in their car and you get to ride with them, but there's anxiety and there's also a lot of excitement the idea that we're prepping for a tour now and get to bring these songs to life and really sort of fill out that side of the expression of what we're trying to do with these songs which is bring them to a stage is something that I'm really ready to get in the middle of. It's hectic, it's fun.
So in the time between the 'In The Wilderness' album and 'Zombies on Broadway', was there specific inspiration behind the new album?
Well, you know I hate to give a boring answer and say I try my best to use these songs as mile markers in my life and sort of chart the progress and the successes and the failures and all that kind of thing in between. I think because I was writing a lot of the record while I was working the first Wilderness record and the fact that so much of that process was a new adventure, it was a big risk I think stepping away from Jack's Mannequin and taking time off and then jumping into this project. So I wanted to capture some of the uncertainty that went along with that and some of the tension and the fear that comes from taking a big risk, especially one that I don't know for me it was pretty deeply personal and I think that what we got to with the record was kind of a beautiful charting of what was a crazy time in my life, one that started the nervous and this a project that's gonna work are people gonna get it? Are we gonna get it out there? Is there going to be an audience for it? Then having it succeed and having the success and having some celebration around it. Then to some extent overworking *laughs* and having that celebration turn in to a lot of late nights and maybe a confrontation with a side of myself that when indulged can require a little coaxing back to Earth and I think that's what this album really ventures in to.
The name in itself is just great, but what does 'Zombies on Broadway' represent to you personally?
It was sort of a scene that I encountered nightly leaving the studio; I mostly lived in Brooklyn in rented apartments while I was working on the album and I would take the L train into Manhattan and then take the train up to the studio which was basically smack dab in the middle of Times Square. If you've been to New York you know you probably don't want to spend too much time in Times Square because it's not really the best hang *laughs* but that was where the studio was, and every night I would get out between eleven and midnight after long days working and you kind of wrench yourself when you're writing these songs and you're trying to get to something deep and you imagine stepping out of the studio and you want to walk into something peaceful and you actually walk into the most chaotic, lunatic, horror movie on Earth *laughs* which is this tourist central that kind of takes a turn at some time around ten thirty or eleven and guys trying to hustle you into strip clubs or sell you bad drugs and all I'm trying to do is make it to the subway and this little phrase stayed kind of locked up in my notebooks, and man, when it came to naming the record it raised its hand again because it had just stuck with me from all the nights in the studio.
The album flows so well, but I always like to pick one song to ask about and one that stood out for me was 'Fire Escape', can you tell us a bit about how that one came about?
Yeah, it was this kind of beautiful moment, I kind of think of it as the centre of the record. When I ended up in the city kind of in this blind date writing session with a guy named Dan Omelio a lot of people know him as Robopop, he's done a lot of work, he did Lana Del Rey, and a lot of really amazing artists, and another producer and writer named Gregg Wattenberg, and we kind of got thrown together because we all had a lot of mutual friends and we were all in New York at the same time and said 'hey let's get together and try and write a song' and I had kind of a rare few days off in the city in between tours and it was this sort of celebratory moment that the first Wilderness record had done really well and we'd seen a lot of success with 'Cecelia' and we were kind of riding that and I just had this kind of rare, carefree couple of days where  I was seeing a lot of my friends and we were going out late and I just had this notebook that I carried with me and just write everything down for two nights of sort of insane, beautiful parties with my art friends and my musician buddies *laughs* and managed in this really perfect moment to get all these lyrics and all these sort of mini poems that I'd written down into the lyric of this song that we wrote over a couple of days in the city. Yeah, I think of it as this beautiful celebration, that's what 'Fire Escape' is about, whether you're young or old or anywhere in between if you can find some good friends and a good bar and cut yourself loose for a night you're gonna have a great time.
You're no stranger to Australian shores, so do you have any plans to come back and see us in the near future?
Well I don't have anything on the books yet but I better be coming there soon because no tour or album would be complete if we didn't get some dates in one of my favourite places in the world. So I am crossing my fingers that something pops up here pretty soon because I would miss y'all too much if it didn't come together. You should expect me, I'm not sure when but I will get out there.
Well I've been seeing you since Something Corporate came back in 2003 I think when you came, so I can't wait…
Yeah thank you man, I'm looking forward to it thanks for sticking with me that long.
Obviously over time you've evolved as an artist through different projects and rather than ask you what's changed, what would you say is the one thing that has stayed the same in the way that you work?
That stayed the same… I think there's a sort of like a truth meter that if it's not met in a song and if I don't feel like when a song is complete that it strikes a certain chord with me and that it says something that feels honest, I think that is one thing, I can't put those songs out and I can't stick by those songs and if anything the thing that is the same is my intention behind what I create hasn't changed. I try to use these songs to answer questions and try to use these songs to understand myself a little better, and understand the world and the people around me a bit better and I don't think that's changed. I think the thing that has probably changed the most has been my desire to collaborate, my desire to sort of share that creative space with people and to learn from people, I think that's something that's grown with me over time and something that I value much more than I did when I just started out. I think as a kid just starting out making music was very territorial, I didn't want anyone near my songs until the very last minute and then I was very proprietary and had a very hard time sort of opening the door to other people. Now I think a lot of the joy I find with this process of making music for a living is getting to know people and getting to know their craft and how they make a great song and trying to learn from those people and surround myself with them and I think that's been the biggest change for me.
So what's on your list of things to do as an artist that you haven't yet had the chance to do that you want to achieve?
Hmm that's a good one… I mean it sounds kind of like a safe statement I suppose but I think just expanding what I do, I think there are a lot of artists out there that see themselves as… you know… I'm just a guy on the stage that writes the songs and look I'd be happy doing that for the rest of my life but I think I got a taste of the other side of that with working on the 'Smash' stuff, I worked on a TV show for NBC where I got to be the guy in the writers chair and have somebody else sing the songs and take cues from a director and a screenwriter and I think I see that being a much bigger part of my story as I move forward. I look at the artists who have been able to expand into who they are and forming different characters and exploring different sounds and styles and I think that's where I see myself going with this, doing a record and maybe doing a film project, or a TV project, or getting in and helping to write a musical, you know just get my hands in to other stuff to grow, and I think those are the things I'm also looking forward to.
Lastly let's look ahead to the future, finish this sentence for me, by the end of 2017 Andrew McMahon wants to…
*laughs* that's a good question… what do I want to do by the end of 2017? Hmm… well I'd like to take a mini sabbatical and bring my family and I off into some foreign land for a few months to just do that you know what I mean and just put things on hold for a minute and explore the world a little bit before my daughter goes to preschool and I can't snatch her for six months at a time and take her away *laughs* so maybe some quiet time away with my family.
Well Australia is a lovely place, feel free to come here…
I would love to I've been trying to convince my wife, the sixteen hours on a plane with a three year old gets in the way a little bit but I think there are enough movies out there that we can probably entertain her with that would be worth it.
Essential Information
From: USA
Band members: Andrew McMahon
Website:  http://andrewmcmahon.com
Latest release: Zombies on Broadway – (out now- Vanguard/Caroline Australia)