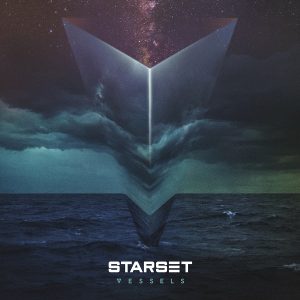 I love finding 'new' bands, and I mean new to me, as this is Starset's second album and all I want to do is go back and find their first now, and I will. So let's get into an album I've already listened through about five times and discuss why I think this one is so rad!
'The Order' is an intro before 'Satellite' hits and it's a perfect opener, musically it's big, bold, and has a great overall feel to it with a catchy chorus and really sets the tone for what's to come on 'Vessels'. 'Frequency' has great mellow type verses with an underlying almost industrial style musical accompaniment and then it kicks in with the chorus and just when you think you're safe they growl the b'jesus out of you in an outstanding unexpected musical block. This is a great arrangement and production on this track that's for sure. 'Die For You' continues on with the same feel and is a kick ass rocker with the most soothing outro ever, but where this album absolutely grabbed me and held me was with 'Ricochet' and I may be as bold to say that this is my song of the year so far, the verses set it up and the first chorus sang in the much quieter way was really clever as what that did was get me instantly interested and when it then turns into almost a power ballad-esque style song next chorus, well if you know me you'd know how happy I was as that's my jam! So when a song is so well crafted and executed it's a pleasure to listen to, and on top of that you HAVE to watch the 360 video for this song, it's amazing (see below, watch on your phone). There are so many bands out there today that should listen to a song like this and use that as a benchmark, absolutely love it.
'Starlight' is another that stands out for me, lyrically genius and the drums throughout are very cleverly used, especially in almost a marching band style throughout. I'm just enjoying this and sometimes albums take some time to understand but from first listen I was hooked and it just keeps going. Now we go 'Into The Unknown' with a crazy musical intro which is awesome, big guitars come crashing in and we're off… into the unknown… yeah I did it, I don't regret that at all. After the last two 'slower' songs this gets a bit heavier and balances out the album nicely. This band is all about arrangements, they're very clever and sometimes jump between styles and vibes but they fuckin' work. I'm really impressed with how these songs are crafted. 'Gravity of You' goes BOOM in the chorus, not literal BOOM but musically it's like whoa, that was cool, that kind of BOOM! Again the much more subdued choruses are balanced with the boom, I really dig this one. Lyrically as per all songs prior and to come are really well written and thought out, as part of the story that Vessels is these songs are crafted perfectly. The outro of this one, a common thread throughout the album leads into 'Back To The Earth', a song that kicks in straight away, driving beats, big chorus and a continuation of all the above with what could almost be a symphonic musical section within, then 'Last To Fall' is another stand out for me on the album, even with its simplistic chorus repeating the title, damn it works, as it takes us in to 'Bringing It Down' followed by something 'Unbecoming' both of which this late into the album still stand up as what could be lead tracks, this band is just full of big crashing choruses and that's what I love in music, so it's hard to fault what Starset are doing on 'Vessels'.
Three to go and the first being 'Monster' which is the latest single taken from the album, gotta love a band that releases track thirteen as a single ha ha, you can hear why when it's on, catchy, loud and a great message to it, I love this album lyrically I really do. Dustin Bates, you sir are amazing! Ooh this one is a bit different, this is 'Telepathic' and as much as I've loved what I've heard in case you didn't figure that out, this one has a much more electronic vibe to it if that's a way I could describe it, but even though it's somewhat different it doesn't break the album up, but the one thing I have loved about this album the most is the musical outros on most of the tracks, very soothing, very calm, and transitionary, this one leading into the closing track and the almost eight minute 'Everglow' a beautiful way to close the album, a slow one, almost a warranted relief after the onslaught we just had prior, ha ha I say that and right as a I did another BOOM and I almost feel off my chair as it was unexpected, I'm already sitting on the edge of it because my back is sore so thanks for the surprise heaviness, Starset! This song is epic though, it's almost like they said "hey, let's just throw it all in to end it, yeah, every instrument, all of it" and they did, in no way is it messy though, but at its crescendo it drops right back down to an almost movie score style outro. Well played.
For a band that isn't super huge it's easy to say for  these amazing songs 'this is the best song (insert much more famous band name here) never wrote' because they can't have them and I don't want to compare them to anyone else, this is Starset and get ready to hear a lot more from these guys. Wow.
Essential Information
From: Columbus, OH, USA
Release date: 20 January 2017
Record label: Razor & Tie./Cooking Vinyl Australia
Produced by: Rob Graves
Website: http://www.starsetonline.com
Track Listing:
The Order
Satellite
Frequency
Die For You
Ricochet
Starlight
Into The Unknown
Gravity Of You
Back To The Earth
Last To Fall
Bringing It Down
Unbecoming
Monster
Telepathic
Everglow