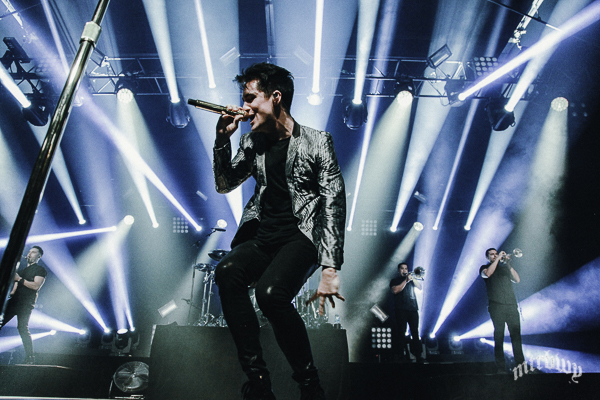 As 'Rosanna' by Toto plays over the speakers before Panic! At The Disco make their return to a Sydney stage I feel like this is a test. I look around and see maybe three other people enjoying it and singing along. Definite age gap here tonight at this all ages sold out show at the Hordern. Panic! Return to Australia to give us one of their amazing performances they're known for. Ha ha calm down kiddies you'll peak too early! They're all going nuts for the confetti cannon tests and it's kinda funny hearing the cheers for this. The stragglers from outside are making their way in as it gets closer to show time and some safety getting the crowd to move back well before the show starts. It's gonna be a crazy one.
Rage Against The Machine's 'Bulls on Parade' blasts over the speakers and the lights dim only to have the floor light up with phones and the band run on stage wait. 'Rock Lobster?!' Oh nope ha ha I have no idea what's happening but there are streamer cannons and killer lights, oh man intense! The opener 'Don't Threaten Me With A Good Time' is crazy! The floor is going nuts! Plus there are horns in this song, it's like everything you could ever want to open a show with Brendon hitting some crazy notes almost metal screams early on and I'm impressed. 'Vegas Lights' keeps the tempo up and the band has the crowd in the palm of their hands. This is really interesting to watch. I need to come up for air after that opener. Wait. No time for that yet as some big loud chords strike kicking off 'Mona Lisa' and the perfect sing along whoa ohs sound great in here. That was killer!! Never heard that one live before and I'm happy now.
The horns are back and man, I get the feeling this'll be one of those shows where the band can do no wrong as they belt out 'Hallelujah' with those high vocals he can balance so well with his lower register. This is impressive. I get happier as the guitars kick in to give us a rocker and 'Time To Dance' and man I really dig this one full of crazy lights, with this super tight band and wow. Holy crap! I'm not familiar with some of these songs like 'Emperor's New Clothes' but man, these are outstanding, maybe it's just the atmosphere in here or maybe they're just a band that writes catchy as fuck songs and belt them out perfectly on stage. More streamers, smoke cannons and this is a show!! I'm really impressed.
Brendon addresses the crowd and I get deafened by squeals. Thanks Mr Urie. They take us back to hooksville with 'Girls / Girls / Boys' damn. Banging them out and I'm pretty sure they love this one a lot, well the people dancing around in a circle next to me sure do! 'Ready To Go' has a perfect chorus for tonight and it's a sing along frenzy! The stage presence of this band is something else, the show is colourful and so full of energy that I'm pretty sure it's powering the venue right now. A grand piano takes centre stage and with the simple opening to 'Nine in The Afternoon' that thankfully somewhat slows the set down just a little. We all needed it! Uh oh. Cover time. They've gone for the big one… 'Bohemian Rhapsody' let's see what happens here. Well it's already better than Kanye so that's a start. Is it Butch Walker better? Hmm… Go listen to that version, trust me! I must say though that Urie's voice is great for this classic and yeah they did pretty damn good with that! Kudos.
Man it is hot in here! Ha ha I wrote that before the opening line "you can set yourself on fire" from 'Crazy = Genius' happened and how apt as I feel like I am on fire. Cricle group to my left are loving every second of this show and dancing like they do not care at all it's great to watch. 'Miss Jackson' wow I don't know this one either but need to now. What a tun and what a backflip off the drum riser. This is entertainment, folks. He makes jokes about being old at thirty, thanks mate, and the old theme continues with 'Golden Days' which I actually probably liked the best so far, cracking tune! 'Death of a Bachelor' heads back into to catalogue and thankfully another slower one after what has been a really high intensity show so far. 'La Devotee' takes its place in the set and is nailed.
With only a few to go they hit us with the one that every single person here knows and the place has gone nuts. It is of course 'I Write Sins Not Tragedies' and it takes the prize for best crowd participation tonight by the way. This song is actually a million times better live too. So good!! Sincere thanks from the band before 'Gospel' begins, continuing with a big chorus and crunching guitars. Urie's voice still at peak level even after belting it out and giving it everything he had tonight. It's impressive!! One more song, we go out with 'Victorious' and yeah we do, perfect choice to end what was a great show.
Wow. Simply wow. What an impressive, entertaining show. I'm beyond impressed.
Essential Information
Venue: The Hordern Pavilion – Sydney
Date: January 27, 2017
Presented by: Select Touring & Blue Murder
Website: http://www.panicatthedisco.com
Photo by: Annette Geneva – Every Day Is Saturday – Check out our full gallery HERE
Set List
Don't Threaten Me With A Good Time
Vegas Lights
Mona Lisa
Hallelujah
Time To Dance
Emperor's New Clothes
Girls / Girls / Boys
Ready To Go
Nine in The Afternoon
Bohemian Rhapsody
Crazy = Genius
Miss Jackson
Golden Days
Death of a Bachelor
La devotee
I Write Sins Not Tragedies
Gospel
Victorious