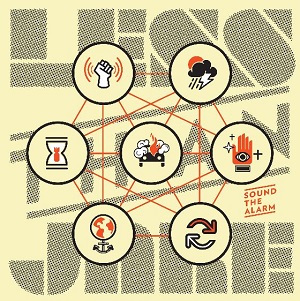 Influential Gainesville punk band Less Than Jake has announced plans to release a new EP titled Sound The Alarm on February 3rd with their new label Pure Noise Records.
Fans can pre-order the record and stream a brand new song called Things Change HERE
Speaking about the new song, lyricist and drummer Vinnie Fiorello says "the only thing constant is change" is one of the lines in the chorus of the song and such a massive truth to me. The sooner you could realize this, digest it, and embrace it the better off you're going to be. Let it all move forward, at lightning speed. Everything and everyone changes, the world keeps on spinning like it or not."
Less Than Jake's new EP, Sound The Alarm, marks an exciting new chapter for the band as they celebrate 25 years together and a newly inked deal with Pure Noise Records. Featuring 7, ska infused punk songs that quickly remind listeners of the band's incredible ability to craft memorable, hook-filled music.
"We started writing this set of songs, similar to our last record See The Light, sitting around a table in our warehouse with some acoustic guitars, lyrics scribbled on scraps of paper, and a constant barrage of ideas," Fiorello explains. "Trying ideas as they would come out, sometimes chasing the idea, or getting connected or not connected to an idea right away. We had been writing and were planning on fleshing out the ideas while on Warped Tour."
Sound The Alarm was recorded and produced by Roger Lima and mixed at the famed punk recording studio, The Blasting Room, in Fort Collins, CO. The band wrapped the record following their run on last summer's Vans Warped Tour.
After years of releasing records through various major and independent labels Less Than Jake has found a new home at the Southern California based Pure Noise Records.
"When I met Jake at the San Francisco stop of Warped Tour, we talked about working together," Fiorello adds. "He is a longtime fan, knows the history and the arch of LTJ and that's important to know where we have to go. It's always great to have a mutual respect between band and label and that is exactly what we have between LTJ and Pure Noise."