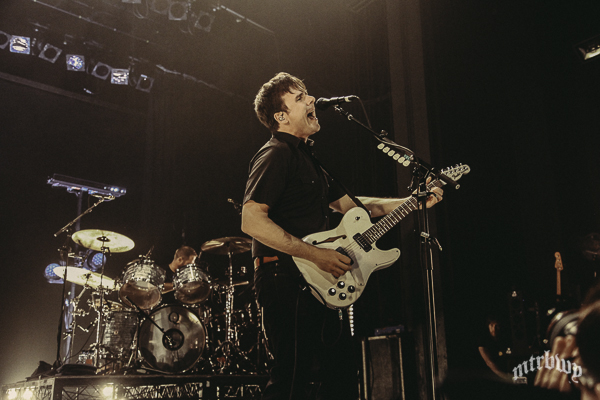 It's not even been a couple of years since Jimmy Eat World have been in Australia, but every time they are it's evident that their fan base in Australia is strong. Here on the first of their 'Integrity Blues' shows we're back in Sydney to a great crowd and I for one can't wait to see what one of my favourite bands delivers tonight.
Here we go! As 'You With Me' plays over the speakers the band take the stage only to join in, it's an interesting opener but a good one taken from their newest album with the band sounding great straight off the bat and if this is a sign of the night then we're in for a big one. Wasting no time they blast into 'Big Casino' and damn this is great, plus the line of "rock on young saviours, don't give up your hopes" is always a winner. Jimmy Eat World know how to write a song with more hooks than a bait and tackle shop and as we continue with 'If You Don't, Don't' the crowd is getting pumped as I see a number of arms being thrust towards the stage as they sing along and the build-up mid song here is perfect and made for the stage and was met with much love. What a start!
This is the first time I've heard 'Steal You Back' live and it comes across so much more aggressive in the live environment, I mean that in a musical way not lyrically, just the vibe of the song is kicking ass. Jim finally has a chat and then we get to my favourite off their new album, 'You Are Free' and as Jimmy Eat World are so good at doing they can write such a good slower track and this one just touches a chord. Now the crowd goes wild as 'Bleed American' begins and rightfully so, frantic, heavy and damn, I can only listen to this song live now as it just sounds so perfect that way. For many they were introduced to the band through the 'Bleed American' album back in 2001 so the reception for its title track was warranted.
We get to what looks like the first 'hey let's go get a drink and go to the bathroom song' as I watch people flock past me during the much slower 'Pass The Baby' but slower by trickery as it builds into a heavy monster and holy shit this is amazing!! It fades out and straight into 'Just Tonight' followed by 'Futures' which everyone went nuts for and again man, these riffs are heavy tonight!! Hey now… For a song now twelve years old, man it's better than anything being released today. Time for Tom to sing us a song!! 'Blister' is an oldie but a goodie and I love they throw this in the set. 'It Matters' slows things down again followed by 'For Me This Is Heaven' which got a great reaction, man they love the old tunes tonight, and yes, we can still feel the butterflies. The next one being another of those oldies and it's 'Lucky Denver Mint' which is a highlight of the night so far that's for sure. Again, Jimmy Eat World selling us all the hooks.
'Always Be' followed by 'My Best Theory' was a great pairing and watching Rick and Zach on this one was great, seriously love the rhythm section of this band, a great driving force in such a tight live band. Back to 'Integrity Blues' and the very heavy 'Get Right' and again, these songs transfer so well into the live show. Here we go again, back to Bleed American and this time 'A Praise Chorus' wins. They know they're onto a winner with the Bleed American album as they change up a song in the set list to throw in 'Authority Song' as they're lapping it up here. Then balancing out the rockers with the slower tracks and 'Through' from Integrity Blues slips in nicely. 'Let It Happen' gets some love and "say whatever you want cause they can laugh it off…" They are killing it tonight!!
Big cheers as '23' begins and we're getting towards the end of the set so there are still some big guns to go, oh man, this solo! Jim just nailed that! Wow. Admittedly this has never really been a huge favourite of mine but tonight it just made it to my list. Wow. Now, 'Work' was already on my list and tonight didn't disappoint, some excellent crowd love and singing made this a highlight! Before heading off stage they hit us with 'Pain' and what better to leave with this punchy (pun intended) track.
Back on stage and of course how could they go anywhere without playing 'The Middle', that's right, they couldn't so here it is. Of course it was the most well received song of the night. Such a good track and the radio fans were losing their minds. Now with 'Sure and Certain' from the newie it'll surely and certainly become a staple in the bands set for the future. I love this track and I'm glad it got a run. Closing the set with the only song they could, arguably my favourite Jimmy Eat World song, 'Sweetness' and we're listening… Whoa oh oh oh oh oh… Outstanding version and way to end a TWENTY SIX song set. Wish more bands would do that. Absolutely amazing!
There's no doubt that Jimmy Eat World are one of the best live bands out there and if you've never seen them live then trust me, go see them, you'll walk away a new fan or an even bigger one. I'll take a few more hooks for the trip home thanks Jimmy, just ring up the sale. 2017 you are off to a magical start!
Essential Information
Venue: The Enmore Theatre – Sydney
Date: January 18, 2017
Presented by: Frontier Touring
Website: http://www.jimmyeatworld.com
Photo by: Annette Geneva – Every Day Is Saturday – check out our full gallery HERE
Set List:
You With Me
Big Casino
If You Don't, Don't
Steal You Back
You Are Free
Bleed American
Pass The Baby
Just Tonight
Futures
Blister
It Matters
For Me This Is Heaven
Lucky Denver Mint
Always Be
My Best Theory
Get Right
A Praise Chorus
Authority Song
Through
Let It Happen
23
Work
Pain
The Middle
Sure and Certain
Sweetness