In celebration of their 40 Year milestone,ICEHOUSE are proud to announce the release of their first career spanning box set –ICEHOUSE – The Complete Collection – which will be released on 17 February 2017.
The 10 album set compiles ICEHOUSE's complete body of work, kicking off with Flowers'Icehouse (first released in 1980) all the way through to the acclaimed double live albumICEHOUSE – In Concert from 2015.
The set will be available on CD and digitally from 17 February and is available to pre-order now from www.icehousestore.com.au.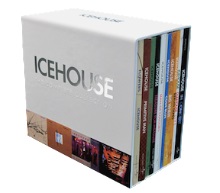 The box set is housed in a deluxe slipcase containing digipack versions of each of the following albums:
1.    Flowers: 30th Anniversary Edition (2CD + DVD)
2.    Primitive Man: 30th Anniversary edition (CD + DVD)
3.    Sidewalk
4.    Measure For Measure
5.    Man Of Colours: 25th Anniversary Edition (CD + DVD)
6.    Code Blue
7.    Big Wheel
8.    Berlin Tapes
9.    Dubhouse
10. In Concert
In addition, the debut album, Flowers' Icehouse enjoys a reissue on vinyl for the first time since its original release. The landmark recording, featuring the hugely successful string of singles – Can't Help Myself, We Can Get Together, Walls, Icehouse and fan favourites Sisterand Fatman – went on to enjoy quadruple platinum accreditation after spending close to a year on the Australian chart through 1980-1981. The album is pressed on 180-gram vinyl and replicates the original layout and uncoated sleeve of the original pressing.
The album is available to order now from www.icehousestore.com.au orwww.thesoundofvinyl.com.au
Further, ICEHOUSE are pleased to announce the release of their complete body of work on streaming services as of today. Every album is now available to stream on your service of choice in Australia and NZ with global markets to follow imminently.  You can add your favourite ICEHOUSE tracks to your collection right now.
ICEHOUSE has sold over three million albums locally, more than nine million internationally, and have achieved 28 platinum album sales in Australasia. They have had eight Top 10 albums and more than 30 Top 40 singles. ICEHOUSE and Iva Davies have won many awards, including the Countdown Award for the Most Popular Male Performer and ARIA Awards for the Best Album and Highest Selling Album for Man of Colours. The band was inducted into the ARIA Hall of Fame in 2006.
ICEHOUSE are currently on their 40 Years! Live tour  and tickets are on sale NOW.
You can check out our review of Icehouse's Sydney show on January 14 HERE
Saturday, 28 January 2017
Summer Concert Tour – Taupo Amphitheatre, Taupo, NZ
Tickets available from through www.ticketek.co.nz (0800 ticketek)
Sunday, 29 January 2017
Whitianga Open Air Venue, Whitianga, NZ
Tickets available from through www.ticketek.co.nz (0800 ticketek)
Wednesday, 1 February 2017 -and- Thursday, 2 February 2017
Crown Theatre, Perth, WA
Tickets available from Ticketmaster 136 100 | www.ticketmaster.com.au
Presented by 96FM
Thursday, 9 February 2017
Thebarton Theatre, Adelaide, SA
Tickets available from Ticketmaster 136 100 | www.ticketmaster.com.au
Presented by Cruise 1323
Saturday, 11 February 2017
Red Hot Summer Tour – Old Mount Gambier Gaol, Mt Gambier, SA
Tickets on sale from 9.00am, Monday 29 August from
Ticketmaster 136 100 | www.ticketmaster.com.au
Saturday, 18 February 2017
Red Hot Summer Tour – Country Club, Launceston, TAS
Tickets on sale from 9.00am, Monday 29 August from
Ticketmaster 136 100 | www.ticketmaster.com.au
Friday, 24 February 2017
Brisbane Convention and Exhibition Centre, Brisbane, Qld
Tickets available from Ticketek 132 849 | www.ticketek.com.au
Presented by 4KQ
Saturday, 25 February 2017
Tamworth Regional Entertainment & Conference Centre, Tamworth, NSW
Tickets on sale now from www.trecc.com.au or 02 6767 5300 or in person from
Capital Theatre Tamworth or The Big Golden
Saturday, 11 March 2017
Red Hot Summer Tour – Mackay Park, Bateman's Bay, NSW
Tickets on sale from 9.00am, Monday 29 August from
Ticketmaster 136 100 | www.ticketmaster.com.au
Sunday, 12 March 2017
A Weekend in the Gardens
ICEHOUSE, James Reyne, Clare Bowditch
Tickets on sale now from Ticketmaster 136 100 | www.ticketmaster.com.au
Friday, 17 March 2017 -and- Saturday, 18 March 2017
Wrest Point Entertainment Centre, Hobart, TAS
Tickets available from http://tixtas.com.au/Home.aspx?psid=iceh2017
Presented by 7HOFM and WinTV
Saturday, 25 March 2017
Red Hot Summer Tour – Roche Estate, Hunter Valley, NSW
Tickets on sale from 9.00am, Monday 29 August from
Ticketmaster 136 100 | www.ticketmaster.com.au
Saturday, 1 April 2017
Red Hot Summer Tour – Harrigan's Drift Inn, Jacob's Well, Qld
Tickets on sale from 9.00am, Monday 29 August from
Ticketmaster 136 100 | www.ticketmaster.com.au
Saturday, 22 April 2017
Red Hot Summer Tour – Bendigo Jockey Club, Bendigo, VIC
Tickets on sale from 9.00am, Monday 29 August from
Ticketmaster 136 100 | www.ticketmaster.com.au
Friday, 23 June 2017 –and- Saturday, 24 June 2017
Enmore Theatre, Enmore, NSW
Tickets on sale now from Ticketek 132 849 | www.ticketek.com.au
Presented by WS FM101.7
www.icehouse-ivadavies.com                 www.facebook.com/Icehouse
#ICEHOUSE   #40YearsLive