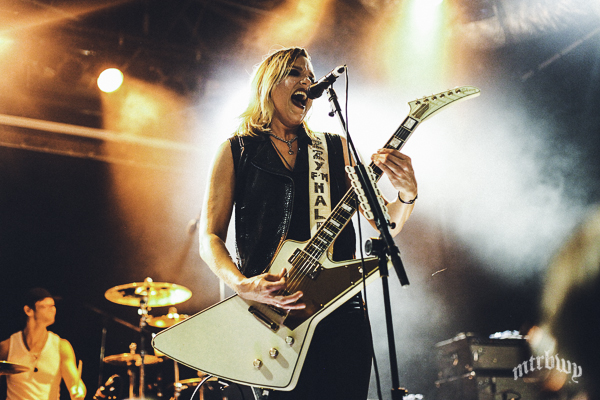 The last time I remember a band returning to Australia within a year and on the same album cycle was Matchbox 20 back in 1997/98 and well they did OK ha ha, so today as Halestorm return to Sydney for the second time on their 'Into The Wild Life' album cycle the room is packed and ready for some straight up rock and roll. Bring it on!
Wow. It really is a great crowd in early for Devilskin as the band takes the stage and taking a couple of minutes  to find their footing they find it and find it well as they deliver the opener and man, those vocals. Wow. A great pairing of bands tonight as essentially the New Zealand Halestorm kick some major ass. Continuing on throughout the set with tunes from their catalogue, they give us a set of straight up rock and roll with great vocals and even with the growling vocals throughout it doesn't detract from what a great band Devilskin are. I look forward to hearing much more from these guys.  Ahhhh see this one I was looking forward to hearing, since heading it on their album I was hoping it would get a run and 'In Black' did just that, got a run and was outstanding, I'm digging the hook in the song and live it delivered.
Well this unexpected. A cover of 'Holy Diver' by Dio and I have to say, my surprise was warranted as they absolutely nailed it, I loved this version of such a classic song!  Song after song got the crowd going and man this is the longest support set I've seen in a long time. They just keep going!! At just over an hour they delivered a set of great tunes and I'll be looking out these guys as they continue. Killer start to the evening!
The lights dim and Halestorm return to the stage in Sydney to an excited crowd and with a kick ass intro leading in to 'Apocalyptic' and damn this is sexy, Lzzy knows how to sing it and has every person in the room captivated. Damn. From the first song in they are sounding as tight as you'd want from a band of this calibre and I'm looking forward to what the night holds. Lizzy's voice is in fine form this early on too so there's the extra bonus. Cowbell signifies only one thing with Halestorm, that being the song that many may have found them with 'It's Not You' and man this is heavy in the live environment. I'll be back in a minute I need to enjoy this. Ok I'm back and might need another moment as 'Mz Hyde' comes in this early into the set, and damn, sounding good, wow, what a 1,3 punch that was to start us off! Where can we go from here?!
An extremely loud crowd song along takes us in to 'Freak Like Me' which is a song written purely to be played live and boy howdy does it kick ass. Some acapella Lzzy with 'I Get Off' building it up as the band joins in to deliver a massive rocker with an equally awesome massive reception. Lzzy tells us she's had bronchitis and even with it she is still singing better than most you'll hear out there today and wow this lady can sing. Ooh it's time for a cover from their new EP, time for some Whitesnake and 'Still of The Night' and damn they like it heavy, special mention to Joe shredding out the solo and excellent bass work from Josh, and thinking about it this is a perfect song choice for Halestorm and I'm so glad not only that it's on the EP but that we got to hear it live tonight. I wonder if we'll get more of the new cover songs?
Lzzy's gorgeous signature Gibson explorer (seriously, my birthday is coming up if anyone wants to get me one) gets to come out and play 'Amen' which kicked ass, as did 'New Modern Love' as the set somewhat slows down for the first time tonight. A beautiful albeit a little lengthy chat from Lzzy was so awesome to hear the love that she has for this band and what she does, makes me love the band even more than I already do, when there is so much passion it's just really refreshing. This lead into a song for the ladies being 'Dear Daughter' with her solo on the keys and allowing the song to shine more than likely in the way it was written. Then we couldn't go any more opposite as 'I Like It Heavy' steps up as does Arejay as he gets to show us just how much of a monster he is behind the kit in his solo. Man this cat can play the drums. With singalongs, laughs and just a damn good time the big sticks come out reminiscent of the Hall & Oates 'Out of Touch' video, gotta love the big sticks! The band return to the stage to finish off the song started many minutes ago and don't miss a beat.
'I Am The Fire' is a belter, as is the absolutely kick ass 'Love Bites (So Do I)' and man, dude to my left is enjoying the hell out of it, seriously though, how good is live music! This one specifically is another of the bands songs that just gets about ten times heavier when played live and I'm all for that. Time for a little 'Mayhem' and eek was it what?! That was huge!! This one might just be one of my new favourite songs of Halestorm's.
Looks like we're getting to the pointy end of the set and 'I Miss The Misery' sets up the finale and if you thought the band were tight before then holy moly all four of them absolutely killed on this one giving us a massive extended outro and just watching each member in their element is pretty cool. I really think that's why I dig Halestorm so much, they LOVE what they do, they're gracious, humble and just play kick ass rock and roll, and here's to them doing it for many, many years to come.
Can I get an Amen?!
Essential Information
Venue: The Factory Theatre – Sydney
Date: January 11, 2017
Website: http://www.halestormrocks.com
Support band: Devilskin
Presented by: MJR presents
Photo by: Annette Geneva – Every Day Is Saturday – check out our full gallery here
Set List:
Apocalyptic
It's Not You
Mz Hyde
Freak like me
I get off
Still of The Night
Amen
New Modern Love
Dear Daughter
I Like It Heavy
I Am The Fire
Love Bites (So Do I)
Mayhem
I Miss The Misery