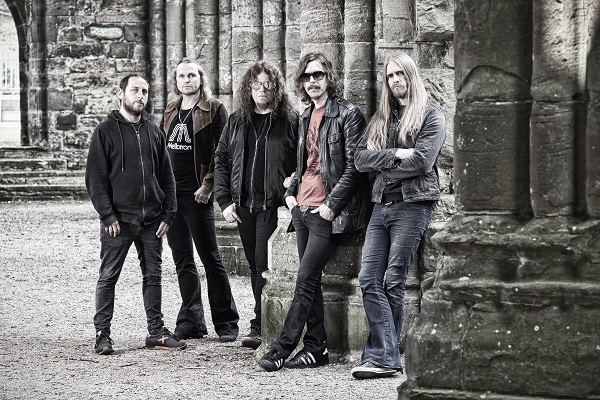 "Some shows are more special than others like in Australia they're energetic shows and people are getting into it and you can tell that they're enjoying listening to the music you know. So it's a great feeling walking on stage, adrenaline. It's a treat really."
From Release: The evolution of OPETH as a band is wondrous, witnessing spine-tingling music which bestrides genres, and an exponential growth in an ever diversifying fan base. OPETH performances are without peer – their live show is a deeply emotional, yet exhilarating experience. From centre stage they create an atmospheric utopia; theirs is truly a unique concert experience, and one not to be missed. If OPETH live deliver at an ever increasing peak, their artistic prowess in the studio is reaching dizzying heights, as will be seen in the sheer majesty of their upcoming album 'Sorceress'.
At home we gave Fredrik a call to talk about the upcoming band's return to Australia, what fans can expect, playing the Sydney Opera House, new music, old music, and much more…
Welcome back to May The Rock Be With You, Fredrik, it's been almost four years since we last chatted, so let's catch up, how have the last four years been for you and Opeth?
Wow, four years, I believe we spoke when 'Pale Communion' came out, it's been great we have the new album 'Sorceress' we're onto that now we've done a couple of tours including the States and Europe and we're looking forward to coming to Australia again, especially playing the Opera House in Sydney is a big thing for us of course.
Of course we're here because you're heading back to Australia in a couple of weeks, as the catalogue continues to grow, what can fans expect at this run of shows?
Well the Sydney show is going to be special, that's going to be an extra-long show we're playing the set list usually we try to pick is one song from every album of course we want to promote a couple of extra ones from the latest album 'Sorceress' so we play two or three from 'Sorceress' then we play a song from each album apart from the very first two I believe is because we couldn't fit it in, but it's a good mix it's a pretty heavy set I would say. All the heavy stuff but still some good variation, but the Sydney set is also going to contain like two hours and forty minutes or something like that, with two sets in it, the second part based around the 'Damnation' and 'Deliverance' albums, so because we released the remix of those two and that's why we're doing it basically. So we wanted to do these special shows, we did one in New York, and one in Wembley Arena in London, so Sydney is the last one we're gonna do these shows and it's not gonna be done anymore.
And what a venue to be doing it at, how does it feel to be playing a venue as iconic as the Sydney Opera House?
Yeah it's amazing there was talk about it last time we came back to Australia, but we weren't allowed or it wasn't possible or something like that, but the same booking agency and promoter in Australia made it happen this time and we're really stoked about it. We're gonna play songs like 'By The Pain I See In Others' from 'Deliverance' that we never played live before until these special shows so it's going to be a special night. Fingers crossed. *laughs*
You must be stoked it sold out in something like two minutes too…
That's amazing, when we heard that we were just like wow, what's going on? *laughs* Now we released more tickets because it's going to be a round stage so we don't have the curtain in the back, so we haven't done a show like that so it's going to be interesting.
You always get an amazing reaction in Australia, what do you think it is about Opeth that Australians gravitate to that keeps them coming back?
Well you guys must have good taste in music *laughs* that was a very pompous answer there. I don't know since I joined the band, I've been in the band almost ten years now and every time I go to Australia it's like one of the highlights, it's always been a great support and it's amazing to be able to come back again and again with a sold out Sydney show and sold out first show in Melbourne, we're doing two shows in Melbourne now. Also this time we're playing in New Zealand and we've been there once before but that was before I was in the band and am looking forward to that as well. There will be songs played that we've never played in Australia before, at least not with me in the band. It's a different tour, we're playing in Fortitude Valley and Northbridge, haven't done that before.
I got to have my first Opeth live experience in 2015 and I get it, there was just an atmosphere and entertaining, what do you take with you every night after performing live?
Well you do a lot of shows but before you go on stage you feel like 'whoa, how are we going to be able to pull this off?' then as soon as you get up there it may be clichéd saying this but you get inspiration from the crowd, you get power from the crows *laughs* definitely. Some shows are more special than others like in Australia they're energetic shows and people are getting into it and you can tell that they're enjoying listening to the music you know. So it's a great feeling walking on stage, adrenaline. It's a treat really.
On the album, 'Sorceress' has been out now for a few months, how has it been since the record release?
Very good I believe, we did the tour in America started off there, did a show with Black Sabbath in California in San Bernardino and it was amazing to be a part of the OzzFest thing, Sabbath played their last show in California. Then the American tour and the reception was very good I believe it was a lot of people at the shows and we played some venues we've never played before like Radio City Music Hall in New York, that was amazing and then we did the European run and that was a great run too. We got number one in Germany and we've never had that before, so happy with the reception it's been really good and some of the old school fans really dig this album as well. I don't follow everything on the internet so I might be wrong but the live shows have been great let's put it that way. Also as a band I think we've developed even more, we play really good together and even Mikael said that after a show that we've never been this good before so that's great to hear after all his work. I believe we just try to notch it up each time, every album, every tour, everybody's still practicing on their own and also the fact that we've played a lot of shows together all the details just click, I love the feeling when we've done ten shows together on tour and you don't really have to think anymore, everything just flows.
You mentioned before, but coming in to your tenth year with the band rather than ask what you feel has changed, what is the one thing that you feel has stayed the same within your decade in Opeth?
Well the ambition to get better and better, that's one thing, always trying to branch out and try new stuff is something that's been consistent since I played on 'Watershed' I believe and it's probably been there with Opeth since the very first album, well it has been if I look at it objective. Every album from the band is quite different from each other but still a thread through them all I believe.
What has the band got planned for the rest of the year?
Quite a lot of shows to do, after Australia we have a month off then we go to South America, we do three or four shows in Mexico, then Chile, Argentina, Brazil, Costa Rica, and back home for a while then we do a couple of week tour with some festivals in The U.S. again, so getting back for a shorter tour with Gojira and Devin Townsend Project, and we're playing in Colorado at a place called Red Rocks and really looking forward to that, it's outdoors, so many live DVD's been done there, looking forward to it, I always watched the Indians and Cowboys movies when I was a kid and that's the right environment. *laughs*
Is there something you haven't yet had the chance to do being in Opeth that you want to tick off the list?
Well the Opera House is definitely one of them, that's a biggie, but I wouldn't mind playing Madison Square Garden but we're not that big yet I believe, but maybe someday.
Lastly, let's look ahead to the future, finish this sentence for me, by the end of 2017 Opeth want to…
take a break *laughs* or focus on a new album, or we don't really know if there's going to be any more touring, we don't have a schedule for that yet.
OPETH Tour Dates: February 2017
Thursday 2nd – Auckland, Powerstation
Saturday 4th – Brisbane, Tivoli Theatre
Monday 6th – Sydney, Opera House – Sold Out
Tuesday 7th – Melbourne, 170 Russell
Wednesday 8th – Melbourne, 170 Russell (2nd and final Melbourne Show)
Friday 10th – Adelaide, Thebarton Theatre
Saturday 11th – Perth, Metro City 
Tickets: ON SALE NOW
From: http://www.metropolistouring.com/opeth
Essential Information
From: Stockholm, Sweden
Band members: Mikael Åkerfeldt (Vox, guitars), Martin Mendez (bass), Martin Axenrot (drums), Fredrik Åkesson (guitars), Joakim Svalberg (keys)
Website:  http://www.opeth.com
Latest release: Sorceress – (Out Now – Nuclear Blast)