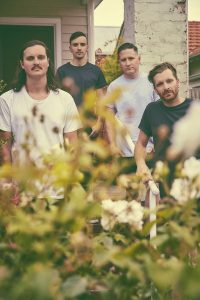 Melbourne quartet Ceres celebrate selling out their Drag It Down On You album headlining tour by announcing 91′ Your House tour kicking off in February to support their brand new single and video taken from their stunning sophomore release Drag It Down On You.
Since forming in 2012, 
Ceres'
 infectious anthemic songs combined with endless enthusiasm and unmistakably Australian likability has resulted in the Melbourne quartet becoming much loved by critics and punters alike.
2016 was a big year for Ceres with the release of their second LP Drag It Down On You (produced byTom Bromley from Los Capesinos!) which was praised by critics far and wide. They sold out their headlining album tour around the country and it's not slowing down anytime soon.
In support of their brand new single 91′ Your House, Ceres will be hitting the road through out February and March with special guest Jess Locke which will see them perform in areas they've never toured before.
Tom Lanyon explains the inspiration behind the song and video for 91′ Your House: "My dad died Christmas Eve, 1991 from lung cancer caused by cigarettes. I was only six at the time, and my memory is sometimes fuzzy and sometimes fierce about it all. I can't believe that over 26 years ago it still bleeds into the songs I write. I can't help it, don't necessarily want to write about it, but it can flow out of me with such force that sometimes I wonder if I'll ever be able to stop. It's a seems to be an endlessly deep well for me to drag up from.
So when it came time to create the video for '91, Your House—Callum Preston, GY and I thought about the best way to encapsulate this Well. The video contains over 600 hand-drawn illustrations from Callum, all depicting scenes from my old family home 'Yarrabee', number 63, in Ferny Creek, a mountain town in the eastern suburbs of Melbourne. I tried to think of the fuzzy memories, and knew the fierce ones would be right behind them.

I'm proud of this video, proud of how much work Callum has done, proud of '91, Your House and Drag It Down On You.

Proud of the Deep Well too, maybe it's the silver lining I just never knew I had."
CERES 
91′ YOUR HOUSE TOUR
WITH SPECIAL GUEST JESS LOCKE
FRIDAY 17 FEBRUARY – EL GROTTO, SCARBOROUGH WA 
18+, Free Entry*
SATURDAY 18 FEBRUARY – HYPERFEST, PERTH WA 
All Ages*
SATURDAY 4 MARCH – CROWN & ANCHOR, ADELAIDE SA
18+
FRIDAY 10 MARCH – HOWLER, MELBOURNE VIC
18+
SATURDAY 11 MARCH – CROWBAR, BRISBANE QLD
18+
THURSDAY 16 MARCH – THE PHOENIX, CANBERRA ACT
18+
FRIDAY 17 MARCH – THE CHIPPENDALE HOTEL, SYDNEY NSW
18+
SATURDAY 18 MARCH – CAMBRIDGE HOTEL, NEWCASTLE NSW
18+*
SUNDAY 19 MARCH – NORTH GONG HOTEL, WOLLONGONG NSW
18+, Free Entry*
TICKETS ON SALE NOW
Tickets available from ceres.oztix.com.au
*Jess Locke not appearing