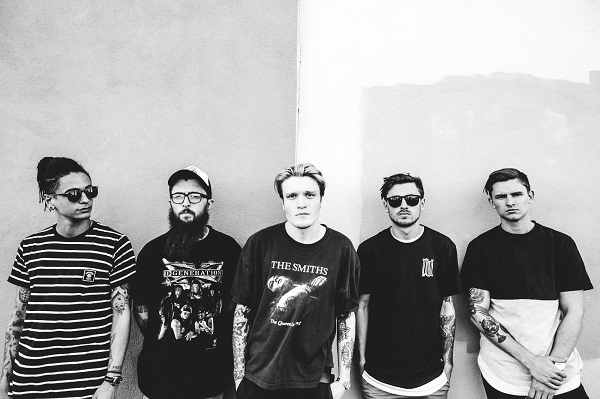 "The fact that I am living my actual dream is the best thing about it, and every aspect of that is everything I ever wanted, I haven't lost sight of what my dreams and aspirations are, I'm still very grounded, I still appreciate and respect everybody, none of us have let an ego go to our heads at all…"
From Release: NECK DEEP offers a blistering modern take on pop punk's glory days; they were nominated by Alternative Press Magazine as a 2015 Breakthrough Band, and took out the 2014 Kerrang! Award for Best British Newcomer. In August of 2015, the band released their critically acclaimed sophomore album Life's Not Out To Get You. Kerrang! Magazine has heralded the band as a "future classic", with Renowned For Sound exclaiming, "they have delivered an absolutely stunning piece of music that is ultimately a Punk-Pop Masterwork full of supreme bangers, which are more than likely going to become your life anthems."
We gave Ben Barlow of Neck Deep a call after he'd just finished a gig at Wembley Arena to talk about their upcoming return to Australia, new music, aspirations, and much more…
Of course we're here because you're heading back to Australia on a pretty sick bill with All Time Low and The Maine, for anyone that's never seen you before, what can people expect when they come and see Neck Deep play?
Well lots of fun, fast, energetic music, five sweaty guys all swinging their fuckin' heads round and just generally having fun. We like to keep the energy up and we like to keep the pace up and keep the people moving, there might be times when it settles down for a big sing along but you can definitely expect a lot of crowd participation and singalongs and energy and pace for sure.
Do you have a great memory from you previous trips here?
Yeah man, I have lots of good memories, some of our best friends ever are from Australia but one of my personal favourite days ever was on the last tour of Australia we had a day off in a place called Wattamolla beach, and there was a big jump rock there off into the water and we had a BBQ, a few beers and all just chilling and enjoying ourselves. Give me a high rock and some water beneath it and I will fuckin' drop off all day *laughs* that is my idea of a good day. That one particular stuck with me but any day in Australia is a good day, man. It's paradise.
With two albums out now, how do you feel you've grown as a band to be where you are now?
We've come a very long way, man, as people and as musicians and I think our music is kind of representative of that. At first we might have seemed like this juvenile, thrashy and all out pop punk band that was just yelling into the mic and banging our heads as hard as we could, but you know ever since then we've matured a lot and refined our skills as song writers and it's been a long, crazy journey but we've had a hell of a lot of fun doing it. I think we've achieved everything I ever felt we could do as a band we've already achieved so everything from here is a bonus. We'll keep shooting for the stars I guess.
In your time as a band in only five years you've releases three EP's, two albums, made thirteen videos, have you had a chance to slow down yet?
Only recently have we had some down time, we've had a month or two off here and there but in the last six months we've had a good chunk of time off and it really did give us time to recharge and reassess and look over everything that we've done I guess and that was a lot, we have worked our fuckin' asses off, we've been touring relentlessly over five years now and its insane to look back at. We can't let it get to our heads, we can't think, fuck we've achieved everything that we could because we haven't even though I just said it *laughs* we've crossed everything off the bucket list but there's still a long way to go for the band, we've got a lot of work to do and we're not shying away from it, we're not stopping, if we take too much time out we never want to slow down.
What currently inspires you as a band?
Life, man, I mean I never want to write a song about being on tour or being a band because that for the vast majority very unrelatable, so every day experiences and monumental things definitely stir us on at this point.
Any idea of when we can expect album number three?
Fairly soon, not as soon as people might want, it's not going to be tomorrow *laughs* but within this year sometime album three is gonna be here, we've been working on it for a good year now and we have a very good healthy chunk of it written and pretty much get ready to get moving and get into the studio to pull it all together and have a record done, so you can expect something fairly soon, like I said, not tomorrow but…
As you've progressed you're working with different people, Jeremy from A Day To Remember on the last but have you got your producer locked in for the new one?
Yeah we're locked in, we know exactly who we're going with, I don't know how much I can say at this point and I'm sure the band will make an announcement on that in the next couple of weeks.
In being a band for five years, over that time what's the one thing you've felt you've learned that you didn't feel would be associated with being in a band?
Oh shit! Learning to live with four other dudes probably *laughs* learning to appreciate and respect four other dudes and appreciate their space and their personalities and all that sort of stuff. For the most part we all get on very, very, very well, there's no way that you can be with the same group of people 24/7 without tempers flaring a little bit, well not necessarily tempers but without things flaring up every now and then, you're gonna wake up and have a bad day one or two days but yeah, learning to live with a bunch of other dudes on the road has been a learning curve for sure. You know what? We got there, we were always good but it comes with being on tour but I would say that's the biggest thing I've had to learn for sure. *laughs*
Speaking of being on tour, who are you out with at the moment?
We are on tour with A Day To Remember, New Found Glory and Moose Blood right now in The UK.
Well that just sounds terrible *laughs*
Oh yeah it's awful, thousands of people, dudes that just don't take anything seriously all they do is just laugh and joke around the whole time it's fuckin awful *laughs*. All sarcasm aside it's been a dream of a tour man, especially for me having New Found Glory, being on tour with New Found Glory is fucking insane to me because they are one of my favourite bands of all time so that's one off the bucket list for me. Even though I said we've done everything  we want to do, there's still things like that, I think now it's only to play with Green Day but Billie Joe is not a fan of the old pop punk, so that might have to wait.
In terms of touring we've got Australia coming up but what have you got planned for the rest of the year?
Again not too much I can say now without breaking that news, plenty of touring, big festivals, the stuff that people want you're more than likely gonna get I'll leave it at that. *laughs*
What do you enjoy the most about being part of Neck Deep?
As I said before with learning to live with four other dudes, as much as that can be difficult sometimes I'd say that it's one of my favourite things being with my friends and playing shows every single night to however many people it really is just the dream. The fact that I am living my actual dream is the best thing about it, and every aspect of that is everything I ever wanted, I haven't lost sight of what my dreams and aspirations are, I'm still very grounded, I still appreciate and respect everybody, none of us have let an ego go to our heads at all and I think the best part about it is just revelling in all the amazing things that are happening to us, it's all just a dream. It feels like a dream anyway.
Lastly let's look ahead to the future, finish this sentence for us, by the end of 2017 Neck Deep want to…
Ooh… that's hard to say… by the end of 2017 we would like to play bigger and better venues with a bigger and better album with bigger and better crowds, just everything bigger and better, we never want to slow down, we never want to take a step backwards we just want to keep going forward and who knows, maybe go to a few countries we've never been before but for the most part just keep our foot on the gas and never slow down.
ALL TIME LOW : MAY 2017 TOUR DATES
With Special Guests Neck Deep and The Maine
Presented by Destroy All Lines, Chugg Entertainment & Hysteria
AUCKLAND
Wednesday 10th May – Powerstation (Licensed All Ages)
aaaticketing.co.nz
BRISBANE
Friday 12th May – Riverstage (Licensed All Ages)
ticketmaster.com.au or 136 100
oztix.com.au or 1300 762 545
SYDNEY
Saturday 13th May – Hordern Pavilion (Licensed All Ages)
ticketek.com.au or 132 849
MELBOURNE
Sunday 14th May – Festival Hall (Licensed All Ages)
ticketmaster.com.au or 136 100
ADELAIDE
Tuesday 16th May – Thebarton Theatre (Licensed All Ages)
ticketmaster.com.au or 136 100
FREMANTLE
Thursday 18th May – Metropolis (18+)
oztix.com.au or 1300 762 545
FREMANTLE
Friday 19th May – Metropolis (Under 18)
oztix.com.au or 1300 762 545
Essential Information
From: Wrexham, UK
Band members: Ben Barlow – Vocals, Matt West – Guitar, Sam Bowden – Guitar, Fil Thorpe-Evans – Bass, Dani Washington – Drums
Website:  http://www.neckdeepuk.com
Latest release: Life's Not Out To Get You – (Out Now – Hopeless Records)