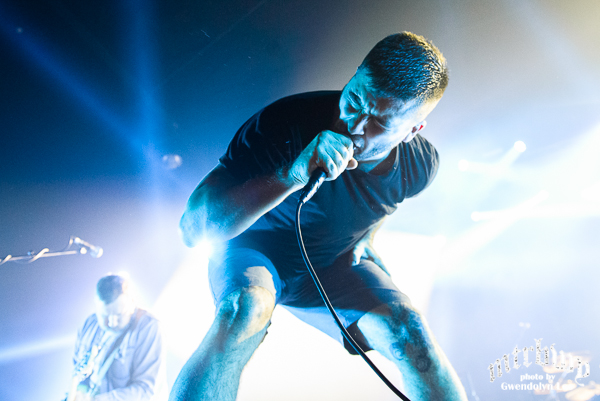 After seeing fans around the country stoked to hear that Alexisonfire, had been announced mid last year as a headliner for Australia's heavy rock fest, UNIFY Gathering 2017, it was only right that they announce their own string of shows down under too, which is what this gig's all about!
First up were Canadian rock trio The Dirty Nil who certainly didn't let an early start to the night stop them from warming up the small crowd of die hard fans and early punters. I've never heard of the band before, however their set was definitely pure fun, and pure rock n roll from start to finish, which was a great way to start the night and warm up the crowd for what was coming up! Frontman and guitarist Luke Bentham was energetic and definitely had no trouble entertaining the crowd, with even a number of fun photo opps which was great to see. Nearing the end of their set, the band plugged a special Aussie deluxe edition of their record "Higher Power", before playing the Friends Of The Sky, which was pure feel-good, noisy, loud rock n roll, and what can be better than that on a Thursday night?
Melbournites Behind Crimson Eyes were up and let me tell you, this is a band I've been waiting to see for years on end, given the fact that I started getting into their music after they'd stopped touring, so having the band on this already awesome lineup was an added bonus. Building anticipation for their set was perfect with the intro of "Sex, Lies And Homicide" seeing drummer Dan Kerby on his own before the rest of the band came on stage. Singer Josh Stuart had much cleaner vocals than I remember, though coupled with heavier growls definitely added to the contrast and intensity of their set. To hear songs more than a decade old played live certainly doesn't ever –ironically- get old. Seeing the crowd grow from the prior set, the night was definitely getting warmer and a lot more heavier which was fantastic to see. Having the band punch through some of my personal favourites like "Shakedown" and "You've Had Your Chance" was, needless to say, already making tonight a great gig. Warming up with the crowd, the intensity built up mid-set, bringing it back to their post-hardcore/emo roots with "The Art Of War", "The Bonesmen" and finally, "The Black Veil". It'd definitely be great to see the band back and touring again in the future.
Seeing The Getaway Plan for what must be the 8th or so time for me, I knew what to expect, and I definitely wasn't disappointed. Launching straight in to one of their latest tracks "Battleships", it was like meeting a familiar old friend, hearing Matthew Wright on vocals accompanied by lead guitarist Clint Ellis' killer guitars. They wasted no time in heading back to their debut album "Other Voices, Other Rooms", showing Wright's crisp and clear vocal range, which is a great contrast to his screams and heavier rock vibe near the end of their first ever single "Streetlight". What's good about sitting down and watching from further up back is that you can just see the floor of the venue slowly pack out, and that's exactly what happened while The Getaway Plan rocked through a couple more songs, and I have to say, it was clear that there were a number of TGP fans in amongst the crowd by the time "Flying Colours" came on. This was even more prevalent, and if you ask anyone, a Getaway Plan show is never complete without their most popular track, "Where The City Meets The Sea", and that's certainly what got the crowd excited and singing along to the chorus!
Nearing the end but certainly not running out of steam, Wright's vocals echoed through the venue while backed by the prominent beat of drums during the intro of "Heartstone", which continued throughout the song. Before heading off stage, the band thanked the crowd and ended with a stand out, almost theatrical sounding track with dirtier vocals than previous songs, with flashing lights to fit the intensity of the band.
It wasn't long at all before the lights dimmed and Alexisonfire hit the stage with one hell of an energetic number of "Drunks, Lovers, Sinners and Saints". Now if you don't know what's happened, this was a band that called it a day a couple years back, doing a final tour which included Australia, Sydney, and this very same venue- the Hordern Pavilion. And for them to come back and play the same venue felt like the perfect way to come full circle and celebrate their reunion. Having never seen the band live before, I didn't know what to expect, but seeing a barricade of security up front certainly gave me the hint that "The Only Band Ever" was about to let all hell break loose and play one intense show. And that's exactly what they did! Seeing crowd surfer after crowd surfer fly over the barrier in just the first three songs already, you could tell the night was only getting started. Regardless of whether you were there from the start of the night or wandered in a little later, the energy was definitely at full blast both from the crowd and band- especially with George Pettit fronting the band, and bassist Chris Steele practically running laps around the stage!
Between the gritty screams from George and clean vocals from Dallas Green, the contrast in songs flowed perfectly and echoing through a venue like the Hordern certainly made things that much heavier and awesome. And of course, a hardcore gig is never complete with a circle pit, and the fans wasted no time in forming one, just a couple songs in to the set. It's always great hearing bands bring it all the way back to their early work, which is exactly what the band did with "Waterwings" from their debut, self-titled album. Needless to say it was met with a lot of energy from the crowd.
There was a bit of break early on, where a fan in the mosh needed a bit of help and George spotted them from the stage, saying how it's okay if there's some fans who are a little older in the crowd and may not be able to handle it, because they're old too! You gotta love a band that doesn't take things too seriously on stage.
The band played on with another handful of tracks from their third album, including "Boiled Frogs", "Rough Hands" and "Crisis", and the atmosphere surrounding the place was pure enjoyment with fans clapping along, moshing and singing. I have to admit, the lighting throughout the night was fantastic and incredibly intense, matching the ferocity of the band.
There was really no room for slowly down, as they brought it back once again to an oldie- ".44 Caliber Love Letter", followed by one of my personal highlights, "Dog's Blood". I loved the rhythm section throughout this song. Just hearing constant beating of Jordan Hastings on drums during the intro and throughout, along with how deep and prominent the bass was, was just phenomenal. And of course, it goes without saying that the power in George's voice was intense, exciting yet another circle pit. Next up was "Accept Crime", and though there wasn't much talk between songs prior to this, George made sure to introduce the song by stating that "Alexisonfire shows are a safe place for everybody", regardless of gender, race, beliefs- anything. They then ended the night with "Young Cardinals" which had the venue singing along and just savouring the moment.
After heading off-stage for a minute or two, the band was back for a killer four-song encore, but not before lead guitarist Wade McNeil said a few words, mentioning that a lot of bands say that Australia is like their second home, but they don't mean it. However when they say it, they well and truly mean it, since Australia has been welcoming from the start and that's why they keep coming back. Now this first encore certainly had a great photo opp- phones out and singing along with Dallas, the room echoed "Hallelujah, we'll praise the Lord, hallelujah" in an almost eerily but intense vibe.
The night came to a close, yet never lacking energy throughout the entire set, with old fan favourites "Pulmonary Archery", "Accidents" and finally "Happiness By The Kilowatt". Watching the band say good bye and thanking the crowd before leaving the stage while the house lights turned on certainly showed that this one band from all the way in Canada were well and truly back in business.
Essential Information
Venue: Hordern Pavilion – Sydney
Date: January 19, 2017
Presented by: Chugg Entertainment
Website: http://www.theonlybandever.com
Review & photos by: Gwendolyn Lee – check out the full photo gallery HERE
Setlist:
Drunks, Lovers, Sinners And Saints
This Could Be Anywhere In The World
Old Crows
We Are The Sound
Waterwings (And Other Poolside Fashion Faux Pas)
Boiled Frogs
Rough Hands
Crisis
Mailbox Arson
.44 Caliber Love Letter
Dog's Blood
Accept Crime
Young Cardinals
The Northern
Pulmonary Archery
Accidents
Happiness By The Killowatt