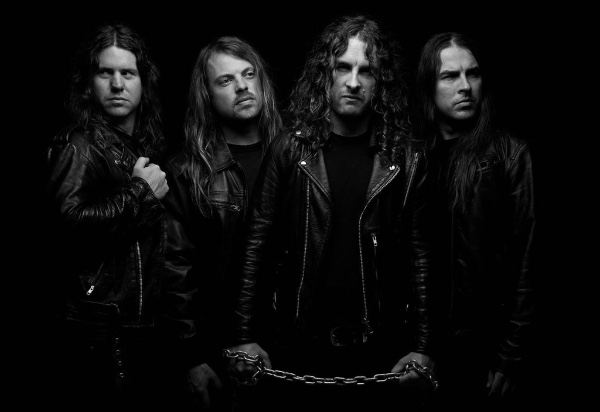 It's a hot one in Sydney tonight!! So the air conditioning in The Metro is a welcome friend as we head in to check out a night of Aussie rock and roll with Airbourne!
The crowd is peaking too early! The chants have started, the people are restless and there's still twenty five minutes before they're on stage! Now with ten to go and as 'Run To The Hills' is played over the speakers there's a mass song along happening right now. Yeah they're peaking way too early!!
OK, here we go!
The Terminator music fills the venue as the band literally bound onto the stage and it is on! They are 'Ready to Rock' and not scared to tell us that and nor should they be and they have 100% command of the crowd from second one and this is impressive. Seeing the band before I know what their energy is like and can't wait to watch what they pull out tonight. Special mention to some amazing reaction time from Joel as a can that was thrown towards him was dodged easily. Straight into 'Too Much, Too Young, Too Fast' and this straight up rock and roll no bullshit that Airbourne play is such a breath of fresh air from so much out there today. The band are so damn tight too which makes a gig like this such a pleasure to watch, especially with a song like 'Chewin' The Fat' with its driving beat and catchy chorus the place is loving it. Seriously only three songs in and I'm getting tired just watching the way Joel runs around the stage ha ha it's so awesome to watch and even more awesome is him smashing a VB can over his head. Rock and roll.
Time for a new track 'Rivalry' And again, big riffs take this one to massive heights and how this four piece gets a sound this big blows me away, I suppose the twelve Marshall amps on stage may have something to do with that though. Interesting, time for a ballad, kidding, as if… 'Girls In Black' is anything but as it rips shit up even to the point of Joel climbing on security's shoulders to go out in the crowd and fucking own it, didn't drop a note, that's outstanding!
Back to the new album and 'It's All For Rock and Roll' followed by single 'Down On You' keeps the pace that never left up and even allows for a crowd sing along. Title track time and we're 'Breakin Outta Hell' that gets a great intro and wise words from Joel, "sometimes you've just gotta turn the world off and turn up the rock and roll" is perfectly put as a circle pit and mayhem proceeds for this massive rocker and I'm not sure how but I think it just got louder in here and for a new song this one is getting so much love! That's testament to a band doing it right. As the band leave the stage for a breather, a deserved one it didn't last long as Roadsy hits the riff for 'No Way But The Hard Way' and it's back on with so many fists being thrust towards the stage! As the song actually slows down in the middle it's awesome to hear the 'I'm not sure which clap I should use' by the crowd as there's the single and then the double time clap happening right now and it's amusing but now that Joel has a spotlight shining on the everyone the clapping has stopped. Cheers as the riff for ' Stand Up For Rock 'N Roll' kicks in and then as the song actually begins, the floor has gone crazy as it rocked out and had an ending so rock and roll that it hurts. Off stage again and we await the encore.
Here they come… Ryan revs up the siren and Joel appears on top of the Marshall stacks, awesome!! 'Live It Up' is the perfect return and continues a set choc full of straight up rock and roll, loving it. Free beer for Sydney was a fun game and watching the command this band has on the crowd is pretty awesome.
'Runnin' Wild' gets the circle pit going again and is the perfect way to end the set, with more beer, more riffs and just a damn good time. They played the hell out of this one and gave everything they had up until the last second. Picks are thrown, the war chest is picked up and taken with them to finish whatever was left inside and with that it's goodnight.
Pretty sure I said this last time I saw Airbourne but if not I'll say it now, I will never miss this band when they come to town. Ever. Absolutely amazing!!!
Let's sum up the show with wise words from Joel O'Keeffe – "As long as you are alive and as long as we are alive rock and roll will never ever die."
Catch Airbourne at their remaining Australian shows:
Saturday 14th January – The Triffid BRISBANE
http://thetriffid.com.au/gig/airbourne-and-special-guests/
Friday 20th January 2017 – Trak MELBOURNE
http://www.trakloungebar.com/2017/01/airbourne-2/
Essential Information
Venue: The Metro Theatre – Sydney
Date: January 13, 2017
Presented by:
Website: http://www.airbournerock.com
Set List:
Ready to Rock
Too Much, Too Young, Too Fast
Chewin' The Fat
Rivalry
Girls in Black
It's All For Rock and Roll
Down On You
Breakin' out of hell
No Way But The Hard Way
Stand Up For Rock 'N Roll
Live It Up
Runnin' Wild