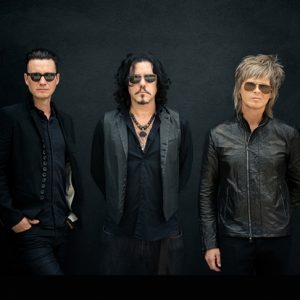 ---
TEG Live has announced that Canadian trio The Tea Party will be in full flight with a Symphony Orchestra in an exclusive Sydney show next year.
The Tea Party will collaborate with the Sydney Youth Orchestras in a majestic performance on Friday 21 April 21 2017 at The Star Events Centre.
Australia began its love affair with The Tea Party in 1995. The band's second album, The Edges of Twilight, became their first top 10 album in the country thanks to the incredible support of fans and Triple J.
In 2002, The Tea Party toured Canada with a full Symphony Orchestra following the release of their Interzone Mantras album (whilst also touring Australia 3 times that year alone!). The Orchestral Show has not been performed outside of Canada since 2002, and is being updated from its Canadian origins to incorporate a broad range of bombastic, epic hits and fan favourites, from across the band's impressive career.
Since its inception, the band has relied heavily on the use of Middle Eastern instruments to provide a unique twist to their hard rock style. Instruments such as Oud, Sitar, Qanoun, Hurdy Gurdy, Theremin, Rabob, Tabla and many unusual and rarely seen percussive instruments feature heavily through their catalogue, and many of these will feature in this unique performance.
A full Symphony will lend a dramatic turn to these songs with spectacular arrangements, and the band is thrilled to work with this world-renowned orchestra.
"Seeing the response from our Australian fans when we announced the Melbourne show, I think we all knew that we couldn't stop at just one performance. Having the opportunity to play with both the SYO and MSO is such an honour. This is one of the coolest things we've ever been able to do as a band."
Jeff Burrows, Drummer, The Tea Party
Incredibly, this will be The Tea Party's sixteenth tour of Australia since 1993.
The three founding members of the band, Jeff Martin, Jeff Burrows and Stuart Chatwood are looking forward to sharing this special experience with their Australian fans.
"Knowing that we haven't done a show of this magnitude since 2002, bringing this to our Australian fans is the most rewarding feeling we could ask for. To have a chance to play these songs with such a powerful orchestra behind us, honestly, gives us all goose bumps." Burrows said.
The seeds were first sown for a Symphonic collaboration when the band debuted its then new single Psychopomp in 1997 on Canada's Much Music and performed live with a small string section – view here:
Sydney has been home to some of the most dedicated Tea Party fans in Australia, with the band releasing a live DVD/Blu-ray commemorating their reunion tour at a sold out Hordern Pavilion show in 2012.
Based on the demand for tickets in Melbourne, tickets for The Tea Party and Sydney Youth Orchestras in this unique setting will sell fast. Guaranteed one night only – fans are encouraged to move quickly to secure their tickets. VIP ticketing, including meet and greet packages will be available for sale.
Ticket Information:
Tickets go on sale to the general public 10am Thursday 15 December 2016 through www.ticketek.com.au.
The Tea Party fans on Facebook, as well as members and friends of Sydney Youth Orchestras, are able to access a special pre-sale between 9am local time Tuesday 13 December and 5pm Wednesday 14 December. Follow both on Facebook for details and links to the pre-sale.
For all ticketing information, head to www.ticketek.com.au
The Tea Party with Sydney Youth Orchestras
Friday 21 April 2017 | Star Events Centre, Sydney
Visit / Follow:
teaparty.com
facebook.com/theteapartyofficial
twitter.com/theteapartyband
instagram.com/theteapartyband
facebook.com/SydneyYouthOrchestras
https://www.star.com.au/whats-on-sydney/the-star-event-centre
About Sydney Youth Orchestras:
Sydney Youth Orchestras is the premiere orchestral training provider in NSW. Having performed as part of Vivid Sydney (Intel, Ignite Dance Anthems), Carols in the Domain and the BBC Proms Festival Melbourne in 2016, SYO musicians thrive on great music and arts collaborations. This is another fantastic performance opportunity and SYO is thrilled to be involved in The Tea Party concert in Sydney. For more: syo.com.au
About TEG Live:
TEG Live is a diverse live content and touring business connecting Australians, New Zealanders and the world with unique live experiences. TEG Live has an extensive portfolio through music, family entertainment, exhibitions and sporting events, delivering world-class brand partnerships, sponsorship packages and corporate hospitality for clients. TEG Live is part of TEG, Australasia's leading Ticketing, Live Entertainment and Data Analytics company.