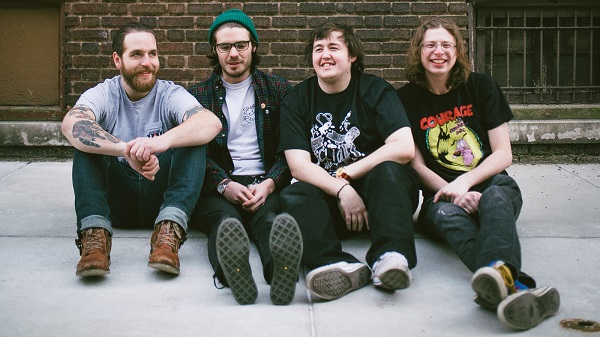 "It's weird because we're all between twenty three and twenty five years old, so the last five years of our lives have been a really crucial growing up period, or at least it would've been if we had normal jobs or something *laughs* but it's been crazy for all of us to have to start dealing with real life grown up things while living this crazy transient life that we have…"
From release: Modern Baseball were in the country earlier this year on their first ever Australian tour selling out all shows. Having recently being announced on Falls Festival the band are excited to announce Falls side-shows with special guests Camp Cope. In just a few short years, Modern Baseball have gone from college freshman self-recording their first record to a worldwide phenomenon. Somehow, it feels like just the beginning.
While in Minneapolis, Jake from Modern Baseball gave us a call to talk about the band's upcoming return to Australia, playing festivals, their newest album, the future, and more…
You're heading back to Australia for Falls Festival as well as a couple of your own shows, do you as a band prepare differently for festival sets compared to headline shows?
Hmm… it kind of depends of usually if it's a festival in the middle of the tour it's not too different but if it's a one off festival we have to like arrange renting amps and all that stuff and how long we're gonna play etc, but as far as regular style band stuff goes I mean it's pretty crazy to think it's gonna be a really big crowd so we'll maybe think of something funny to do in front of people but that's about it *laughs*.
Do you guys have different sets you put together for headline shows compared to festival sets?
Well I guess actually for a festival we have to play a lot shorter so we'll play the songs that we did videos for and that kind of stuff with a couple of deeper cuts sprinkled in, but it's usually the same just a shorter version.
You've had such a great reception in Australia, what do you think it is about the band that people attach to?
I don't know… well I guess when we talk to people after shows we find the biggest consistent theme is that people just find that the stuff we talk about really relatable like on an emotional level which wed experienced in The States before but when we came and played our shows for the first time in Australia it was crazy to have people saying the same things but on the other side of the world. It just makes everything feel really like our universe in a really good way.
Have you had much of a chance to check out Australia while you've been here before?
Yeah a couple of days last time *laughs* we went surfing at Byron Bay and then we also went surfing somewhere near Sydney, we took the ferry to another beach and went surfing there, but yeah we got to do a little bit of poking around.
Do you already have a great memory from a tour here that will stick with you other than surfing?
Yeah we had a tonne of fun, we did our press agent Janine took us to these really cool restaurants like this one cool dive BBQ place we went to was really cool we went to it twice in a row. We took the ferry in Sydney and then just did a lot of walking around and just talked to people and in general it just seemed everyone was really laid back which is so totally different from The States, so that was just really cool in general. Oh and then I just remembered the other crazy memory, one day Janine was driving us to an interview and we were in the rental van driving to an interview and one of our songs from our new record came on the radio while we were in the car and we all just started screaming because nothing like that has ever happened to us before, so that was probably the coolest thing that happened.
You also released your third album about six months ago, how has the last six months been since the release?
It's been awesome, we did a big long full US tour with our friends Thin Lips and Joyce Manor and they were some of the best headlines shows we've ever played, then we came home and chilled out for a little bit and right now we're out with Brand New and The Front Bottoms and that's going really well too, so yeah it's just been soaking in the response to the new record and everything's been really positive, it's great.
What did you find you were able to do with this album you felt you weren't able to on your previous two?
I don't know if we intentionally did but we worked with a producer someone that could throw ideas at us and push us to do different things and we've never tried that before, so we intentionally tried to let go of a little control and let him like lead us in a way with a lot of the songs, it was our friend Joe who plays in the band Hop Along but that definitely helped us cover some new territory that we hadn't covered before and we're all really glad that it went that way and we want to work with him again in the future.
What's your favourite thing about being part of this band?
I don't know, I think the fact… *laughs* there's a lot of cool stuff… I'm more of a homebody, I like to be in my own house and making coffee in my kitchen every morning  so a lot of people like to travel, but travel's not my favourite part but I do like the fact that I get to write songs and then have people listen to them and talk to people about the songs and the conversations that ensue from that are just things they can relate to and that you can relate to, so that's a really cool experience that you get to express yourself that way, it's really neat.
What do you want to do as a band that you haven't yet had the chance to?
Hmm… let's see… for a while it was coming to Australia but then we got to do that this year. I think one thing that we're thinking more about now, especially being on tour with Brand New because they have this crazy light show and they have these video screens, and also The Front Bottoms have a heap of lamps on stage, so we're trying to find new ways to make our show itself more exciting and to do cool stuff on stage, and then other than that I don't know… just keep making records as long as we can. We all really like bands who consistently put out good records, so we want to try do that for as long as we can.
What about touring aspirations?
I think the next dream place on our list is South America, we've been talking about that a little bit and that would be super cool. Oh we also talk about just doing a one off show in Hawaii and just flying out our whole crew for a little vacation and play one show, so that would be fun too.
So in only being a band for five years, in that time what do you think has been the biggest change within the band to be where you are today?
It's weird because we're all between twenty three and twenty five years old, so the last five years of our lives have been a really crucial growing up period, or at least it would've been if we had normal jobs or something *laughs* but it's been crazy for all of us to have to start dealing with real life grown up things while living this crazy transient life that we have and it's really great because we all support each other and we have really cemented our friendships but it's also really challenging because we don't have that many people that we can relate to in trying to figure out how you grow up when you're on tour all the time and living this really weird life. So our friendships have become a lot stronger trying to figure out how to deal with that and how to live the best life that we can and be positive and deal with our own stuff.
With three albums out in five years are you constantly writing, or even working on a new album as we speak?
Probably the first three or four years we were totally not able to write on the road because we weren't really used to it yet, so we would go on tour then come home, write a few songs and then go back on tour, but more recently we're finding ourselves write acoustic demos while we're on tour and then maybe jamming with the band at sound check or just like once we get back home. Yeah, we've both been writing but we haven't really talked about what's next record wise yet, but hopefully something.
Lastly let's look ahead to the future, finish this sentence for me, in 2017 Modern Baseball want to…
Write more songs.
TOUR DATES
Wednesday 4th Jan Metro Theatre, Sydney (Lic A/A)
Friday 6th Jan 170 Russell, Melbourne
Tickets here
WWW.XIIITOURING.COM /WWW.SECRETSOUNDSTOURING.COM
Essential Information
From: Philadelphia, PA, USA
Band Members:  Brendan Lukens – guitar, vocals, Jake Ewald – guitar, vocals, Sean Huber – drums, vocals, Ian Farmer – bass, vocals
Website: http://www.modernbaseballpa.com
Latest Release: Holy Ghost (Out Now)