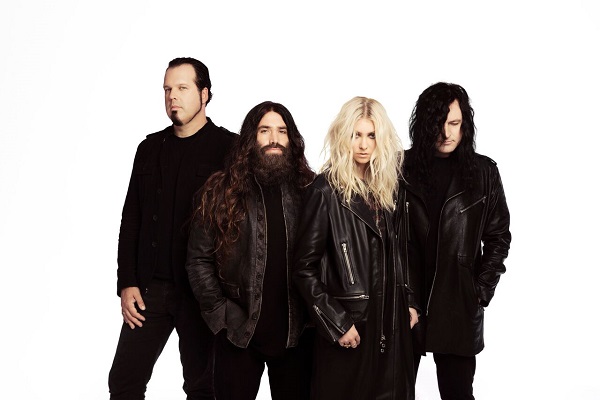 "It could take six years to write one song or magic could happen in five minutes, you never really know and that's why it's a weird thing but it's the most rewarding thing because there is no better feeling than finishing a good song and sitting back and going 'wow I made that, this is something from nothing' it's good."
From release: 'Who You Selling For' is an arresting collection of rock tunes that expand the band's sound to encompass soulful, bluesy undertones, written by front woman Taylor Momsen and guitarist Ben Phillips. This raucous 12-track collection puts Momsen's dark lyrics and raw, charismatic vocals on full display while the band delivers at full intensity with a level of musicianship that raises the bar. Formed in 2009, The Pretty Reckless released their debut album 'Light Me Up' in 2010 scoring legions of fans worldwide, but it was their sophomore record 'Going to Hell' that positioned the band to become the first new artist to breakout of rock in years, debuting in the Top 5 on Billboard's Top 200.  Achieving three #1 Rock hits – Heaven Knows, Fucked Up World and Follow Me Down – was a feat that has not been accomplished by a female fronted group since The Pretenders in 1984, nearly a quarter of a century ago.
In Orlando Florida, Taylor Momsen found some time to give us a call to talk about the band's new album 'Who You Selling For', its creation, growth, touring Australia, The Beatles, and more…
'Who You Selling For' has been out now for a couple of weeks, have the new record nerves gone away yet?
I don't really have new record nerves *laughs* I think if I didn't like it I wouldn't release it, so I'm always excited for the records to come out and for people to hear them.
This being your third album, did you find there was more pressure going in to make this album that your previous two?
Not really, I think self-pressure but that's always there as a band we just want to better ourselves every time and grow and be better than we were before. So we put a lot of pressure on ourselves in that regard, but as far as commercially we don't even think like that, we make music for ourselves and somehow it gets released for people to hear it *laughs* and it's always strange because we'd be doing it anyway.
It's been two years since 'Going To Hell', where it was four years between that and the debut, was there a catalyst or spark that made you want a new album out now?
Well we toured 'Going To Hell' for two years like you said, and when we got off the road we were really itching for new material and had a lot of things percolating so Ben and I jumped right into the writing process because we had so much we wanted to get out and once we had the songs we went right into the studio and then everything from there just moved quickly *laughs*.
You worked with Kato Khandwala again as the producer, how has having them there for all three albums so far helped shape the band to what you are today?
It's kind of like any relationship in a band, you want to grow with the people you're working with so every time we go in to make a record, he's grown, we've grown together so I think that having that relationship has been really beneficial for us. It's kind of like The Beatles and George Martin like they grew together every time and pushed them because they were so close they pushed each other to be better every time and I think we have that kind of bond which is important.
So how do you feel you're growing as not only a front person but as a writer as you continue to make music?
Well I've gotten older so that has certainly affected my writing just with life experiences going into your writing so the more you have the more you have to say *laughs*.
What's the biggest challenge for you when writing?
Writing is a whole thing, when you start the process of writing a new record there is no process to writing it and that's kind of what makes it torturous *laughs* as you never know where an idea is going to come from, so the only kind of common thing is really trying to keep your mind as open as possible and let anything and everything try to inspire you and hope an idea sparks and that that leads to something, and you never know where that's going to come from. It could take six years to write one song or magic could happen in five minutes, you never really know and that's why it's a weird thing but it's the most rewarding thing because there is no better feeling than finishing a good song and sitting back and going 'wow I made that, this is something from nothing' it's good.
Then you release it and it's timeless because it's out there forever…
I know, it's a wild feeling *laughs*
In being a band for over seven years, what would you say has been the most notable learning curve for The Pretty Reckless?
Well we've been a band for almost ten years that's just the way the releases are tied, so we're a quite tight knit unit at this point. I think just growing as musicians and having to push each other and push ourselves and constantly trying to better yourself, that's not really a learning curve that just never goes away, you're always trying to better yourself as a band and individually and together, so I think that's just kind of a constant learning curve, we're always doing that.
Of course I have to ask, when do you think we'll see you back in Australia?
Hopefully very soon, they are booking dates as we speak, I can't announce anything yet, so we're definitely going to be heading your way soon and we're very excited about it, it's been too long. We had a blast the last time we were there so we're looking forward to it.
What's the one thing you'd love to do as a band that you haven't yet had the chance to do?
Record at Abbey Road studios, that's a dream of mine. So that would certainly be a highlight to be able to make even one song there, but a record there would be amazing.
Sounds like there's a bit of a Beatles influence here…
To say the least, they're the best. They're my all-time favourite band and will remain in my opinion the all-time best band in forever. They did everything and they did it phenomenally well and I don't know how *laughs*
So is there a message you want to get across to people with The Pretty Reckless?
Just listen to the music and take what you want from it, if it feeds you in some way, great, and if it doesn't then that's ok… Hopefully there's something for everyone on our records and if there's not then no big deal, there's other musicians, there's other bands.
Lastly let's look ahead to the future, finish this sentence for me, in 2017 The Pretty Reckless want to…
Be on tour in Australia *laughs*
That's a good answer!
*laughs* It's true. We're working on it!
Essential Information
From: New York, NY, USA
Band Members: Taylor Momsen – Vocals, Ben Phillips – Guitar, Mark Damon – Bass, Jamie Perkins – Drums
Website: http://www.theprettyreckless.com
Latest Release: Who You Selling For (Out Now – Cooking Vinyl Australia / Razor & Tie)