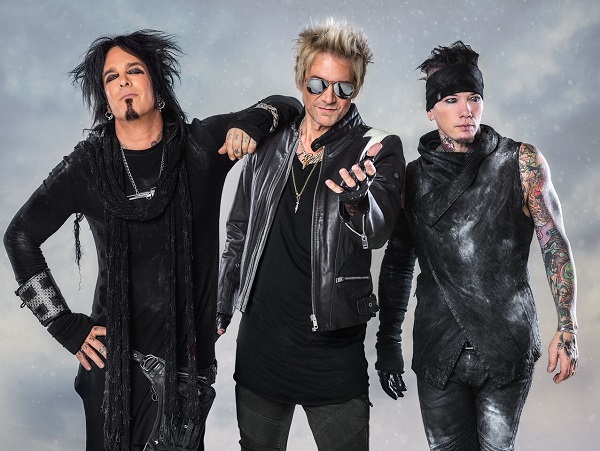 "…you and I spend so much of our day now hearing how rock is dead or rock is going through changes and the reality is that it's not, it's actually a resurgence and you're right I think people are coming to rock music now for a sense of salvation now, for a sense of hope and SIXX:A.M. is the perfect example of doing that…"
From release: SIXX:A.M. are set to release Vol. 2 Prayers for the Blessed on November 18 via Eleven Seven. Written and recorded at the same time as Vol. 1, Prayers For The Damned which debut in the top 10 on the ARIA Album chart in April 2016, Vol. 2 Prayers For The Blessed acts as a companion piece to the first volume while simultaneously elevating the band's sound in every area.
In Montana getting ready for a show James Michael called in for a chat to discuss SIXX:A.M.'s new album 'Prayers For The Blessed', creating it, the evolution of the band, the future of the band, touring, and much more…
It's been just over six months since the release of 'Prayers For The Damned' how have the last six months been in the lead up to the release of 'Prayers For The Blessed'?
Well it's been great because we've been on the road most of that time and it's always nice to be out playing shows every night because you can really get a sense of how the new music is connecting with the audience. We are just so pleased with how this entire run has gone with 'Prayers For The Damned' and now with the upcoming release of 'Prayers For The Blessed' just watching the audience wrap their heads around both of these records and all this new music has been very exciting for us, it's really exactly what we planned for and we're at the point now where we're just so excited to be putting the second record out and to just continue playing these songs live and seeing the reaction that they get. We actually started playing one song, our new single 'We Will Not Go Quietly' which is the first single off 'Prayers For The Blessed' we started playing that up in Canada a couple of weeks ago and the reaction to a room full of people that had never heard the song it's pretty over the top so we've been really happy with how it's all going so far.
So when putting together what is essentially a double album, was it a hard task to decide what would be going on each album to make them the way they are?
Yes it was actually a hard task, it was a fun task and a very exciting challenge for us but I think the reason it was so hard is because we realised the importance of it, we realised how important it was to put the right songs in the right order on the right record. That was a challenge that we really enjoyed, because any time you're pacing a record, any time you're figuring out the sequence of even just a single record it's so important and it's an exciting time in the process because you're able to listen back to the songs and really get the effect of how they're coming across to the audience. So it was fun, but yeah we put a lot of thought into that and a lot of planning, in fact at one point the song 'Rise' which is the opening song of Volume 1, at one point we actually had it slated for Volume 2, so there was definitely some moving around of parts as these songs started developing, as we started sequencing the records we made some changes but it was a real fun part of the process.
It would be remiss of me to not mention the cover of 'Without You', how did it come about that you ended up recording this track?
Well you know we've done a cover of The Cars song 'Drive' on 'Modern Vintage' our last record and that was such a fun experience for us and we just got such a great reaction from our fans and we love that idea of celebrating the craft of song writing, not only with the songs that we write but with songs that we feel made an impact on our lives and on people's lives, so when it came time to write and record both of these new records Volume 1 and Volume 2 I think in the back of our minds we knew we wanted to do another cover and really celebrate another song that we think is great. The way that we came up with 'Without You' which is originally written by Badfinger and then made a huge hit by Harry Nilsson back in the 70's was that I think it was playing in the rolling credits of a movie that Nikki was watching and he said "remember that song 'Without You'" and we all said yeah, what a great song that was, so we kinda started tossing the idea around and it just seemed like a natural fit for us. We just loved how simple the melody was and how simple the sentiment of that lyric was and just so what we did is we just made a much heavier and very SIXX:A.M. version of it, and we're really thrilled how that turned out and we're talking about making a video for that one.
I'm also a big fan of a huge power ballad, and there are a couple of rippers on this album, but one I wanted to ask about specifically was 'Maybe It's Time', how did this one come about?
Well thank you, that's a song we wrote a few years ago and we always knew it was going to be a special one and quite honestly to me personally I think it's one of the best SIXX:A.M. songs we've ever written and recorded because it really exemplifies so much about what we believe in as a band message wise, the lyrics of that song are so beautiful and triumphant and really deal with something that I think we all struggle with in a way, so I really love that song. To your point about power ballads, power ballads nowadays have a hard time finding a home and I think for bands like us to attempt to do that you're taking a bit of a risk but a risk taking when you have a message that's that strong and I really, really love that song and I hope someday we can get that song in a movie or some type of thing where people can identify with is because it's a truly, truly special song.
Well it got me on first listen and it's helped me look at stuff I'm going through, so thank you for writing that one!
Yeah well thank you for saying that, that's really nice and I'm glad you had that reaction to it, I really hope that people worldwide will have a similar reaction to that and to a lot of the songs on the new record, we're very proud of both of these records, I do think that Volume 2 'Prayers For The Blessed' really turned into something that even we weren't expecting, I think that we all discovered some things about ourselves personally and ourselves as a band that we were kind of surprised by in the making of this record.
In producing the albums, is it hard for you to sometimes separate artist vs producer hats when in the studio?
You know it can be, it's part of the process that's just natural for me, I've been a music producer and writer my entire adult life so to be able to do it with SIXX:A.M. there are certain elements of it that are even easier number 1 because of the trust that I have in my two band mates and the trust that they have in me, that always makes it an easier process and they really do trust me to take this music that's so precious to all of us and to present it and record it in a way that really represents all our hearts and souls and it's a great honour to be trusted like that with this music. To answer your question, yeah there are moments where it can be very difficult to keep that objective viewpoint that a producer has to keep but again, when those moments occur I'm able to lean on my two band mates for that objective viewpoint that maybe I don't have because I'm too close to it. It's a process that we've worked out over the last ten years and it's worked really well for us and I've enjoyed every minute of it and I've made the decision that I will not actually be producing the next SIXX:A.M. record, it's just I've reached a point where I really feel like I owe it to myself where I can come into it like my two band mates just as an artist and let somebody else produce me. I'm excited about that, I think we're all a little apprehensive and we haven't chosen who we'll have produce it but that's an exciting change for us and I think especially for me it will let me experience the record making process like my two band mates have.
Get Nikki to give Butch Walker a call, that would be killer he's a great producer…
Isn't Butch great! You know we've got a shortlist of guys that we've been talking about and like I said it's an exciting prospect but it's also a very terrifying prospect because we've always done it this way, I've always been at the helm and there's been a comfort in that. So we're excited, we're inspired and we're probably a bit nervous and scared about what comes next but that's always the best place to be when you're creating, you don't want to have too stable a footing when you're creating music I think some of the best stuff comes from insecurities and from uncertainty and that's something that SIXX:A.M. has always relished, that challenge.
So you know I have to ask… When are we going to see you in Australia?
Well you know what I don't have an answer for that but I will tell you this, we're talking very seriously about it right now, we're trying to figure that exact answer out because we've been so excited about that fact that we're starting to get some attention down there, some real support and so it's very, very important to us that we do eventually get down there and tour. So we're working on it, it's something that we certainly will not rest until we are able to give you and answer on that.
I think what it comes down to is sort of what you said before, there aren't many bands out there these days that are making the anthemic big rock albums anymore with the power ballads and with the stuff like Nikki being in Motley Crue and with those songs back in the 80's that sort of music I feel can and is making a comeback and people want those optimistic songs again and I think you guys are doing it…
I think that you're right and I feel that as well, you and I spend so much of our day now hearing how rock is dead or rock is going through changes and the reality is that it's not, it's actually a resurgence and you're right I think people are coming to rock music now for a sense of salvation now, for a sense of hope and SIXX:A.M. is the perfect example of doing that, of creating music that deals with heavy subject matter that really gets your blood pumping but also it deal with issues that really do matter in our lives as we go through life, and I think that people always come to rock music for that sense of connection and that sense of acknowledgment of their own feelings.
What for you over the five albums now has been the greatest evolution you've seen take place within SIXX:A.M.?
I think it occurred in this last year, the real evolution started when we got into the studio after our 'Modern Vintage' tour and we started writing and recording both 'Prayers For The Damned' and 'Prayers For The Blessed' because it marked a turning point in SIXX:A.M.'s lifespan it was the first time that we went into the studio knowing that we were going to be out touring, knowing that we were going to be supporting music and knowing that we were all finally 100% committed to SIXX:A.M. moving forward so we didn't have these other things keeping us from being able to do this. So it really marked a turning point and I think we all brought our A game and we all realised the importance of taking it up a few notches as we committed to SIXX:A.M. moving forward and I think that we've done that. I think when you listen to Volume 1 and Volume 2 and then go back and listen to 'The Heroin Diaries Soundtrack' or 'This Is Gonna Hurt' or 'Modern Vintage' you will hear that evolution but I think you'll hear it the most dramatically displayed on this new record.
On a side note and while I've got you I have to mention the song 'Private Parts' you did with Halestorm, what a tune, glad that one came about…
Oh thank you, I love that one, Lzzy is like a sister to me and I'm just so blessed to know them as musicians and I really, really loved that whole time of creating music and I hope that Lzzy and the guys and me can get back in the studio and do something else in the future.
Lastly, let's look ahead to the future, finish this sentence for me, in 2017 SIXX:A.M. wants to…
In 2017 SIXX:A.M. is going to go back into the studio and we are gonna write and record yet another record and we are literally gearing up for bringing to the word in 2018, we've got big plans for this band, we believe in this band, we believe wholeheartedly in our fans that have now stuck with us for ten years since 'The Heroin Diaries Soundtrack' came out, so there's a lot coming and 2017 will be the ten year anniversary of 'The Heroin Diaries Soundtrack' so we're talking around ideas on how to celebrate that. So there's a lot of new stuff coming from SIXX:A.M. and I can promise you that we are so fully committed to blowing this band up and conquering the world.
Essential Information
From: Los Angeles, CA, USA
Band Members: Nikki Sixx, DJ Ashba and James Michael.
Website: http://www.sixxammusic.com
Latest Release: Prayers For The Blessed Vol 2 (Out November 18 – Sony Music Australia / Eleven Seven)