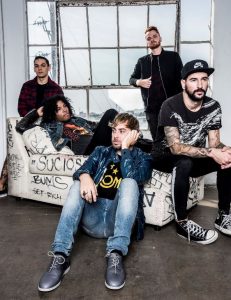 With A DAY TO REMEMBER's Bad Vibes tour set to hit Australia next month, direct support Of Mice & Men have announced their withdrawal from the tour due to health concerns. Replacing them will be Atlanta metalcore band ISSUES, who will tour Australia for the first time since supporting The Amity Affliction in 2014.
Of Mice & Men have been forced to withdraw from their Australian touring commitments due to ongoing health issues with vocalist Austin Carlisle that forced them to cancel remaining dates on their most recent European tour. While the band took every measure possible to continue touring, in the end health had to be put first to ensure the longevity of Austin and the band. Of Mice & Men issued the following statement:
"Due to Austin's ongoing recovery from recent surgeries, Of Mice & Men are saddened to announce that they will no longer be able to join A Day To Remember on their Australian tour. The band appreciates your understanding and support of Austin's daily struggle with his chronic illness, and we want our fans to know that he is taking the time and measures needed to recover from his extensive hospital stay. We hope to see you all soon."
Replacing Of Mice & Men on all Bad Vibes tour dates will be US Metalcore outfit Issues. The band have had a huge 2016, thanks to the release of their highly regarded 2nd album 'Headspace' which debuted at No.1 on the Billboard Alternative & Hard Rock album charts upon release last May.
"It is clear that there's nothing this band cannot do. Headspace is a melodic and hard rock jam filled album that leaves anyone feeling good!" – Rock Revolt Magazine
"Issues are one of the most dynamic bands in the alternative music scene right now. If music listeners are open to having a different experience from the typical cookie cutter metalcore sound, then Headspace is the album for them" – New Noise Magazine
Touring Australia for the first time since their completely SOLD OUT 2014 run with The Amity Affliction, Australian fans of Issues will be ecstatic to see the band return to our shores as part of such a strong tour package that also includes hometown favourites Tonight Alive.
Final tickets for the Bad Vibes tour are on sale now via www.livenation.com.au
TOUR DATES
RED HILL AUDITORIUM, PERTH
SATURDAY DECEMBER 10
AEC THEATRE, ADELAIDE
TUESDAY DECEMBER 13
FESTIVAL HALL, MELBOURNE
WEDNESDAY DECEMBER 14
HORDERN PAVILION, SYDNEY
FRIDAY DECEMBER 16
THE RIVERSTAGE, BRISBANE
SUNDAY DECEMBER 18
all shows are licensed all ages
TICKETS ON SALE NOW
For complete tour and ticket information, visit:
www.adtr.com, www.issuesrock.us & www.livenation.com.au